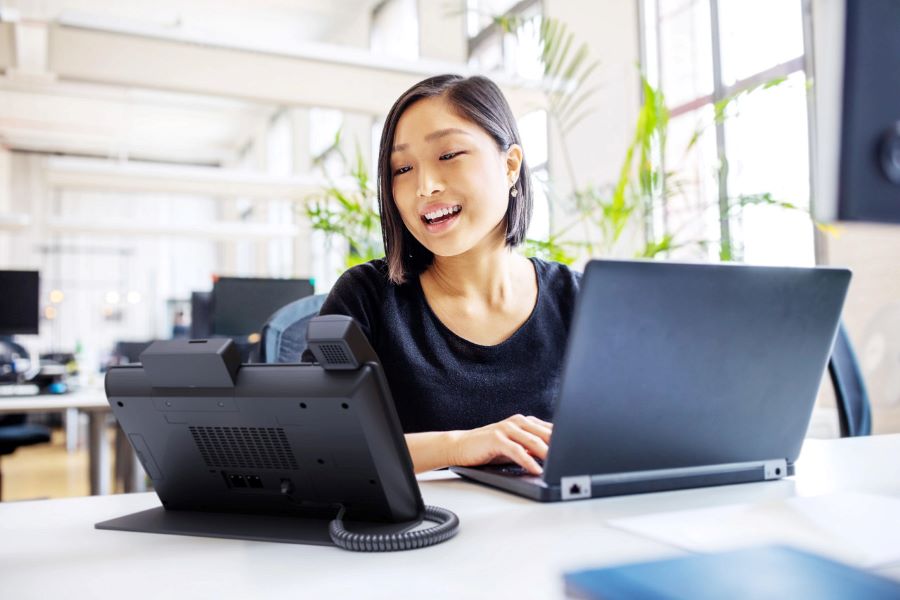 Crestron Flex: A Unified Communications Solution for Every Space
Flex helps your organization create a consistently excellent experience in every space
Unified communications (UC) solutions make digital transformation possible in the workplace. At its core, UC requires cloud-hosted software that supports voice-over-IP telephony, audio and video conferencing, and messaging. More robust platforms like Microsoft Teams also support collaboration and information sharing tools like digital whiteboarding, file sharing, and co-authoring and editing.
Cloud-based UC platforms make it possible for hybrid workforces to work anywhere, on any device they feel most comfortable using. And when digital communication and collaboration tools are integrated with office hardware, UC solutions create user-friendly, standardized meeting room experiences across all meeting spaces in an organization.
Crestron Flex's open UC system brings together video conferencing, content sharing, scheduling, management, and support into one platform scalable for any-sized space. While Flex solutions come in several forms, they all deliver a consistently excellent user experience, regardless of the type of space in which they're deployed.
So what do UC solutions look like implemented across an organization in Scottsdale, AZ, or globally? Keep reading to find out.
SEE ALSO: Make Meetings an Experience with Crestron Smart Room Control
Personal Offices
At the individual level in home offices and private offices, a fully cloud-hosted UC model may be all you need to keep your employees connected during the day. A device-agnostic platform like Teams allows employees to access private and group chats, video calls, voice calls, and shared documents from a desktop computer or laptop, mobile phone, or touchscreen tablet. Both remote and in-person employees can work together on projects in the digital workspace.
The next step for home and personal offices is integrating UC software with office hardware like the Crestron Flex Phone. The Flex Phone is more than just a phone — it's a dedicated meeting and collaboration device designed for desktop use. It includes a built-in high-fidelity microphone for audio calls, a 10-inch high-res touchscreen for video and touch-activated control, and native Microsoft Teams. Using the touchscreen interface, employees can start and join meetings and manage calendars, contacts, and events in one place.
Small Meeting Spaces
Cohesive UC deployment includes solutions that integrate with existing conference room hardware like display screens and sound systems in meeting spaces. Open UC systems like Crestron Flex create a standardized user experience in every meeting room, facilitating faster, more productive, and stress-free meetings for employees.
The Crestron Flex Mini Tabletop device is ideal for small meeting rooms and huddle rooms that support five or fewer in-person participants. The Flex Mini device includes a built-in high-fidelity microphone, HD camera with 150° viewing angle, and a 7-inch touch screen for touch-activated control. It natively works with both Microsoft Teams and Zoom, and includes wireless communications protocols for easy bring your own device (BYOD) support.
Flex's all-in-one solution enables one-touch start and join for meetings, integrated scheduling, wireless presentation with AirMedia, file sharing and co-authoring, digital whiteboarding, and smart room control for lights, climate, and shades. If your small meeting spaces host hybrid meetings, connect a 4K display screen to view remote participants in larger-than-life detail. Additionally, employees have the flexibility to bring personal laptops and tablets to meetings and connect to the room system wirelessly to give multimedia presentations.
Medium and Large Meeting Spaces
Large meeting spaces don't have to be intimidating or overwhelming to use. Unified communications solutions like Crestron Flex make room control possible from a single interface and standardize the user experience across every meeting space in an organization.
The Crestron Flex Tabletop device is a compact but powerful system for medium and large meeting spaces, executive boardrooms, training rooms, and multi-use spaces. The Flex Tabletop device includes a built-in 360° quad mic array, an intelligent HD camera with virtual zoom, auto-framing, and people counting, and a 7-inch touch screen for touch-activated control. It also natively supports Microsoft Teams, Zoom, and bring your own device (BYOD).
Flex's Tabletop Device enables the same functionalities as the Mini model — one-touch start, join, and manage for meetings, room scheduling, digital collaboration, wireless presentation, and complete room control with integrated lights, climate, and shades. In larger spaces, the Flex system can connect to multiple displays or a video wall and a conference room sound system so that all in-person and remote participants can see and hear clearly. Plus, Flex can handle large meetings with multiple presenters with ease — employees can connect and present presentations from their personal devices without leaving their seats.
As the workplace evolves, smart enterprise organizations invest their resources into next-generation meeting room design and intuitive room systems like Crestron Flex that empower employees to communicate, collaborate, and connect more efficiently and productively. If you're ready to make upgrades to support the workplace of the future, reach out to Level 3 Audiovisual today. Call us or fill out an online form to connect with our team.