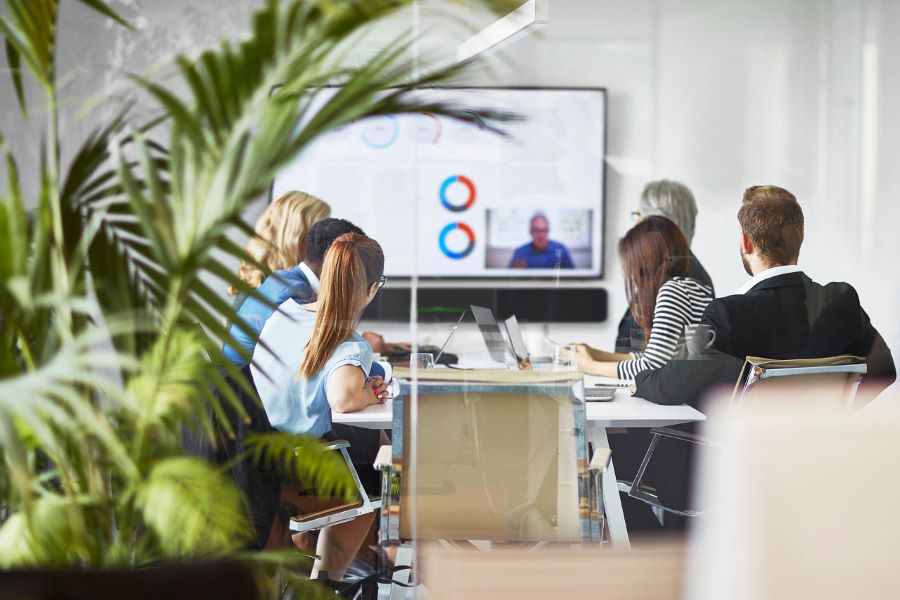 4 Considerations for Meeting Room Design in the Hybrid Workplace
The one-size-fits-all conference room is no longer sufficient for mixed workforces
The modern workplace is undergoing a profound paradigm shift in 2021. Full-time in-office work is no longer the norm; instead, the new hybrid workplace includes an eclectic mix of full-time remote employees, full-time in-office employees, and part-time remote and in-office workers.
In the wake of these shifts, organizations must rethink one of the most foundational components of the modern office: meeting rooms. How does meeting room design need to pivot to meet the needs of globally dispersed workforces? Below, we outline four considerations your organization should keep top of mind to design effective and productive meeting spaces for your office locations in Scottsdale, AZ, and throughout the world.
SEE ALSO: Up Your Collaboration Game With a Microsoft Teams Room System
1. Room Purpose
Today's discussions about meeting room design need to be more nuanced than: "The purpose of the room is to hold a meeting." What kind of meeting will the room primarily support? Rooms built for meetings where 50% or more of the participants are teleconferencing will benefit from design features like u-shaped seating, one or more large-screen TVs or a video wall display, properly positioned cameras, and microphones to capture all in-room participants, and lighting control and window treatments.
Meanwhile, rooms built for meetings where 50% or more of the participants are present in the room will benefit from design features like roundtable seating, a single display, and camera to loop in remote participants, a microphone array, and collaborative tools like interactive whiteboards. Modern offices will likely need a mix of meeting rooms to support different purposes.
2. Size
Room size goes hand in hand with room purpose, and it's an important consideration to ensure efficient utilization of all available meeting spaces. For example, with more employees working partial or full-time remote hours, your office may benefit from fewer large conference rooms and more huddle rooms to support meetings that average only 3-5 in-person participants. That's not to say the need for conference rooms has been eliminated. However, instead of 2-3 conference rooms per office, your need may be reduced to a single large conference room or multipurpose room to support less frequent in-person meetings and training events.
3. User Experience
Employees spent the majority of 2020 working from home using browser and app-based communication and collaboration tools like Zoom, Microsoft Teams, and WebEx. The big appeal of these platforms is that they're incredibly user-friendly — at home, employees could start or join meetings, share a screen, record meetings, and share content with one touch of a button.
Now that employees are coming back to the office, they expect the same easy, seamless user experience in meeting rooms. One of the biggest pain points organizations face is the wasted time connecting personal devices, pulling up presentations, or logging into a video conference during scheduled meetings.
Room systems like Crestron Flex offer in-person employees the same easy user experience they have at home, no matter where they are in the office. Flex systems have native integration with Zoom and Microsoft Teams, along with BYOD (bring your own device) connection and presentation capabilities. In a Flex-integrated meeting room, employees can start or join video meetings and wirelessly present content with one touch. Flex is scalable for any size room to ensure all employees have the same user experience throughout the office.
4. AV Experience
This consideration goes hand-in-hand with the user experience. Employees starting or joining conferencing calls at home were guaranteed good sound and picture quality from Zoom and Teams' integrated audio video capabilities. Back in the office, workers now expect a high-quality AV experience when they're connecting with team members or business partners from a meeting room. And nothing ruins a meeting faster than poor audio.
Crestron Flex room systems are equipped with built-in microphones and cameras to ensure that in-room and off-site meeting participants can clearly hear and see each other. Beyond Flex, we recommend working with an AV professional to integrate display screens and additional cameras, microphones, and speakers into your meeting room design.
As the workplace evolves, smart enterprise organizations invest their resources into next-generation meeting room design and intuitive room systems like Crestron Flex that empower employees to communicate, collaborate, and connect more efficiently and productively. If you're ready to make upgrades to support the workplace of the future, reach out to Level 3 Audiovisual today. Call us or fill out an online form to connect with our team.