---
AV as a Service (AVaaS)
Transform the way you approach your AV communication technology in today's ever-changing climate.
---
AV as a Service (AVaaS)
Transform the way you approach your AV communication technology in today's ever-changing climate.
---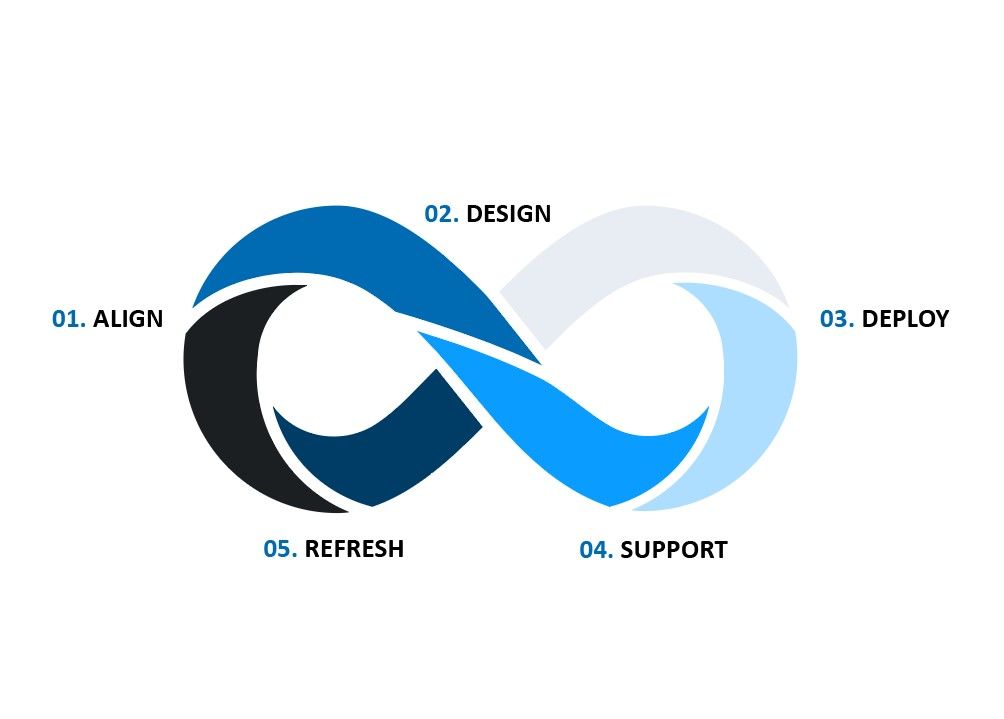 Our AVaaS Approach
We scope, design, integrate, and manage all your communications technology throughout the entire agreement, and forecasts prior to integration, any foreseeable technology life cycle issues, ensuring your system is performing at maximum optimization. AVaaS is the all-encompassing service delivery model solution for advanced communications technology visualization and analysis. It features centralized, multi-modality capabilities designed to help standardize integrations unique to your business, enhance workflow, and promote interoperability across your enterprise. This model supports you over the long term by offering the use of and access to the latest communication technology innovations, professional services, as well as professional education, and support in a single, customized solution with controlled, predictable costs.
THE SMARTER WAY TO PAY FOR AV IN TODAY'S FREQUENTLY CHANGING CLIMATE
AVaaS solution is a revolutionary service-focused subscription model that allows your organization to deploy the most optimal communications technology across your enterprise. AVaaS eliminates the obstacles organizations frequently encounter with the transactional capital expense ownership models you've always known. As well as, provide exclusive value-added features including the most flexibility, control, and peace of mind than any other way to pay for your AV communications technology.
Why AVaaS?
In today's economy, the approach of spending capital dollars to purchase and own technology doesn't work for many companies anymore. The technology landscape evolves rapidly, as do the technological needs of the modern workforce, and AV technology can quickly lose its efficacy over its short life cycle.

Organizations in every vertical are transitioning to AVaaS. AVaaS allows companies to keep their tech stack modern with automatic system upgrades every few years, and ongoing AV service and support that ensures the reliability of your AV tech ecosystem. This approach frees up precious capital from being used for technology, a depreciating asset, and allows organizations to invest it in revenue-generating assets and activities.
Av-as-a-service content built for you.
Avaas provides smarter use of cash flow for your organization
AVaaS allows companies to not have to use large sums of their cash flow with difficult-to-predict investments in AV Tech. Instead, businesses can keep their cash in reserve, so they can better react to unforeseen expenditures. Further, businesses can optimally leverage their resources instead of committing them to major tech expenses. This may mean expansion, additional marketing or extra personnel, all effective means of investing saved capital. 
---
Comprehensive Multi-year Support
We have you covered. With AVaaS you can ensure that your communications technology is operating efficiently. AVaaS includes comprehensive maintenance and support services for the entire term. Eliminate the hassle of managing your AV infrastructure, minimize downtime, and maximize utilization.
Protection Against Change & Obsolescence
Change is inevitable. Technology rapidly advances. AVaaS protects you from both. AVaaS includes the Solution Replacement Guarantee (SRG), a feature exclusive to our AVaaS solution. The SRG allows organizations to migrate or scale up to new technology if their current solution becomes obsolete or no longer meets their needs during the contracted term. This level of flexibility lets organizations be more agile and adaptable in the face of change and growth. (See contract for complete details)
Capital Preservation
AVaaS provides the use of and access to the technology you need for one predictable monthly payment. Therefore, organizations are not required to make a large cash purchase of their technology solutions. This allows you to preserve your capital for more revenue-generating activities.
Improves Access To Technology
With AVaaS, businesses get more from their communication solutions. Often, rigid capital expense budgets prevent organizations from accessing everything they need in their AV technology system. Transitioning to an AVaaS monthly subscription solution provides more budget flexibility and predictable cash flow allowing you more access to the technology you need.
Act of God Coverage
The Act of God coverage is another feature exclusive to our AVaaS solution that offers natural disaster protection. In the event of a fire, lightning strike, hurricane, tornado, etc. under your AVaaS subscription, your deductible is 100 percent covered. (See contract for complete details)
Interested in how AVaaS Solution can streamline your technology acquisition model?
With 28 years of expertise in the Audio Visual services realm, we are uniquely qualified to integrate AV products and solutions specific to your organizational needs. We craft unified AV managed service offerings for businesses that are made up of more than just "off-the-shelf" components. Our unique AV Solutions enable organizations to scale technology with their ever-changing needs, providing in-depth, real-time system environment data, allowing for organizations to make informed decisions that can cut costs, while preserving budgets and stay strategically competitive.
Talk with our AV expert consultants to learn more.