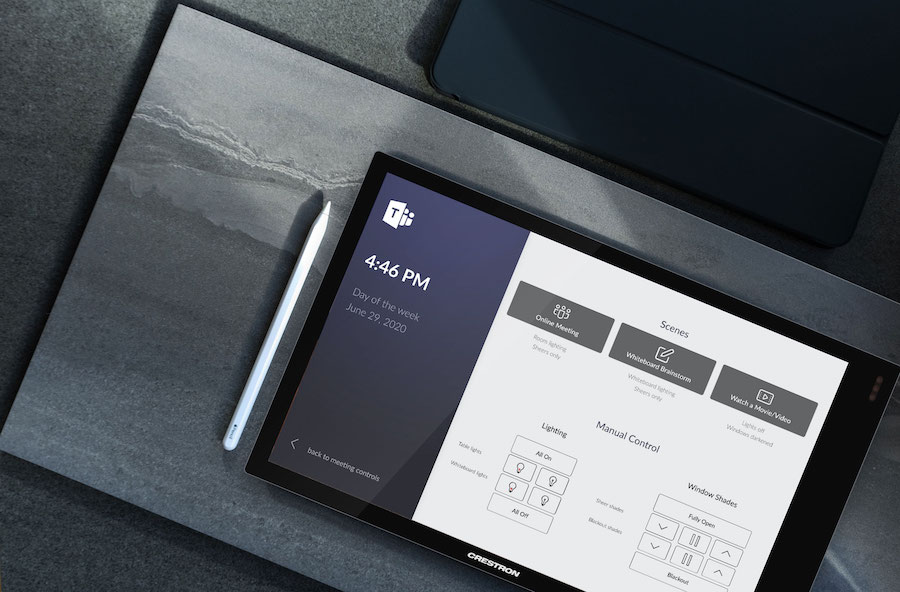 Make Meetings an Experience with Crestron Smart Room Control
Effortlessly command your meeting spaces with integrated room control
Meetings are a fact of life in the modern-day workplace. Still, all too often, the primary functions of office meetings are overshadowed by technical issues and disruptions that break the flow of collaborative efforts. Smart meeting room control systems like Creston Flex can help eliminate process inefficiencies and improve the meeting room experience by centralizing control of vital room systems and functions.
Room control with Flex combines fast and effective command over a room's AV systems with nuanced control over dimmable lights, window shades, and climate devices to create a comfortable and productive environment.
Impress clients and investors, keep employees engaged and on-task, and host more efficient meetings with smart meeting room control from Crestron. Keep reading to learn more about Flex room control for your business spaces in Phoenix, AZ, and worldwide.
SEE ALSO: 4 Considerations for Meeting Room Design in the Hybrid Workplace
What Is Integrated Room Control?
What does it mean to create an integrated room experience? Room control solutions centralize automation, control, and management of all meeting room systems and functions in one place. With Crestron Flex, the control panel is an intuitive touchscreen tabletop device that allows meeting leaders to access and operate:
Audio and video equipment like displays, speakers, microphones, cameras, whiteboards, and computers
Wireless content sharing and presentation software
Flex's graphical interface allows you to control individual devices manually or automate control over multiple room systems at once with the press of a button. Room control is scalable from one meeting room to hundreds or thousands across your organization and creates a standardized, simplified user experience for operating meeting rooms.
How Does Room Control Benefit Your Meetings?
Smart meeting room control makes complex and time-consuming operations easy, which allows meeting participants to focus the whole of their attention on collaborative work efforts instead of technical issues.
Centralized control. Crestron Flex smart room control places everything you need for meetings at your fingertips. The easy-to-use Flex tabletop device is designed with clean, icon-based buttons for easy access to and management of the room's lighting, shading, climate, and AV equipment. In addition, the room's schedule is displayed on the Flex home screen, allowing you to start or join a meeting in seconds with one button press.
One-touch scenes. Crestron Flex lets you automate pre-configured settings for AV, lighting, shading, and climate for specific events. For example, an executive boardroom meeting requires a different room setup than a casual brainstorming session. Cloudy morning meetings require different lighting and shading settings than sunny afternoon meetings. With automated scenes, you can press one button on the Flex device to automatically adjust the room to the right environment. At the end of a meeting, one more button press can turn off all the lights and electronics in the room until the next meeting.
Greater efficiency. How much meeting time do you waste setting up a video conferencing call or presentation? Have often is meeting flow disrupted by movement around the room to adjust lights or window shades? How long does it take a new presenter to get set up when multiple people present during a meeting? These mundane administrative tasks waste company time, resources, and productivity. Room control with Flex makes it as fast and easy as pressing a button to start video calls, adjust the lights and shades for a presentation, or hand the reins over to another meeting participant.
As the workplace evolves, smart enterprise organizations invest their resources into next-generation meeting room design and intuitive room systems like Crestron Flex that empower employees to communicate, collaborate, and connect more efficiently and productively. If you're ready to make upgrades to support the workplace of the future, reach out to Level 3 Audiovisual today. Call us or fill out an online form to connect with our team.