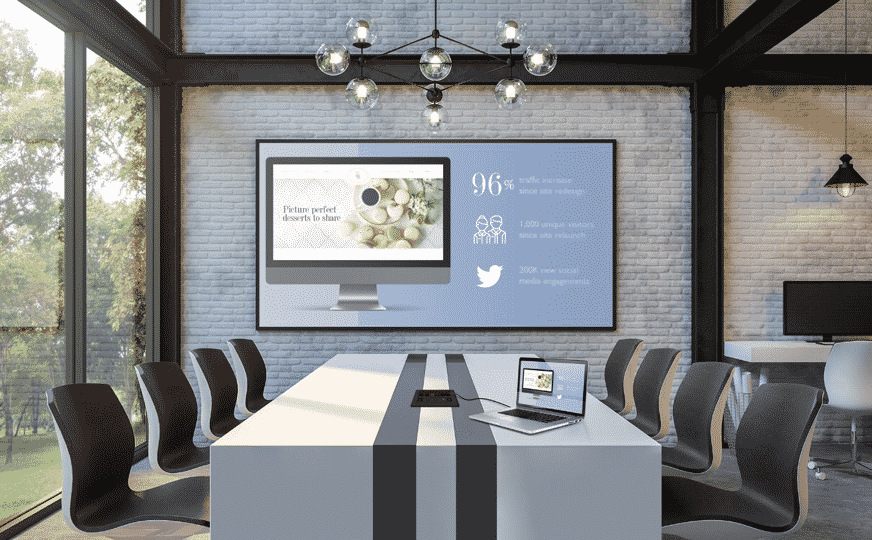 3 Ways to Upgrade the Audio-Visual Systems in Your Meeting Spaces
IMPROVE COMMUNICATION AND COLLABORATION WITH BETTER VISUALS AND SOUND
Do you remember Verizon's popular commercial series with the slogan "Can you hear me now?" This is one phrase you don't want to hear if you are on an audio or video conferencing call in your meeting room. Even if you only lose a few minutes to some garbled audio or video, think about the productivity loss. You have your team in the meeting room, your partners or supplier's team on the other end, and many people on both sides participating remotely. Multiply what all those professionals get paid for their services, and you might be surprised what a few wasted minutes of a meeting actually cost your organization.
You can banish "can you hear me now" or perhaps the newer "can you see me now" from your meetings with some smart investments in new audio-visual systems for your Tempe, AZ, offices. Read on for three ways to up your collaboration game in your meeting spaces.
SEE ALSO: When Is It Time for Your Organization to Upgrade Audiovisual Equipment in Meeting Spaces?
Improve the Audio
While video conferencing is a staple of many meetings these days, audio is still the critical baseline for any communication. If your sessions suffer from people who need to shout at a microphone to be heard, new microphone technology investments might be in order. An easy upgrade to a tired conference room speakerphone can be an all-in-one system like the Poly Studio X30 or X50. These all-in-one systems provide a simple, straightforward way to operate video and audio conferencing solutions.
The Poly X30 and X50 solutions can fit under the conference room display just like a soundbar does under your TV at home. 4 MEMS (micro-electrical mechanical systems) microphones pick up voices clearly up to 15 feet away, and these devices have the latest in DSP processing for excellent sound quality. Stepping up to the Poly X50 nets a better microphone array and stereo vs. mono speakers for richer sound in larger rooms.
For more sophisticated solutions in large spaces, you can consider a distributed microphone and speaker solutions. Microphone arrays can be mounted in central locations on a tabletop or in ceilings to pick up voices from anywhere in the room, whether meeting participants are sitting at the table or standing in the room. Flush-mounted microphone arrays can be arranged in a larger space to clearly pick up audio. Advanced digital processing like beam-tracking and echo cancellation make an animated meeting room intelligible to the audience on the other side of the video or audio call.
Upgrade the Visuals
Solutions like the Poly X30 and X50 can bring all-in-one videoconferencing to most rooms. The cameras are capable of capturing video up to 4K resolution, ensuring sharp images. For more detailed capture, consider a multicamera setup for various views that can include the speaker, the audience, and even a focus on an object or demo. PTZ (pan-tilt-zoom) cameras also offer ways to provide multiple views and remote controls so viewers can choose areas to focus on, or the camera can automatically track a person who is speaking.
What about the displays? One of the easiest upgrades is a high-resolution flat panel display. With sizes stretching to 98 inches, they provide easy connectivity with video and computer sources and brilliant, sharp images for any content in varying light conditions. Touch-enabled displays, like models from NEC and other sources, also allow you to connect touch-friendly collaboration applications for an even higher degree of interactivity.
Integration and Manageability
Today's conferencing solutions should easily integrate with the most popular collaboration platforms. Look for solutions that work seamlessly with platforms like Zoom, Microsoft Teams, Google Meet, RingCentral, and others you may use. The goal is to enable any participant – whether in the conference room or remote – access to the same content and collaboration features as every other participant, without wasting time on complicated procedures.
If you have many locations with various systems, look for the ability to monitor the health and usage of conferencing room systems. At Level 3 Audiovisual, we offer Pulse IDM, an advanced monitoring platform custom designed for commercial audio-visual systems. Pulse IDM proactively monitors the health and status of all network-connected devices to ensure that your systems are working when you need them to be. Tools like device data collection, problem state detection, and alerting and notification protocols help your IT team respond to problems before they cause a complete system breakdown.
Ready to modernize your meeting room audio-visual systems for better productivity? To get started, reach out to us here or click the chat box below to connect instantly. We look forward to working with you.