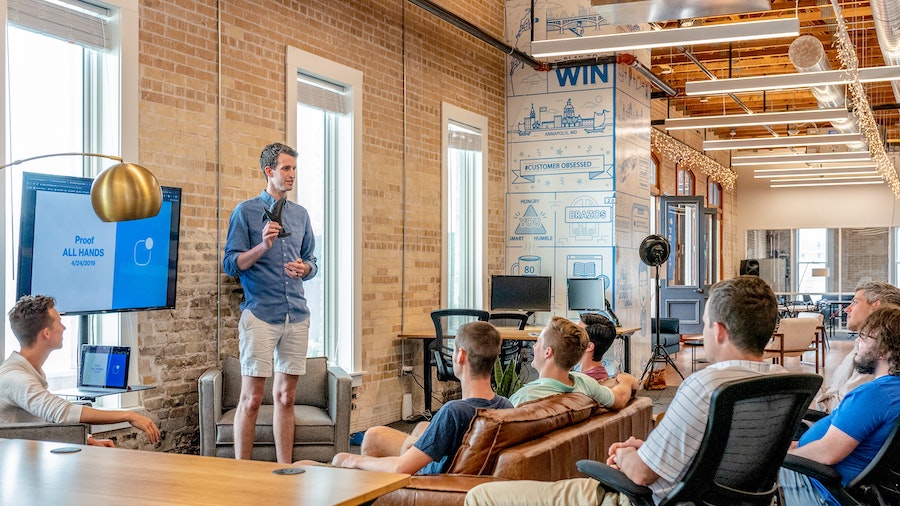 Leverage AV Technology to Create a More Engaging Hybrid Workplace
Design Motivating Environments to Encourage Spending Time in the Office
As we all know, the global pandemic created a new normal for millions of office-based workers around the world. Work moved from the office to the home, and communication and collaboration moved to digital mediums on computers, tablets, and smartphones. Now, with vaccines rising and the most dangerous health threats receding, employers are looking to bring workforces back to the office.
But guess what? Many don't want to return. The increased flexibility of working from home has its appeal – no commutes and every day is casual Friday. No matter how gourmet the coffee and food are at the office, what they have at home is more convenient. And the ability to pick up a child from school, get out for a refreshing walk or workout at a break in the day, or be home for a service call gives workers a sense of flexibility and empowerment. A variety of surveys have made it clear – more than half of information workers don't want to return to the office full-time. And many of today's most successful companies like Facebook and Microsoft have already announced that they will allow some employees to continue working remotely permanently, creating a new hybrid work model that is anything but well understood at the moment.
Yet, with the new reality of coping with a hybrid model, only 13% of organizations are planning to reduce their physical space footprint, while over 50% of workers want to work at least part of the time remotely. So the new challenge is: how do you use your office space to create an engaging hybrid workplace environment that gets people in the office? And one that doesn't exclude those working remotely? Let's explore the implications for your physical locations in Phoenix, AZ and around the world.
SEE ALSO: Up Your Collaboration Game with a Microsoft Teams Room System
Increasing Collaboration
While many surveys have pointed to increased productivity from working from home — perhaps resulting from more time spent working versus the overhead in preparing for and getting to work — overall the jury is still out. What is clear is that offices are places for collaborative work. There is no substitute for communicating in person – especially in a group setting – versus communicating through a video conference. But with some workers continuing to be remote, how do you create an environment that takes advantage of physical collaboration without excluding remote staff?
Start with meeting room design. Most of today's meeting spaces are geared for physical collaboration, with audio and video equipment to connect to others in similar spaces. In a brainstorming type of meeting, remote workers may feel like they can't get a word in edgewise as those in the room talk freely. You may need to rethink your meeting rooms. Typical long tables may not give remote employees the feeling of being connected to the people in the room. You may need more and better microphones for in-room meetings so remote participants can pick up all conversation, along with multiple camera angles so that body language and expression come through remotely.
Equipping meeting rooms with moving facilities like whiteboards can ensure that remote workers see and follow what's happening. Digital, collaborative whiteboards that allow for seamless remote participation are even better. In the meeting room, multiple screens or video walls can allow separate displays for viewing remote participants as more than tiny boxes while also having a clear view of shared content.
Engaging Office Environments
In a hybrid work model, office space may increasingly be used for team building, training, and other employee engagement events. Give the office physical accouterments that are lacking in a home work environment. Digital signage is a way to provide motivational and engaging messaging. Celebrate teams and individuals for awards and jobs well done on digital signage displays located prominently in common spaces. Communicate initiatives, events, HR information, relevant industry news, company social media, and other messaging that might get lost in email, Slack, or Teams on individual computer and device screens.
Video walls are a way to create a "wow factor" for the office that's missing at home. Consider video wall designs that are more oriented to near-field viewing, such as 6 feet away, versus larger ones where people might be viewing 20 feet away in a large space. Such walls can encourage the serendipitous "water cooler" effect of getting small groups to view and comment on the content and start spontaneous interactions. Go multimedia with video and sound in the content mentioned above for a more immersive, entertaining, and engaging office experience.
Thinking Outside the Box
Most modern offices employ open workspace modules and enclosed meeting rooms. As workers worked remotely from home, many enjoyed the increased privacy and quiet of their own space. Returning to an open office abuzz with people walking and talking nearby may suddenly seem distracting. Consider flipping the model with enclosed workspaces and open meeting areas. An open meeting room can have more flexible seating and standing room, allow for permanent content displays, and create a space more conducive for brainstorming and creativity. Enclosed spaces for individual, focused work will allow fewer distractions and more private video and audio calls. For anyone who works with sensitive customer or company information, enclosed spaces make it easier to share information onscreen and in conversations without fear of someone seeing or hearing it while walking or standing nearby.
Want to create engaging hybrid workplaces to foster productive and happy teams? Level 3 Audiovisual is ready to help. Reach out to us here or click the chat box below to connect instantly. We look forward to working with you.