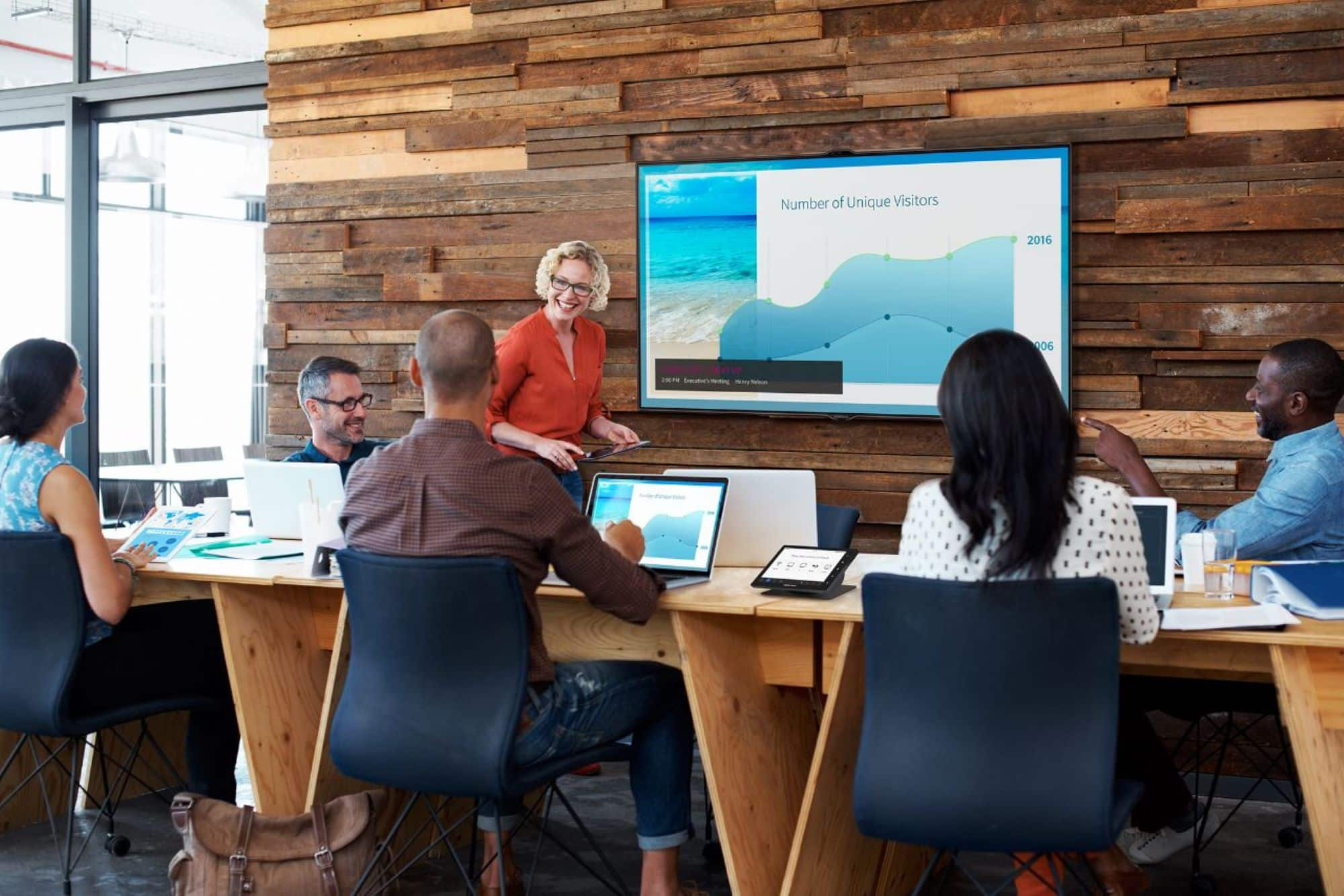 How Zoom Rooms Solve The 3 Most Common Meeting Pain Points
DON'T LET COMPLETELY SOLVABLE PROBLEMS DERAIL A COLLABORATIVE MEETING BEFORE IT EVEN BEGINS
At Level 3 Audiovisual, we're hereby nominating Zoom as the Time Person of the Year 2020. The video conferencing platform rose to dizzying popularity this year as unexpected circumstances forced people to meet less in person and more online. And nipping at Zoom's heels came the conferencing solution designed to meet commercial needs for in-person and remote collaboration: Zoom Rooms.
Zoom Rooms are an all-in-one integrated solution deployed in conference rooms, huddle rooms and other meeting spaces in commercial organizations of all sizes. Although a Zoom Room isn't the only conferencing solution of its kind, Zoom has one-upped the competition through several key advantages: reliable usability, high-quality AV, and incredibly simple and straightforward user accessibility.
Zoom...just works. Keep reading to learn how a Zoom Room solution can effectively solve the three most common pain points in meeting rooms in Scottsdale, AZ, and across the U.S.
SEE ALSO: Why Video Collaboration Is the Tool Your Modern Workplace Needs
1. Scheduling a Meeting
Integrate Google Calendar, Office 365 or Microsoft Exchange with Zoom video conferencing for simple and straightforward room scheduling. Room booking is one of the top three pain points for meeting administrators. A double-booked meeting room snarls up smooth operations and forces one team to experience downtime that could have been used for productive collaboration.
When you schedule a Zoom Room meeting from your integrated calendar platform, the software automatically blocks other users from booking the room at the same time. A meeting invite with the Zoom link is sent to all meeting participants and scheduled on their calendars. Zoom also sends the meeting information and link to the control interface in your Zoom Room, enabling one-touch startup when you arrive.
Ready to take your room management to the next level? A second, wall-mounted control touchscreen outside Zoom Rooms can display room availability and scheduling. At a glance, you can see if a room is occupied or vacant, check the daily schedule, cancel a scheduled meeting or reserve a new meeting. As soon as you do, the room status will update automatically.
2. Starting a Meeting
Starting a meeting is the second most significant pain point administrators face in the workplace. Every minute that your team spends turning on conference room equipment, loading software, entering passwords, connecting cables, and waiting for IT to solve a technical difficulty draws focus away from the meeting agenda and cuts into employees' valuable time. Zoom's integrated hardware and software solution eliminates gap time to create smoother, more efficient meeting workflows.
One-touch start is what truly puts the "zoom" in Zoom Rooms. If you have a scheduled meeting, select your reservation on the control tablet and tap "Start" to begin. Your remote participants should have received an email invite to join the meeting from home. For a spontaneous brainstorming session, snag a Zoom Room, find the room listing on the control tablet and tap "Meet Now" to kick off the meeting while the creative juices are still flowing.
3. Sharing Content
Cords and cables and dongles, oh my. How much time are you wasting in meetings waiting for multiple presenters to figure out how to share content from their personal devices? In a Zoom Room, all meeting participants — in-person and remote — can wirelessly share the screen from their laptop or mobile phone through one-click direct sharing or a numerical Sharing Key. Wireless screen sharing (from your seat, no less) is less disruptive to meeting workflows and allows participants to spend more time untangling big ideas than untangling long HDMI cords.
Let Level 3 Audiovisual Improve Your Meeting Solutions
Level 3 Audiovisual is a professional AV integrator and dealer of Zoom conferencing solutions for commercial spaces of all sizes. We proudly serve organizations in Scottsdale, AZ, and across the U.S. as they search for new ways to communicate and collaborate both in-person and through online conferencing platforms. Contact us today to schedule a consultation.