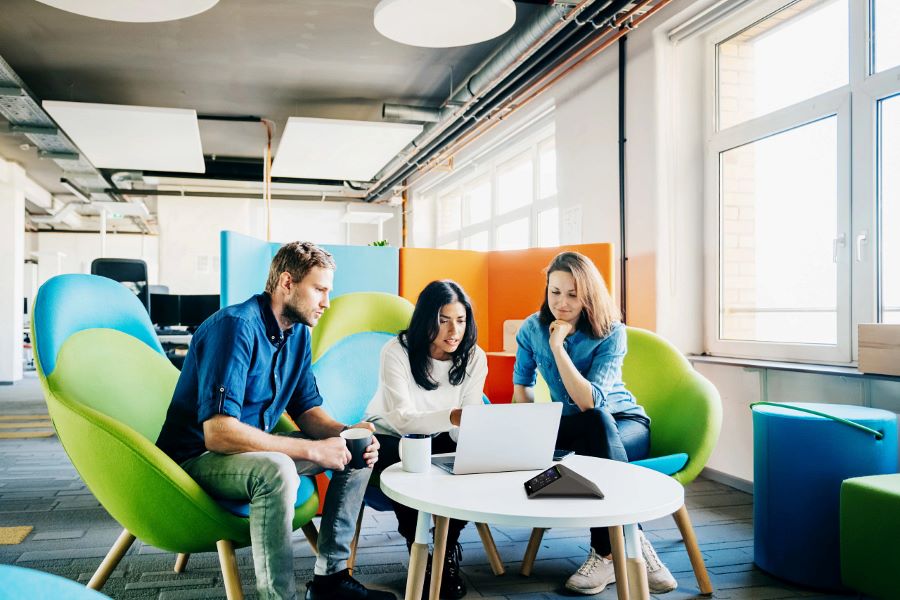 Looking Ahead: The Future of the Digital Workplace
Learn about 3 trends we expect to see as the digital workplace evolves
Although the stirrings of a digital revolution have been present for years, the COVID-19 crisis that rocked the globe in 2020 catalyzed an abrupt shift from in-person to remote work for organizations in Scottsdale, AZ, and across the U.S. And now that employees have gotten a taste of the work-from-home life, there's no going back to the way work was performed before.
Organizations are beginning to accept that the digital workplace is here to stay. Successfully embracing the shift to digital means investing in the technologies that foster communications, collaboration, and innovation among remote and in-person employees. Technology manufacturers like Crestron are guiding the digital evolution with products like Crestron Flex and XiO Cloud that enable globally dispersed hybrid workforces to thrive.
Keep reading to learn more about where we see the digital workplace moving over the next few years.
SEE ALSO: Crestron Flex: A Unified Communications Solution for Every Space
1. More Employees Will Workfrom Home, But Not Full-Time
While remote work and flexible work increased dramatically during the pandemic's peak in 2020, many companies will not move toward a fully remote model in the coming years. Instead, most organizations will shift into a hybrid model where employees work some days in the office and some days at home.
Collaborative digital technologies are the key to uniting in-person and remote employees to work together toward common business objectives — regardless of where they are physically. The digital workplace will be built with the following collaborative tools:
Cloud-delivered UC platforms. Cloud-delivered unified communications and collaboration platforms foster a work-from-anywhere model for the hybrid workplace. A single platform (like Microsoft Teams) that combines chat/direct messaging, IP telephony, video conferencing, digital whiteboarding, document sharing, and editing, and app integration is ideal for keeping remote and in-person employees connected during the workday. As a result, employees have all the tools and resources they need to work productively on any device, and in any location.
All-in-one room systems. Integrated conference rooms systems like Crestron Flex provide a seamless meeting experience to keep employees connected no matter where they are. Flex is an all-in-one solution that combines room scheduling, video conferencing, wireless presentation, and smart room control from a single, user-friendly touchscreen interface. Remote and in-person employees can easily connect via native conferencing with Microsoft Teams or Zoom or BYOD connectivity. With Flex, employees can expect the same, seamless user experience in any meeting room they enter.
Remote monitoring and management. As more work takes place in the cloud, monitoring and management need to move into the cloud as well. IoT platforms like Crestron's XiO Cloud will dominate AV infrastructure management by allowing IT to deploy, monitor, manage, and scale connected devices from a single, cloud-hosted platform. As a result, IT teams have the freedom and flexibility to monitor thousands of devices from a single dashboard, and make updates and resolve issues remotely, no matter where the physical hardware is located.
2. The Digital Evolution Is Data-Driven
The digital workplace is measurable — and that's a good thing for employers and employees alike. Moving forward, smart organizations will utilize workplace data to use space more efficiently, optimize work processes, and improve employee engagement and satisfaction.
People-counting trackers have a significant role in informing employers how physical spaces and technologies are being used in the office. This data can help organizations effectively plan and budget for meeting rooms that meet employees' needs while they're on-site. Another significant source of analytics will be mobile workplace apps. Workplace experience apps can serve as a centralized hub that allows employees to give notice when they are in the office, book meeting rooms, reserve desks, and answer feedback surveys about the workplace experience. Workplace apps generate actionable data that helps organizations gain insight into what they can do to improve the office experience.
3. The Office Is Undergoing a Makeover
The office isn't dead — it's being reborn. While employees are reluctant to return to the cubicle wasteland full time, many aren't ready to entirely give up physical meeting spaces. Instead of using the office as a daily working space, employees want to use the office to get what they can't at home: face-to-face human connections.
Forward-thinking organizations are already adapting the physical workplace to facilitate socialization, connectivity, and spontaneous collaboration and create exciting environments that make employees want to spend part of their week on-site.
The office of the future will be reliant on digital technologies like video conferencing, BYOD connectivity, hotdesking, and mobile workplace experience apps that support a hybrid workforce. In addition, flexible and agile systems — like Crestron Flex solutions that scale to spaces of all sizes and moveable conference room setups — will be necessary so that organizations can respond fluidly to shifting workplace needs.
As the workplace evolves, smart enterprise organizations will invest their resources into next-generation meeting room design and intuitive room systems like Crestron Flex and XiO Cloud to empower employees to communicate, collaborate, and connect more efficiently and productively. If you're ready to make upgrades to support the workplace of the future, reach out to Level 3 Audiovisual today. Call us or fill out an online form to connect with our team.