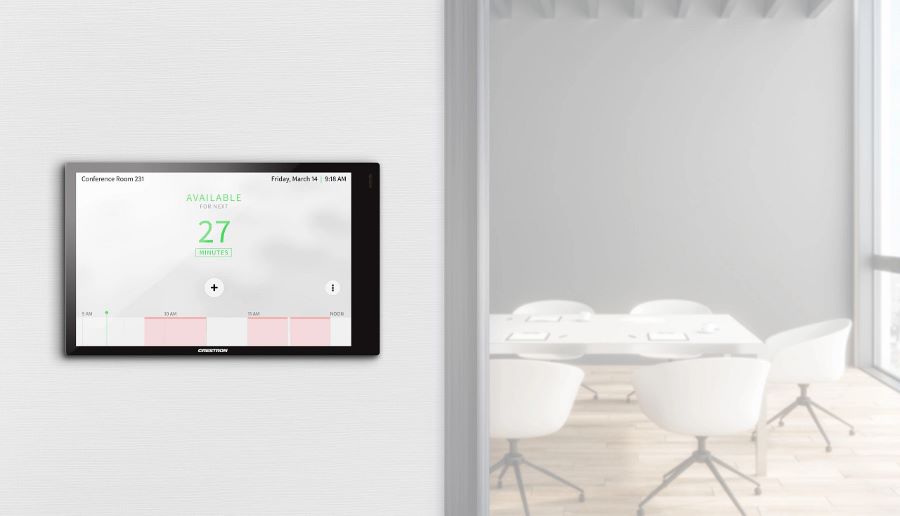 Successful Meetings Start with Crestron Conference Room Scheduling
Scheduling meetings is a common pain point for organizations of all sizes
Booking a free meeting space is one of the most common pain points workplace leaders face in the office. Often, disorganized scheduling systems lead to double-bookings that slow the flow of operations and result in lost productivity. And not only do double-bookings result in office inefficiencies but simply securing meeting space is hugely time-wasting for organizations. One research study suggests that workers spend up to 60 minutes per week searching for available conference rooms.
Meeting room systems are incredibly costly for your organization to set up and maintain. One solution for optimizing room efficiency is conference room scheduling that gives employees complete access to when and where meeting rooms are available 24/7. Crestron's room scheduling solutions help your organization – whether in Tempe, AZ, or across the globe – manage the flow of people and ideas. Keep reading to learn how.
SEE ALSO: Make Meetings an Experience with Crestron Smart Room Control
1. Build Your Solution
Crestron offers a range of hardware options to meet your meeting room needs. The 70 Series high-resolution touchscreens come in multiple sizes (5", 7" 10") and can be wall-mounted outside conference rooms for easy accessibility. At a glance, you can view the day's schedule, check availability, reserve a meeting time, or extend an existing meeting. Upgrading to a custom solution allows you to add a company logo, change the colors and background, and customize the UI with your company name.
Booking a meeting room isn't limited to wall-mounted touchscreens. Employees also have the flexibility to reserve rooms from a mobile app, desktop computer, or in-room tabletop touchscreen.
In addition to the scheduling touchscreens, Crestron offers room availability indicators so that employees can tell immediately if a room is occupied or free for use. Finally, PoE (Power over Ethernet) occupancy sensors communicate directly with the touchscreens to provide up-to-date room status and usage data.
2. Choose Your Platform
Crestron room scheduling is platform-agnostic, which means your organization can use the software that works best for your needs. Built-in Crestron software directly connects to calendaring platforms like Microsoft Exchange, Office 365, and G Suite and partners with the most popular conferencing and scheduling providers like Microsoft, Zoom, EMS, Appspace, Robin, and many others. No matter the provider you land on, Crestron will deliver a native user experience for each.
What if your organization's scheduling requirements change down the road? Crestron room scheduling allows you to decouple your software from your hardware and switch applications on the fly to adapt to your business's shifting needs.
3. Deploy, Scale, and Manage with XiO Cloud
From one meeting room to one hundred, your organization can deploy, monitor, and manage room scheduling from a single cloud-hosted platform. Crestron room scheduling has a PoE single-cable deployment and web-based setup. Your organization's IT team can configure the scheduling settings once and then deploy them to hundreds or thousands of touchscreens from the Creston XiO Cloud management platform.
XiO Cloud also enables centralized monitoring, remote troubleshooting, and remote updates to all devices from a single platform.
4. Gather Intelligence
Crestron room scheduling helps your organization gather intelligent, actionable data to monitor how your meeting spaces are used. PoE occupancy sensors in each meeting room deliver insights into how often rooms are in use and the average number of people per meeting. Business intelligence enables your organization to optimize conference rooms and technology to drive more efficient and cost-effective meetings.
As the workplace evolves, smart enterprise organizations invest their resources into next-generation meeting room design and intuitive room systems like Crestron Flex, Crestron room scheduling, and XiO Cloud that empower employees to communicate, collaborate, and connect more efficiently and productively. If you're ready to make upgrades to support the workplace of the future, reach out to Level 3 Audiovisual today. Call us or fill out an online form to connect with our team.