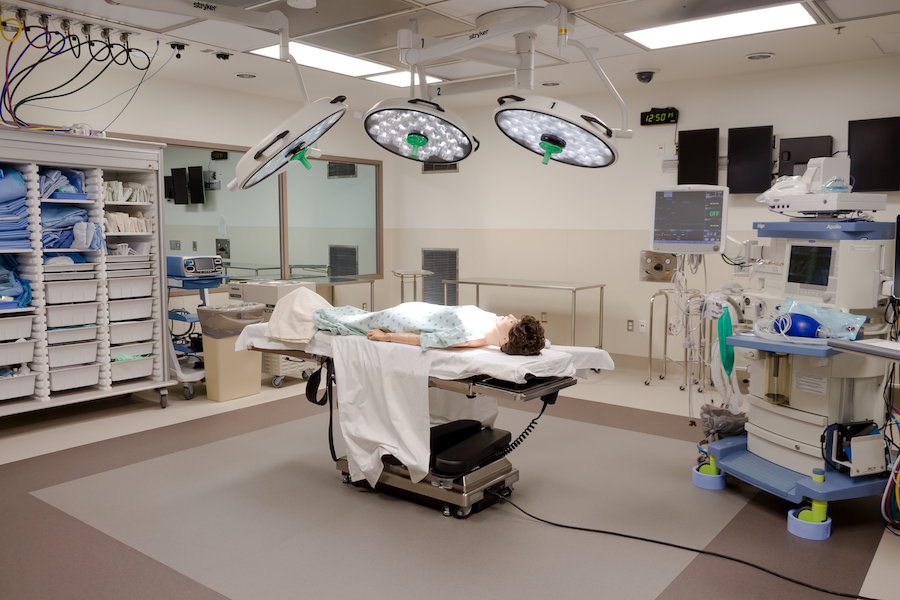 New Use Cases for Healthcare Simulation, Part 3: Wet Labs
Wet Lab Simulation Provides Invaluable Training for Future Health Professionals
As shown in previous posts, simulation is an increasingly popular tool for training healthcare professionals. Across the U.S. and worldwide, teaching hospitals, medical schools, and nursing schools are employing realistic simulation labs to hone training for future doctors, nurses, and physician assistants. And we've delved into new areas where simulation can help other professionals when faced with life or death decisions, such as police training and EMS professionals.
This post will add another area where simulation offers unique advantages in training medical professionals – cadaver or "wet" labs. Simulation environments for wet labs also present some unique challenges, but the benefits are invaluable for training. Keep reading to learn more about how the Level 3 SimStation simulation suite adapts to cadaver lab training requirements.
SEE ALSO: New Use Cases for Healthcare Simulation, Part 2: Police Training Labs
Deploying AV in a Wet Lab
The use of cameras to capture procedures for cadaver training requires precision and connectivity. Positioning the cameras is critical to record close-up views of the student's work. The SimStation solution allows for connections to boom light cameras, fluoroscopy machines, ultrasound, and other equipment that put an image on a screen. The video capture can be integrated into the SimStation software in a quad-view screen to show information and multiple views for effective training. To comply with confidentiality requirements, the software in the cameras can blur faces to restrict identification.
Permanent Installations
For enterprise or permanent wet lab installations, we work with leading surgical equipment suppliers like Stryker to integrate the simulation AV infrastructure with their systems. This includes integration with boom cameras used in the rooms and high-quality microphones in the ceiling for audio capture. Control stations are also permanently installed to provide all the interfaces necessary to administer and operate the system for training.
Portable Installations
Many schools don't employ permanent labs, as the handling and storage requirements for cadavers are complicated and regulated. SimStation can work with portable environments as well, using similar tools employed for EMS simulation training. These include hotspots for connectivity, professional-grade cameras, digital audio processing for clear voice comprehension and ambient noise reduction, and portable control stations for recording, taking notes, bookmarking, and other training functions.
A Turnkey System
Whether set up for portable or permanent wet labs, the Level 3 SimStation solution offers all the necessary tools to run simulations. This includes high-quality video cameras with intuitive software control, high-quality microphones and digital audio processing, an instructor tablet for bookmarking recordings, notes, evaluations, and debriefing, and eight hours of onsite training.
Simulation and Synthetic Cadavers
Just as medical manikins offer realistic medical training simulation opportunities, synthetic cadavers provide significant benefits to wet labs when coupled with simulation solutions like SimStation. Synthetic cadavers are easily transported, are not subject to the rules and regulations on the handling of real bodies, and can be reused many times without the refrigeration and thawing necessary for real cadavers. Synthetic cadavers can be used with both permanent and portable simulation installations. With the phasing out of animal cadaver labs, synthetic cadavers offer a more flexible yet realistic solution.
New Uses for Simulation Wet Labs
Aside from traditional medical training, wet lab simulation has other potential applications. Surgeons can train in tricky, precision procedures like eye surgery with less pressure than operating on a real patient. New robotic surgery techniques can be taught with the ability to provide detailed feedback and evaluation. The SimStation toolset provides complete information capture to effectively train for real-world scenarios in a physical environment.
Level 3 Audiovisual delivers complete turnkey simulation solutions with professional design, installation, training, and long-term support. If you're interested in learning more about simulation solutions for your facility or training program in Houston, TX, reach out to us online or click the chat box below to connect instantly.