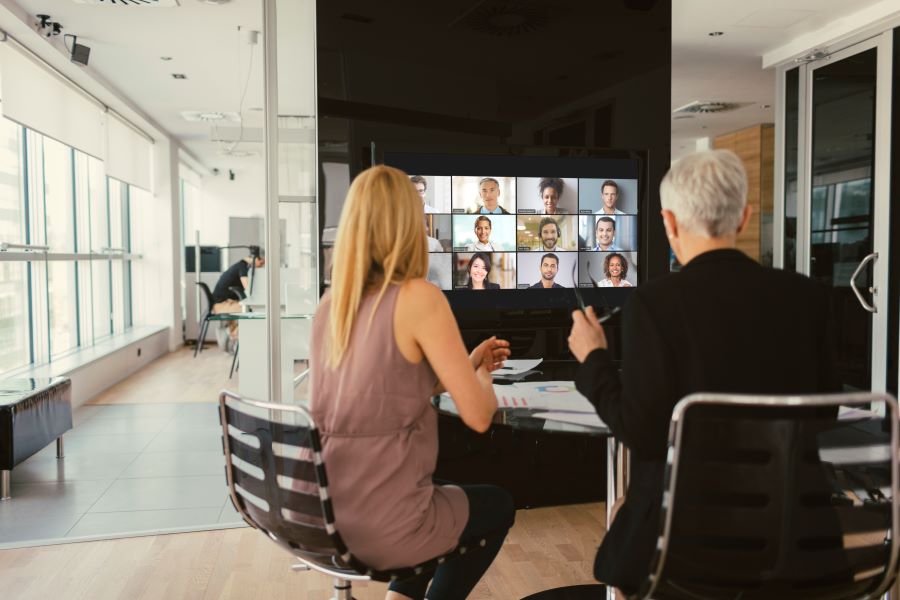 How to Design Equitable Conference Rooms for the Hybrid Workplace
How can we reconfigure conference rooms to create a balanced experience for in-person and remote participants?
Once, in the not-too-distant past, office workers all had the same meeting experiences. Participants gathered in a conference room to discuss performance data, collaborate on upcoming projects, and brainstorm new ideas together. Then the coronavirus pandemic triggered a massive paradigm shift in how and where we work, ushering in a new era of remote workforces and digital workspaces. In the post-pandemic workplace, hybrid meetings with in-person and remote participants are the new norm, and now meeting experiences aren't the same for everyone.
Now, the goal of modern conference room design isn't equality, where employees have the same meeting experiences, but equity, where employees have fair meeting experiences. Simply put: how can we make the hybrid meeting experience good for everyone?
Keep reading to learn three considerations for redesigning your conference rooms in Scottsdale, AZ, or worldwide to be more equitable for all participants.
SEE ALSO: Leverage AV Technology to Create a More Engaging Hybrid Workplace
Use Case Design
Before the coronavirus pandemic and the shift toward remote work, video conferencing was not a primary means for communicating and collaborating in the office. Therefore, most conference rooms were not designed to support remote participation. Today, organizations need to take a step back and consider the use cases of each space before starting the design process.
Meeting room design guided by purpose will result in more effective and less frustrating meetings for everyone. For the hybrid meeting room, that means design features including a large display screen or video wall, HD cameras, in-room speakers and microphone arrays, and properly positioned seating to ensure that in-person and remote employees can see and hear clearly.
Thoughtful and intentional conference room design is the first step toward making sure all meeting participants feel like they have a voice and place at the table, even if they're not physically in the room.
Seating Arrangements
Seating arrangements in the hybrid conference room are incredibly important to creating equitable spaces. Traditional seating styles like boardroom, hollow-square, and roundtable styles are a disaster for hybrid meetings. Neither in-person nor remote attendees have a clear view of all meeting participants, hindering communication and collaborative efforts. Instead, tables and chairs arranged in an arc shape provide equal face value for all meeting participants.
Digital Tools
Video conferencing does not naturally lend itself to the easy back-and-forth conversational style typical during in-person meetings. Remote team members may find it difficult, frustrating, and awkward to interject, thus causing them to feel more isolated and less engaged from the discussion at hand.
Collaborative solutions like Zoom Rooms and Microsoft Teams are leading the charge with digital tools that help improve the meeting experience for remote participants. For example, both Zoom and Microsoft offer digital whiteboarding platforms that allow in-person and remote employees to brainstorm and collaborate on shared projects and team goals. Additionally, Microsoft Teams has moderation tools like the "Raise Hand" feature that allows virtual participants to indicate they'd like a speaking turn without interrupting a conversation. Teams meetings also offer the option to enable live captions with speaker attribution, which can help remote participants keep up with the rapid-fire flow of dialogue and find openings to raise points or ask questions.
Zoom's most exciting new feature rollout is the Smart Gallery for Zoom Rooms. The Smart Gallery eliminates the communication problems that arise when remote attendees view all in-person attendees in a single video frame. From that viewpoint, remote employees often have difficulty seeing everyone in the meeting room or knowing who's speaking. But the Smart Gallery uses advanced AI to create a gallery view of in-person meeting participants to improve face-to-face communications for remote participants.
Are you ready to create engaging hybrid workplaces to foster productive and happy teams? Level 3 Audiovisual is ready to help. Reach out to us here or click the chat box below to connect instantly. We look forward to working with you.