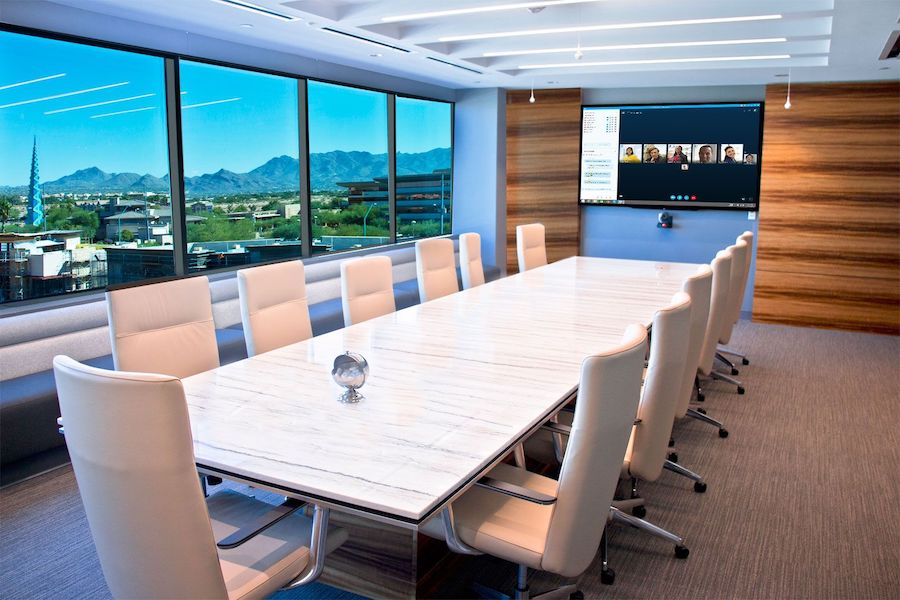 Does Your CEO Trust Your Boardroom Technology?
How to Ensure Your Boardroom AV Tech and Automation Work Reliably
What's an AV manager's worst nightmare? If you're responsible for your company's AV systems, you likely have a few stories to insert here. But perhaps nothing is worse than incurring the wrath of your CEO and executive team. Imagine a video conference that went south because the camera stopped working. Or the audio stopped working or experienced constant dropouts. The meetings in your boardroom are high-profile and involve people who are highly paid for their time, so any glitches in the AV setup are magnified at this level. Having a boardroom that experiences sporadic problems is a sure way to make the responsible manager fear for their job security.
How do you ensure the reliability and robustness of the boardroom technology in your Phoenix, AZ, company? Please keep reading below for our take.
SEE ALSO: Top 5 Ways to Trick Out Your Boardroom
Pick the Safe Brands
Going back a few decades, one of the old adages in IT was, "you can't go wrong choosing IBM." In the era of the mainframe, minicomputer, and the earliest days of the PC, IBM was the industry's dominant player and a safe choice. In more modern times, in a software-centric world, that choice might be Microsoft. In AV solutions, that choice might be Crestron. There is (or was) nothing wrong with any of these, except for the same issues you might encounter with a full-service supplier such as these - vendor lock-in with proprietary solutions, each component may not be best of breed, and higher costs than competitors. A Crestron-powered Microsoft Teams room might be an excellent solution for your company from the point of view that these companies will be around five and ten years from now, but you will pay for that and be committed to their product development roadmaps. And while there will be stability from all the platform integration these solutions provide, you will still have other components to integrate.
Don't Try to Go Bleeding Edge
Technology changes constantly, and you have to keep up. Leading edge is good, but bleeding edge may not be so good in the boardroom. Your executive team may have heard of the latest solutions like auto-tracking cameras that can automatically identify and frame whoever is speaking in a video meeting, and they want it installed next quarter. These are great solutions, but you should understand the ramifications. If this is one of several new features requiring new hardware and software, you'll have to be careful to understand how they all work together – reliably. 90% of the time won't cut it in the boardroom. "Let's wait a few minutes while I restart the videoconference," said no CEO ever.
Monitor and Test
Whether you're putting in the latest cameras or sticking with a relatively standard and proven setup, the boardroom AV should be monitored and tested constantly. Whether your company does it or you engage a managed service provider to do it, the boardroom technology should be continuously monitored and updated. The goal is to catch any issues before your executive team does in a meeting. Is the camera pan/tilt not responding? Is a microphone out? Does the video display annoyingly black out for 2 seconds every 5 minutes? Continuous monitoring of all boardroom AV components can ensure they are all active and reporting normal operation. If there are firmware or software patches to fix known bugs, applying them when the room is not in use and restarting systems to ensure successful updates is essential. You've heard of the Tesla recall over power steering failures due to a software update? You want to avoid the AV analogy to that in your boardroom.
Bring In Software Integration Expertise
We've previously discussed on these pages the increasingly important role of software in AV integration. It's not a surprise to anyone that today's systems are software-driven, and the integration of conference and boardroom systems is heavily software-based. That means that you should pay close attention to the software programming skills of your technology integrators and service providers. Do they have solid processes for identifying, tracking, and fixing software bugs? Do they have abilities to fix integrations with remote updates? Do they have UX design skills?
The user experience in the boardroom is even more critical than in the standard conference room. Your executives are not likely to be available to be interviewed for requirements nor trained in how to use the AV technology. Instead, they'll have access to support personnel like executive assistants and chiefs of staff to design and get feedback on boardroom interfaces. You should ensure that the design is based on how your executive team wants to use the boardroom rather than how the service provider imagines it. That requires solid skills in UX design, wireframing, and testing to ensure the system is easy to use.
If you need assistance in modernizing your boardroom technology, we can help. Level 3 Audiovisual is a Tempe, Arizona-based national managed services provider helping organizations of all sizes across the U.S. design, deploy, and manage AV systems and infrastructure. Learn more by reaching out to Level 3 Audiovisual or clicking the chat box below to connect instantly. We look forward to working with you.