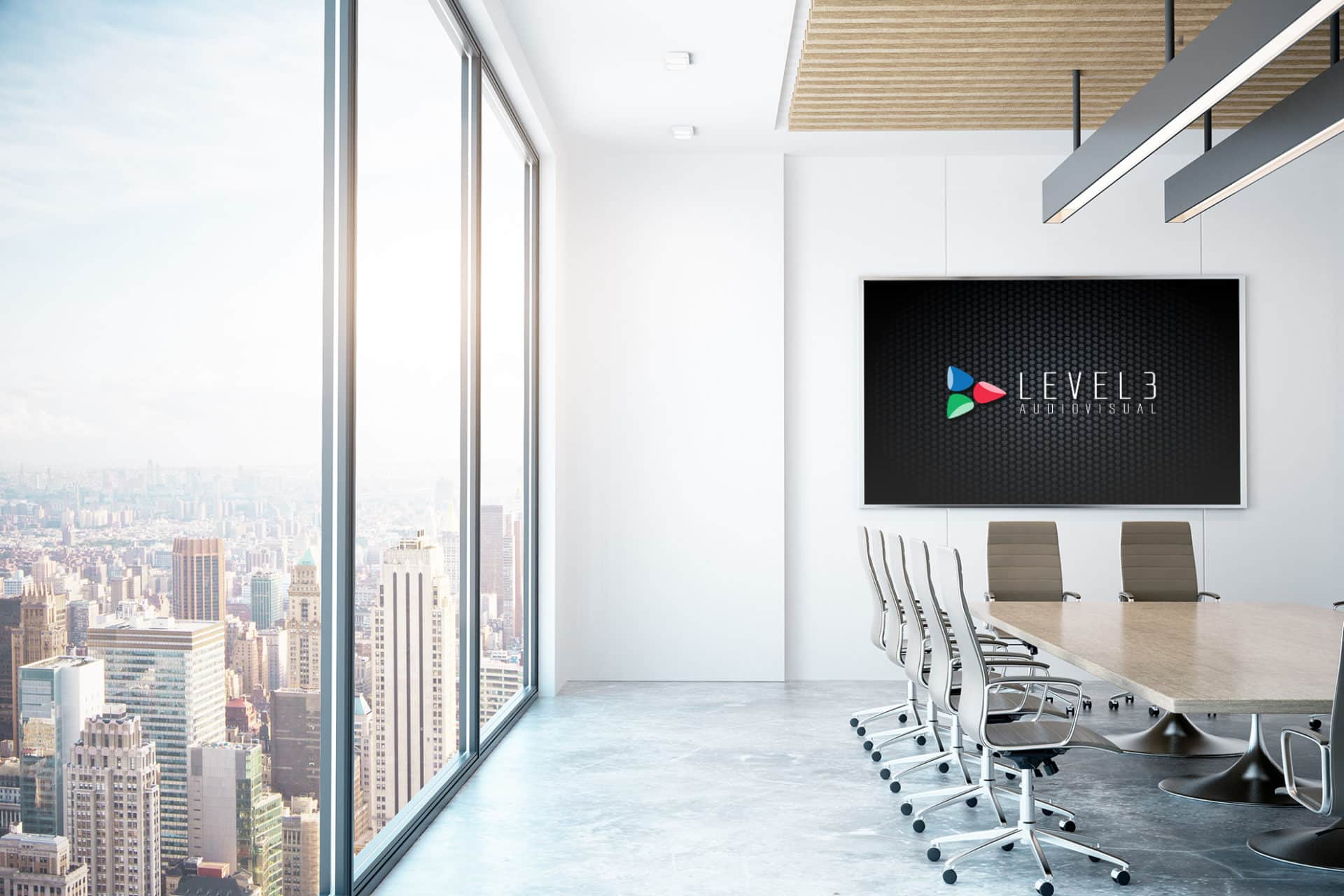 Top 5 Ways to Trick Out Your Boardroom
1. THE COLLABORATOR
You like to get people involved? We get it. Let us find you the right collaboration engine for you to share one, two, four, or even more sources on a single or multiple displays for your boardroom.
A little extra something: We can even give you the ability to moderate what sources are allowed on screen, choose your favorite collaborator to feature full screen, and mute the guy from HR that just seems to be sharing cat videos on his iPad.
2. The Minimalist
So you want simplicity and just want things to work? Why not let the control system work in the background? Install an occupancy sensor and tie it to the control system. This will allow the system to turn things on when walk in and automatically shut things down when you are gone.
A little extra something: Don't know where the presenter will be sitting in the boardroom? Easy, install multiple input locations around the boardroom table and the system can automatically switch to wherever you plug in.
3. The Demonstrator
Do you feel at peace with a pen and a whiteboard during meetings? Why not install an annotation engine into your board room and draw to your hearts content. You can even save what you have annotated and distribute to your meeting participants. Annotation can be engaged or shutoff at the click of a button on the control system.
A little extra something: For the stand-up desk employees, you can install touch right into the main display at the front of the room and let them go to town. That's right, even that 98 inch display you have been eyeing has a touch enabled counterpart to it. For the "I'm fine right where I am" employees, how about a touch monitor on the board table? Anything you draw shows up on any assigned screen in the room.
4. The Audiophile
Forget the 150 inch LED video wall at the front of the room, your heart is connected directly to your ears. How about high quality line array speakers at the front of the space for program audio? In fact, lets throw in a low profile ceiling mounted sub-woofer as well. Fully adjustable and controllable via the control system. Do you want to share your PowerPoint or just watch Gladiator today?
A little extra something: Doing conferencing in your board room? How about auto-mixing low profile microphones mounted in the table? They can even be programmed to light green when they are on and red when they are muted. Perhaps you would install a snake skin wallpaper before EVER letting ANYONE drill into your table? Ceiling microphones it is then. We can even make them drop from the ceiling when conferencing is engaged. It's cool. Trust us.
5. The Long-Distance Relationship
Need to have a conversation with someone but text just doesn't seem appropriate? How about installing a video conferencing system into your boardroom? Skype for business, Webex, GoToMeeting, traditional Polycom/Cisco conferencing is all at your fingertips. Not to mention without the need for thirteen remote controls. Just grab the touch panel and engage with a single or even multiple other users at the same time.
A little extra something: Why not save the best for last? Install automated camera tracking and control. When you talk, the control system finds you and frames you as the presenter. When Fred talks on the other end of the room, the system switches to a wide shot of the board table until the 2nd camera finds Fred. When it does, boom, Fred is front and center. It's like a magic trick, but with less wands, and more 1's and 0's.
Next Steps
Would you like to have your cake and eat it too? No problem, let us combine all of your favorite control features and functions and create something truly amazing for your space. To get started, reach out to us here or click the chatbox below to connect instantly. We look forward to working with you.