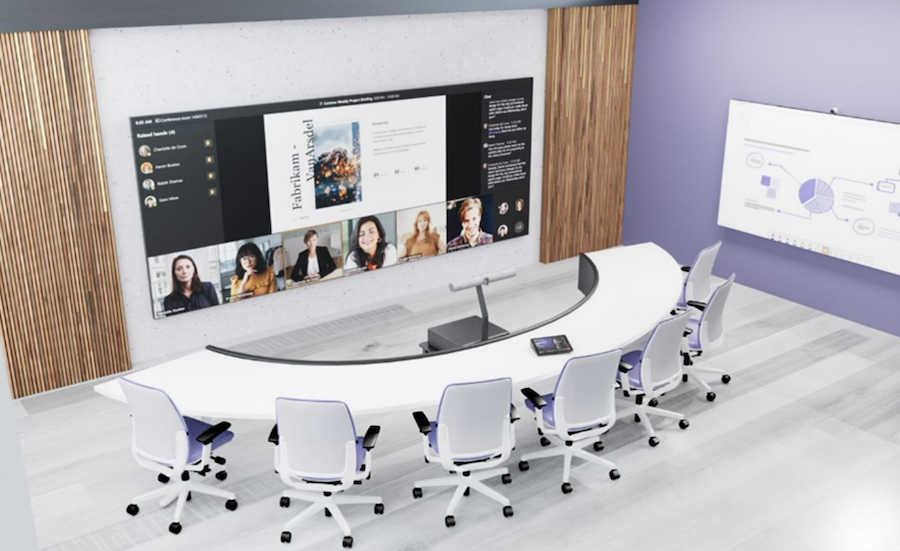 What's the Latest for Microsoft Teams Rooms and Collaboration?
New Devices and Features Continue to Enhance Teams for Hybrid Work Models
In the post-pandemic workplace, companies have been facing new challenges to old work models. Whether companies go with mandatory "X days in the office" policy or a more liberal approach to in-office presence, the need to better support hybrid work models is evident. And most companies, in reality, are still muddling their way through this new world.
Fortunately, the companies that enable remote work with technology are paying attention and adapting the platforms to create more seamless collaboration models. Microsoft, of course, is a big player in every aspect of productivity and collaboration software. Its latest updates to its Teams platform have focused on bridging the divide between remote and in-office workers for more flexible and inclusive collaboration. Keep reading below to see how the latest Microsoft Teams Rooms enhancements can help your Tempe, AZ, company accommodate hybrid work.
SEE ALSO: How Do Teams Rooms Work? And Other Questions
New Devices
Hot desking has become popular for hybrid work, freeing staff from needing to work from the same physical location and allowing companies a more flexible approach to allocating office infrastructure. Workers using Teams want a seamless experience when they come in, and they don't want any personal data left behind when they're done at a workstation. Microsoft Teams has added hot-desking reservations to Crestron Flex displays and will also take it to other integrated conferencing solutions from Neat and Yealink.
Other device integrations make managing meetings in Teams rooms more straightforward and natural. The Logi Dock includes a video mute button to make it just as easy to turn off the video as the audio. The Microsoft Presenter+ handheld accessory can mute and unmute you, raise your hand in a meeting, and advance slides in a Teams presentation. The pocket-sized device frees a participant from a mouse and keyboard and allows freedom of movement for any venue.
More Inclusive Experiences
One of the issues with hybrid meetings is putting all participants on an equal footing. With typical conference room setups, in-room participants are captured on one wide camera shot, and remote workers often have difficulty seeing faces and identifying who is talking, particularly when the meeting is fast and fluid. Following in the footsteps of Zoom Room Smart Gallery, Microsoft's Intelliframe works with specific cameras to place each face in a video gallery, putting everyone on the same level. A Teams room with intelligent cameras will produce multiple video streams, and upcoming updates will add AI-powered active speaker tracking, people recognition, and automatic captioning and transcription to ensure everyone can follow along and participate fully.
Signature Microsoft Teams Rooms
We have discussed the challenge of hybrid meetings in this blog not only as a technology one but also as one that necessitates reimagining the meeting space. The typical long rectangular table in a conference room doesn't work well for a model where half the attendees are remote. The hybrid-first approach offers a different room design, one with semi-circular tables facing a large screen in a mid-sized room. The in-room participants are more oriented to the screen as well as to each other for a more inclusive experience all around. Smaller huddle spaces are similarly re-oriented toward the AV system for a better experience for all in more intimate meetings. To simplify the deployment of these Teams rooms, Microsoft has developed new design and AV standards for these Teams-oriented spaces.
If your organization needs assistance in reimagining its AV and collaboration solutions for hybrid work, we can help. Level 3 Audiovisual is a Tempe, Arizona-based national managed services provider helping organizations of all sizes across the U.S. design, deploy, and manage AV systems and infrastructure. Learn more by reaching out to Level 3 Audiovisual or clicking the chat box below to connect instantly. We look forward to working with you.