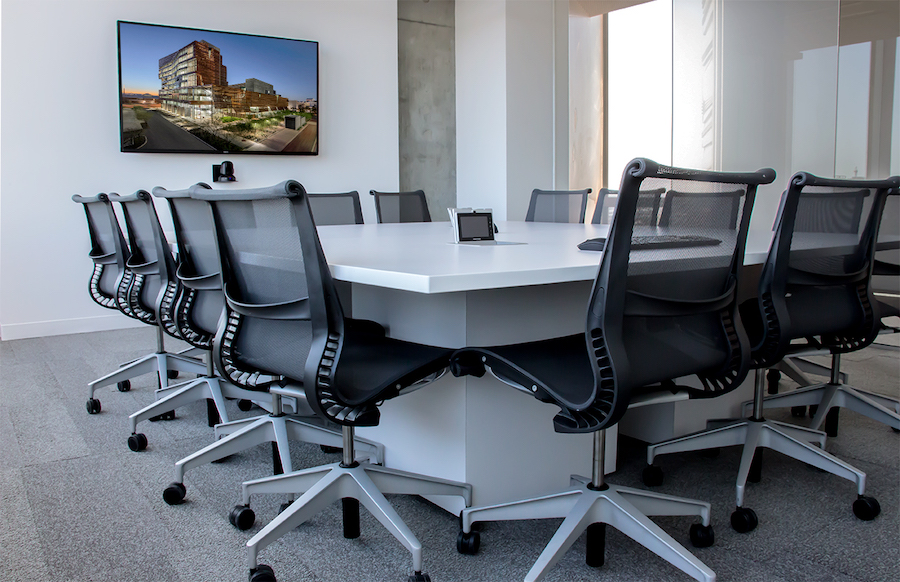 How Do Teams Rooms Work? And Other Questions
Take Your Hybrid Meetings to the Next Level
Is your business equipped for hybrid meetings?
Whether your office is adopting a hybrid work model or is entirely in-person, video calls are here to stay. As remote meetings with clients, contractors, job applicants, and training personnel become more convenient, video calls will remain 'the norm.'
So how will your teams gather in conference rooms to join meetings—while ensuring everyone is seen and heard clearly? As many business owners and integrators are realizing, it's not as simple as putting a laptop at the head of the table.
Luckily, tools like Teams Rooms and Teams-certified hardware open the doors to collaborative, easy-to-use conferencing spaces. If you're curious about hybrid conferencing solutions, continue reading to learn how Teams Rooms work and what options are best for your business.

SEE ALSO: Unsure How to Conduct Hybrid Meetings? Time for a New AV Design
What Are Teams Rooms?
Teams Rooms are conference rooms, huddle rooms, or auditoriums purposefully built for hybrid connection and collaboration. Across your meeting rooms, we'll adopt the Teams interface on all displays, touchscreens, and wall panels.
And when it's time to start a conferencing call, Teams is integrated into microphones, room cameras, speakers, and displays. In larger rooms, smart sensors tell cameras where to look and zoom in on whoever's speaking. Now, everyone's clearly understood and seen during video calls, and remote participants will feel more included.
Teams-certified equipment (from manufacturers like Crestron, Poly, Logitech and more) becomes integrated into one easy-to-control system. So whether your company requires five or 300 meeting rooms, we'll deploy Teams across them all.
Why Microsoft Teams?
While Zoom's popularity exploded during the early stages of the pandemic, Microsoft Teams has found tremendous momentum and corrected many prior video call issues. Zoom is purely a video conferencing tool, while Teams is an all-in-one platform that includes chat, scheduling, emailing, meeting to-do lists, document sharing, and advanced whiteboard features like affinity diagrams and SWOT analysis tables.
Plus, if you're recording meetings on Microsoft Teams, the recording is instantly emailed to everyone on the call and is saved in the meeting chat window. All you need is accessible from one system, making Teams the logical choice for most companies.
What If I Want to Switch Between Platforms?
Let's say you're joining a call with a client across the country, and they send you a Zoom or Google Meet link. No need to stress (or ask to switch to Teams). BYOD (bring your own device) solutions like one-click wireless sharing let you stay agnostic about which meeting platform to use. Simply share your Zoom or Google Meet meeting to the main display and conferencing system, and you'll communicate through that platform instead.
Is your business ready to lessen the gap between face-to-face and virtual meetings? Empower your hybrid workplace by partnering with Level 3 Audiovisual. We're a managed services provider based in Scottsdale, AZ providing technology solutions to businesses worldwide.
Contact us here to learn more about Teams Rooms and conferencing solutions and discuss your project today.