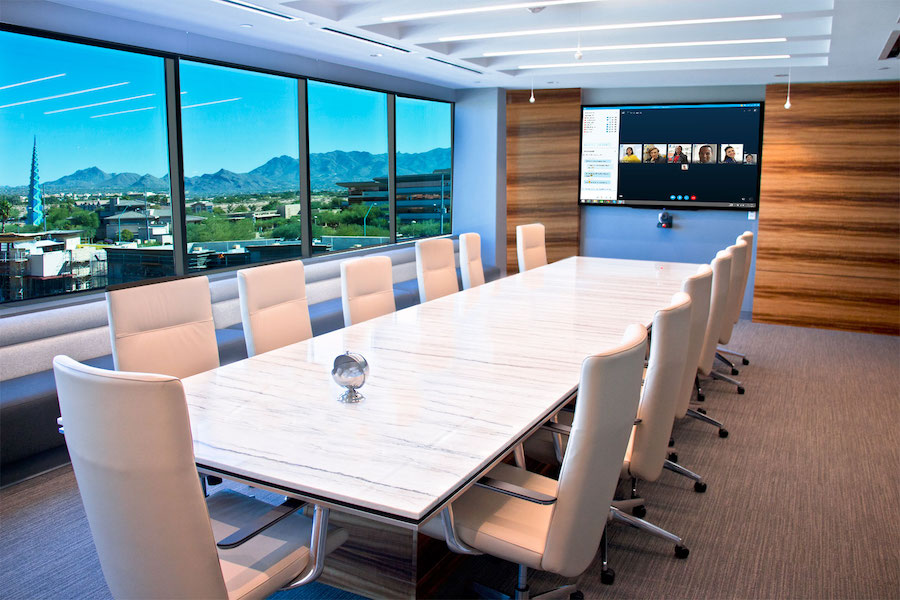 Can You Hear Me Now? The Importance of Conference Room Audio
Hearing is Understanding
It wasn't too long ago that conference room audio consisted of a lowly speakerphone. In the U.S., some of the first speakerphones were speaker add-ons to the ubiquitous Bell system phones in executive offices and boardrooms. In the 1980s and 1990s, Polycom's (Poly today) popular Soundstation speakerphones did much to diminish the use of the phrase "can you hear me now" at the start of every conference call.
Audio is still critically important in today's age of video conferencing, hybrid workplaces, and fully remote teams. For individuals working on a laptop or even a smartphone, being heard is not problematic with the ever-higher quality of microphones in these devices and software DSP that can mitigate ambient noise. In a small huddle room, all-in-one devices like a Poly soundbar with a camera and microphone employ beam-forming microphones that do a reasonably good job capturing a small group. However, put a large group of people in a conference room, and the auditory challenges increase significantly.
Let's take a closer look below at some of the issues and ways to improve sound quality and intelligibility in conference room audio-video systems.
SEE ALSO: How to Design Equitable Conference Rooms for the Hybrid Workplace
The Importance of Microphone Placement
In large meeting spaces, microphone placement becomes critically important. No amount of DSP magic can overcome the physics of bad sound. If microphones are too far away, speech can bounce off the conference table and other surfaces and introduce delays. Today's modern conference room design and furnishings do little to aid audio performance. Hard drywall, expansive walls of glass, and acoustic ceiling tiles often conspire to introduce enough reverberation to make large meetings a "can you please repeat that" aural experience.
One of the measures of reverberation in a room is sound decay, often referred to as the RT60 time. Without going into the nitty gritty (as this varies based on the space), one of the goals for better audio is to minimize sound decay in the room. Much will depend on the size of the room, the table, the seating, and the number of meeting participants, but there are several options to get microphones closer to the speakers.
Microphone ceiling arrays mounted directly above the table are one option. A high-quality omnidirectional microphone in the middle of the table is another, and gooseneck mics in front of seated participants are another step up. Naturally, these options need to fit the room usage, how teams work, and budgets.
Room Acoustics
As we mentioned, today's offices full of hard surfaces are unfriendly to acoustics. Acoustic treatment can help, but it can also add hefty costs to a room buildout. It is easy to spend $25,000 on the design and treatment of room acoustics in a medium-sized conference room.
A smart way to approach the audio issue is to address acoustics in the planning of the space. Architects can partner with acoustic experts to design rooms with materials, orientation, and acoustic treatment to avoid terrible-sounding rooms. Speech privacy can also be an issue in today's meeting rooms. While sound masking techniques can help with privacy, physical acoustic treatment is the ultimate solution for conference rooms, better addressed in the room's design.
While audio intelligibility may only have been an occasional problem in meetings before, now that virtually every meeting has remote participants in and outside the organization, it's critical for inclusivity and productivity. Can everyone hear clearly in your meetings?
Level 3 Audiovisual is a Tempe, Arizona-based national managed services provider helping organizations of all sizes across the U.S. design, deploy, and manage AV systems and infrastructure. Learn more by reaching out to Level 3 Audiovisual or clicking the chat box below to connect instantly. We look forward to working with you.