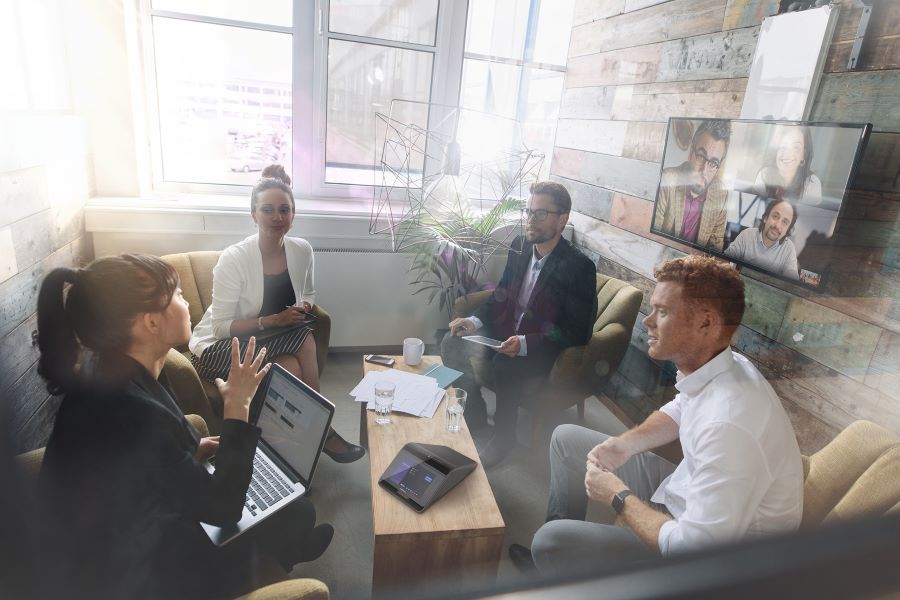 3 Tips for Implementing a Hybrid Workplace Model in the Office
What can you do to make workers want to come to the office?
In a hybrid workplace model, employees have the freedom and flexibility to choose where they work day-to-day. For some workers, that's alternating days in the office with days at home. For others, that's only coming to the office for all-hands meetings or team events. So how can your organization reconcile differing employee schedules and work styles while keeping everyone connected?
The key to creating an effective hybrid workplace is cultivating an office environment where employees are just as comfortable, productive, and efficient as they are at home. A successful hybrid model allows employees to move fluidly between home and office workspaces and have the best tools and conditions to thrive in both. 
Tools like workplace experience apps, Crestron Flex room systems, and video conferencing platforms, combined with a fresh office re-design, can help your organization in Tempe, AZ, or elsewhere in the U.S. build the kind of workplace that makes workers want to come to the office. 
Keep reading to learn three tips for implementing a hybrid model in your office spaces. 
SEE ALSO: Looking Ahead: The Future of the Digital Workplace
Implement a Workplace Experience Solution
Before the rise of the hybrid workplace, you could expect all team members and employees to be in the office five days a week during office hours. Now that in-person attendance isn't always the case, how can you keep track of where employees are day-to-day? It's not effective for employees to clutter Slack or email with a daily status update on their whereabouts. 
A better solution is to bring in a mobile app that functions as a central workplace hub. Robust workplace experience apps allow employees to post when they are in the office, reserve an office or workstation, book a meeting, catch up on inter-office news, view upcoming office events, and access on-site amenities. Central apps keep your employees engaged and in the loop no matter where they're working from day-to-day.
Additionally, workplace experience apps can help your organization monitor morale and culture. With employees moving fluidly in and out of the office, it's more difficult to capture a sense of what's working and what's not. Instead, you can send engagement and satisfaction surveys to get feedback on company-hosted events, amenities, and workplace conditions, then use those insights to provide more of what employees want while they're on-site.
Design a Mix of Collaboration Spaces
The purpose of the office is changing. Instead of using the office as a physical place to work, employees want to use the office to get what they can't at home — face-to-face connections, spontaneous collaborations, and socialization. The re-designed office can meet those needs by including a mix of working and meeting spaces that foster connection and teamwork.
What does that look like? It could be swapping out assigned cubicles for open-area workstations occupied by a hot-desking arrangement. Perhaps it's including privacy pods and individual offices equipped with video conferencing for one-on-one meetings with remote colleagues. Maybe it's providing huddle rooms and open-area meeting spaces with clusters of comfortable couches and chairs instead of traditional conferencing tables. Perhaps it's re-designing conference rooms based on a use case to facilitate more equitable meetings for remote and in-person workers alike. 
Create a "Work From Home" User Experience in Meeting Rooms
After working from home for over a year, employees are accustomed to the ease of hosting and joining meetings from their home office setups. With a single click on Zoom, Microsoft Teams, or RingCentral, employees can launch video meetings from anywhere that automatically include great audio and video. Now, workers want the same ease of use and fantastic user experience in the office. 
Integrated room systems like Crestron Flex are the best place to start. Flex systems include everything a user needs during meetings on a single tabletop device — native video conferencing with Zoom or Microsoft Teams, BYOD video conferencing, content sharing, room scheduling, and smart room control. Flex standardizes the meeting room experience across hundreds of meeting rooms and offices, allowing team leaders to walk into any conference room and start a meeting within seconds. 
As the workplace evolves, smart enterprise organizations invest their resources into next-generation meeting room design and intuitive room systems like Crestron Flex that empower employees to communicate, collaborate, and connect more efficiently and productively. If you're ready to make upgrades to support the workplace of the future, reach out to Level 3 Audiovisual today. Call us or fill out an online form to connect with our team.