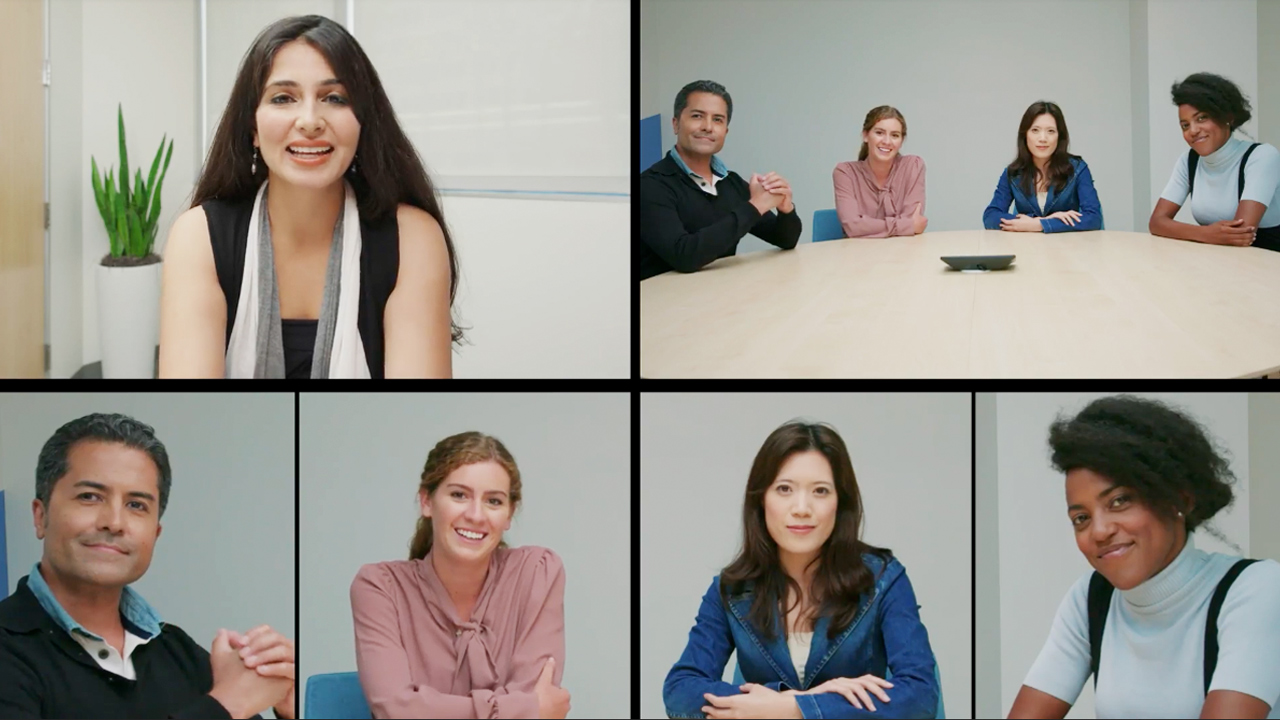 Create More Equitable Zoom Room Experiences with Smart Gallery
Zoom Rooms Smart Gallery Lets Everyone Enjoy More Participatory Meetings
The past two-plus years of the pandemic brought Zoom meetings into the modern lexicon. As work went remote in companies small and large, video conferencing became the go-to approach for meetings and interaction. Zoom is not the only video conferencing and collaboration solution, but its ease of use made it the standard for many organizations.
Holding a fully remote meeting is not without its limitations, but it's straightforward when everyone abides by basic rules. With video conferencing, the slight audio delays dictate that people not interject and step over someone else who is talking. And while occasional video, audio, and connection problems occur, generally the experience is good when people sit in close proximity to the camera and microphone. By abiding by some basic rules and behaviors, everyone can have an equal, inclusive experience.
Now that professionals are returning to the office at least part-time, what happens to meetings in real conference rooms? How do remote participants know who is talking and see them clearly? How can you create hybrid meetings with consistent and equitable experiences for in-office and remote workers? That's what Zoom and its Zoom Room hardware partners have tried to address with the Smart Gallery feature. Keep reading below to see how Smart Gallery creates better, more productive Zoom meeting experiences in your Phoenix-based organization.
SEE ALSO: How Zoom Rooms Solve the 3 Most Common Meeting Pain Points
Zoom Smart Gallery
Smart Gallery is a feature that can be turned on in Zoom Rooms with compatible equipment. It enables participants in a physical meeting room to be viewed as a close-up square by remote participants. As people in the conference room speak, the camera pans and focuses on them to enable remote attendees to hear them clearly and see facial expressions and mannerisms for a more personal experience. The system employs AI to track voice and movement to intelligently zoom in on where the action is. Rooms with a single camera can send up to three unique video streams to give remote attendees better views of the physical meeting room.
Smart Galley's AI can track movement and keep the focus on people that are in the room as others may leave. With multiple cameras in larger spaces, AI creates optimal angles to display participants to provide more views and better interaction for remote participants. The AI also tracks audio to focus on the right speaker, so remote attendees can follow the discussions and stay engaged.
What's Needed for Smart Gallery?
Smart Gallery works with a variety of Zoom Room integrated hardware. Generally, those systems from popular providers like Poly, Logitech, and Neat bar systems require high-resolution cameras and enough processing power to support the AI that enables multiple views and streams. Smart Gallery also runs on room PCs and Macs with enough processing power, but the video stream resolutions vary with processor capabilities. With simpler-to-use systems like Poly in smaller rooms, the setup is relatively straightforward.
Large conference rooms with multiple camera feeds and microphone requirements present more challenges. Going with a hybrid meeting model requires changes in room layout, seating, and table design, not to mention some behavior. Camera placement in larger rooms is critical, as you don't want views of the sides of faces for the remote attendees. Just like some process changes are needed for successful remote Zoom meetings, the technology won't magically make it all happen. Teams will need to change some meeting processes and behavior to hold more inclusive and engaging hybrid meetings.
Do you need an audiovisual expert that understands the challenges of adapting AV infrastructure for hybrid work? Level 3 Audiovisual is a Tempe, Arizona-based national managed services provider helping organizations of all sizes across the U.S. design, deploy, and manage AV systems and infrastructure. Learn more by reaching out to Level 3 Audiovisual or clicking the chat box below to connect instantly. We look forward to working with you.