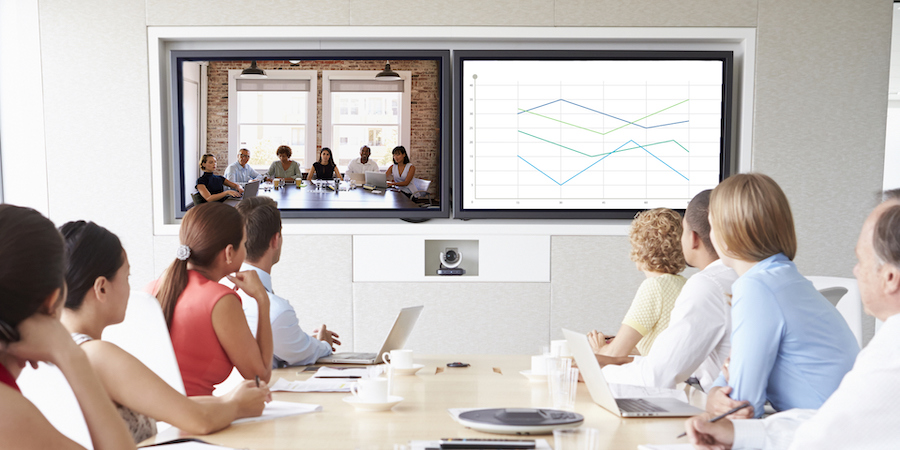 Your Collaboration Spaces Aren't Working. What Can We Do?
How to Intentionally Design Rooms for the Right Purpose
We often talk about the modern conference room and outfitting the space with cameras, microphones, and displays for successful video conferencing. And while it's crucial to prepare your conference rooms for the hybrid future, many people are discovering that these long table layouts are not ideal for brainstorming and collaboration.
When designing your office for a collaboration strategy, each room needs to have a specific purpose. Not every meeting room will make a good collaboration space, and that's okay. Here's how you can think strategically about your meeting rooms, so you can create the best environment for every forum.
SEE ALSO: 3 Commercial AV Considerations for the Current Environment
The Problem with Modern Conference Rooms
If your conference rooms have long, rectangular tables with video displays at one end of the room and cameras assembled for video calls, there may be a more natural arrangement for collaboration.
Over video calls, it's very difficult for people to have spontaneous side conversations that often lead to new ideas. Imagine someone doodling a thought on a whiteboard or piece of paper and murmuring, "What if we did something like this?" to which someone responds, "Oh, I like that." Would that translate over video?
And on the video call, some people may lack the confidence to speak up, while others interrupt and step over each other's words.
Video conferencing has a time and place, but it may not always work for in-depth brainstorming. For instance, you may want to use whiteboards, papers, and pens, and to lean over the table to get involved. Many contemporary conference rooms are designed for presentations but not creative collaboration.
The Ideal Collaboration Space
The best rooms for getting creative need to encourage movement and spontaneity. Consider round tables, whiteboards, and less structure. Rooms like these aren't great for remote video calling. We can add a camera and microphones for someone to listen in, but overall, these rooms are meant for in-person gatherings.
Separate Spaces for Different Purposes
If your office has the space, why not build both collaboration and meeting rooms? In the meeting rooms, we can equip the space with all the necessary conference room AV for seamless video calls. And in collaboration spaces, teams can get involved and huddle around a round table to dive into creative ideas.
You can leave the conference room for video conferencing and the collaboration room for when everyone's in the office together.
If your business could benefit from both collaboration spaces and conference rooms, but you need the tech to take you there, Level 3 Audiovisual is here to help. We design and install AV systems for companies in Phoenix, AZ and across the country.
Contact us here to learn more about our solutions and to discuss your project today!