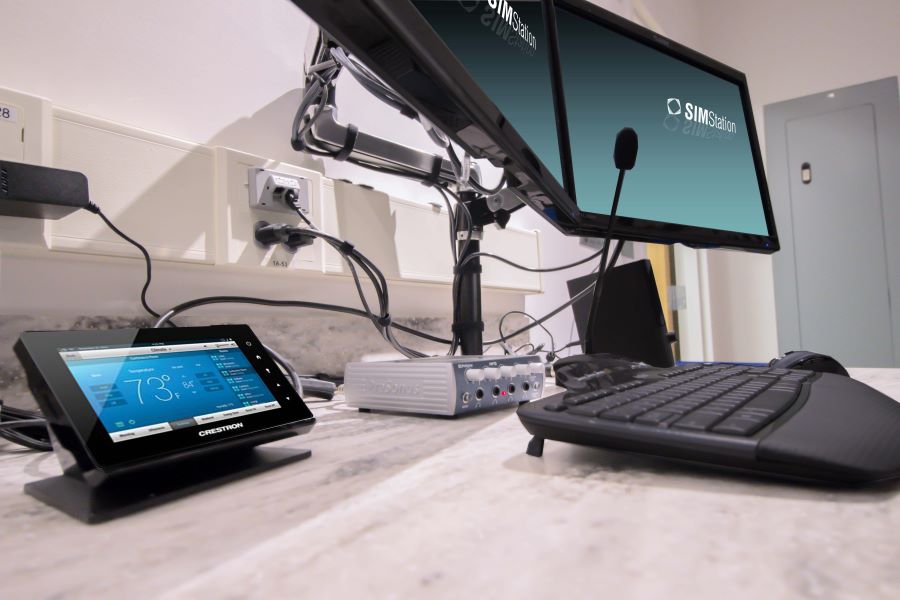 The Role of IT in Managing a Healthcare Simulation Lab
Learn more about a sim lab's unique IT requirements and how to manage them
Healthcare simulation labs are a high-tech educational tool found in a growing number of universities and hospitals in Phoenix, AZ, and across the U.S. At Level 3 Audiovisual, we're the only healthcare simulation provider who delivers a turnkey solution with AV, SIMStation simulation software, and management and support services for custom-built labs, including IT and managed services.
Level 3 Audiovisual simulation systems are housed on purpose-built computers. Our team deploys specific web browsers, software, and hardware solutions to run SIMStation programs. Because our computers are purpose-built, they should be managed separately from other devices and systems on a university or hospital network.
If your organization is considering a simulation installation, it's critical that the IT department is involved in all meetings and discussions from the beginning of the project. Your IT supervisors will be responsible for deciding the best solution for managing a new sim lab. Let's explore the options below.
SEE ALSO: 4 Considerations for Getting Your Med Sim Lab Back Up and Running
Option #1: IT Runs the Show
The first option is to place your medical sim lab on the hospital or university network under the control of the IT department. While doing so is feasible, this solution requires that IT supervisors maintain proactive communications with the Level 3 Audiovisual team regarding system updates and maintenance.
Our healthcare simulation labs run on purpose-built computers configured with specific versions of Google Chrome and Windows. These versions should not be auto-updated because many of the suggested updates will crash the simulation software and shut down the entire system. Once that happens, our team at Level 3 Audiovisual will have to spend several hours rolling back versions of Chrome or Windows to get the simulation lab back up and running. And downtime costs your organization time, money, and learning opportunities for medical students.
Your organization will have to change standard policies to support a purpose-built system on the larger university or hospital network. These policy changes could make the network less secure and require additional time, resources, training, and support from the IT department.
Option #2: Level 3 Audiovisual takes the Reins
The second option is to place your medical sim lab in a bubbled network under the management of the Level 3 Audiovisual team. Our bubbled network has one network line connected to the Level 3 Audiovisual servers and or a hotspot internet connection, along with firewalls deployed by our team. The goal is to not touch the hospital or university network.
When you place your healthcare simulation lab on the bubbled network solution, Level 3 Audiovisual will take care of everything from the ground up, including updates, remote support, and maintenance.
We understand that IT departments may have concerns over releasing management of the sim lab to a third party. But we take several steps to ensure that both our bubbled network and SIMStation programs are secure. The network contains a single line in and out that's protected by firewalls to prevent intrusion. Additionally, the SIMStation software is FERPA-compliant to protect sensitive student information like session recordings and grades. And finally, the simulation software is protected by an admin site that requires a unique username and password to enter. As an added security feature, administrators can set specific user rights for everyone who has access to the simulation lab.
Level 3 Audiovisual has years of experience designing, engineering, and installing medical simulation labs for medical schools, nursing schools, training hospitals, ORs, or ERs. Let us help you find the simulation solutions you need to engage and educate our future healthcare leaders. Give us a call or reach out online to set up a consultation.