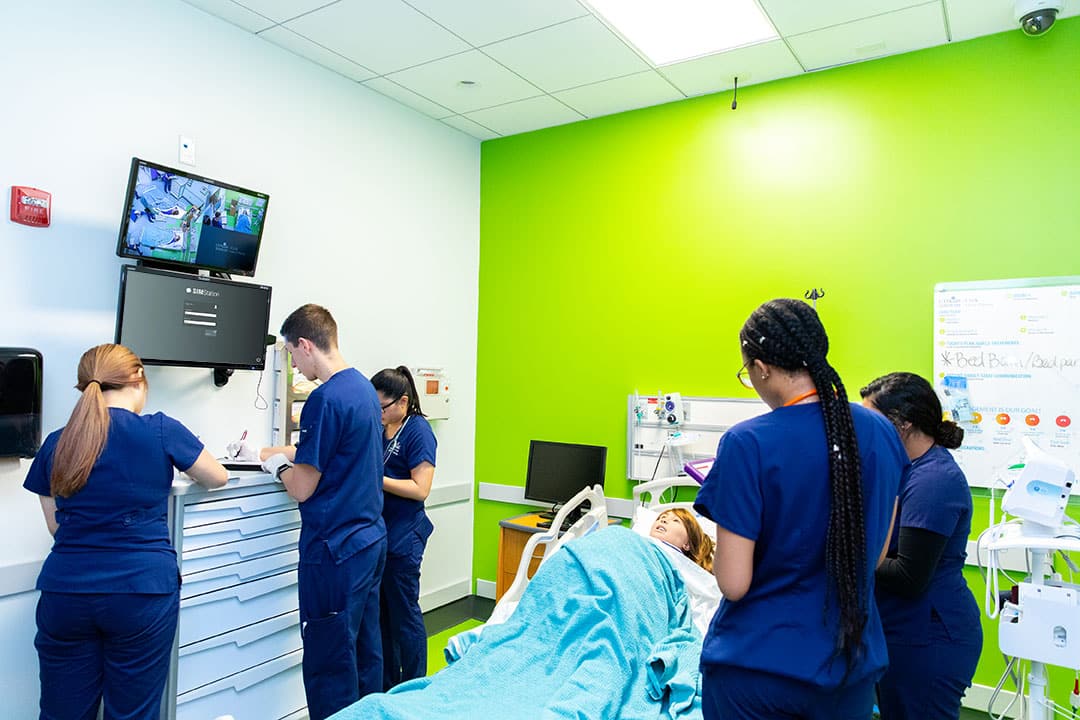 What Components Do You Need for a High Fidelity Medical Simulation?
HIGH FIDELITY SIMULATION CENTERS USE A COMBINATION OF HARDWARE AND SOFTWARE TO REPRODUCE REALISTIC MEDICAL TRAINING SCENARIOS
Medical simulation is the new way for educators to perform training in situational environments without impacting real patients' lives or placing students in circumstances they may not be prepared for yet. In simulation scenarios, medical students can practice applicable skills ranging from checking vitals to performing surgery while learning how to work and communicate with a team. A simulation lab provides interaction, engagement and training in a safe and controlled environment.
In the world of healthcare simulation, fidelity describes the degree to which a simulated scenario represents reality. High-fidelity medical simulation includes a combination of hardware and software that works together to create a highly realistic scenario for students to participate in, whether that's giving a patient an annual check-up or performing an emergency procedure.
Today, we're going to explore some of the components that facilities need for high fidelity simulation. Please note that all simulation labs have custom needs — your facility may or may not require all the components listed below, depending on your primary goals and budget. If you have further questions, please call the team at Level 3 Audiovisual, and we can help you design a simulation system that best meets your needs. We proudly serve commercial organizations and healthcare facilities in Miami, FL, and across the country.
SEE ALSO: Level 3 Audiovisual Wins Prestigious Commercial Integrator Award for a State-of-the-Art Medical Simulation Project
Realistic Training Manikins
Realistic training manikins help students suspend disbelief in a simulation scenario. While it may be difficult to associate a static rubber dummy with a real patient, the leap isn't as far to make when new, advanced manikins look, breathe, speak, make noises and move like real humans. Some manikins can even simulate the process of childbirth or be used to demonstrate surgical procedures. These realistic manikins have monitors to track their vitals, heartbeats and other bodily functions during a simulated scenario.
With realistic manikins, students can test applicable skills in an interactive environment that more closely resembles an actual healthcare situation, rather than visualizing a scenario based on instructor cues.
Advanced Software
Advanced software is the heart of a high-fidelity medical simulation. In the control room, the simulation facilitator can start and stop a scenario, make time-stamped notes and annotations, instantly send images or audio to the training room and steer camera angles from an easily navigable interface. Instructors inside the training room can use a touchscreen tablet to make notes and annotations during a scenario. During the debriefing, the facilitator can easily pull up annotated marks and play back videos to guide students through a discussion.
Software-guided simulation allows facilitators to track more accurate outcomes and results from a scenario. They can record feedback while events are unfolding and flag actions for further discussion without interrupting the scenario or missing something else while they jot down notes off-screen.
High-Quality AV Equipment
Your audiovisual installation is a central component of your simulation center. For students and facilitators to get the most value from a scenario, recording cameras need to have pan-tilt-zoom (PTZ) capabilities to capture movement during the simulation. The microphones and connected sound system need to transmit intelligible sound for accurate translation during communications between the control room and simulation lab. And the debriefing room display screens need to be large enough for everyone to see clearly, with 4K resolution that delivers detailed picture quality.
Audio is one of the most critical elements in a simulation lab. During a scenario, students must interpret sounds accurately and quickly within the room and listen to instructions given from the control room. Simulation facilitators must hear everything the students are saying without interference from ambient noise that could lead to misinterpretations and missed dialogue.
At Level 3 Audiovisual, we use Dante audio that sends audio signals over an ethernet network connection instead of analog cables. Long cable runs can degrade audio signals, especially in situation environments where signals need to be sent to multiple devices and locations. With Dante, digital audio connections are all managed using software, and because all connections are on the same network, signals can be sent to several devices at once. A Dante system is incredibly scalable and delivers clean, intelligible, lossless audio. Our installations also include noise cancellation technology to eliminate ambient noise during playback.
Next Steps
Level 3 Audiovisual brings to the table a unique blend of AV technology expertise combined with extensive industry knowledge of medical simulation. Unlike other companies that design and build simulation centers, Level 3 Audiovisual provides a complete, custom solution from start to finish. To learn more, reach out to us here or click the chatbox below to instantly connect.