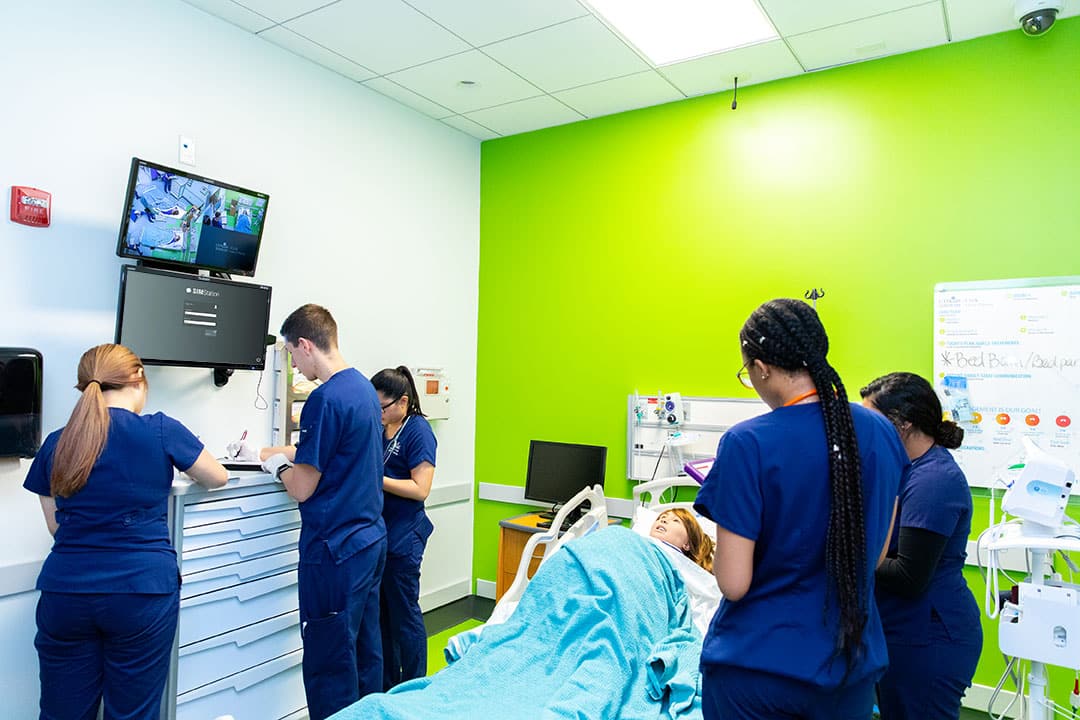 3 Ways a Healthcare Simulation Lab Adds Value to Your Institution
SET YOUR MEDICAL PROGRAM APART WITH A STATE-OF-THE-ART SIMULATION LAB
Simulation-based education is a powerful and growing teaching tool filling in the gaps traditional, book-based teaching tools can't reach in specific professional fields. Among the fastest-growing areas of simulation-based learning is the healthcare industry.
A healthcare simulation lab provides medical students with a realistic environment where they can safely and effectively practice diagnostic, clinical, and surgical procedures. Current research shows that simulated scenarios followed by debriefing sessions create a rich and engaging learning environment for students. But that's not all. Read our latest blog article to learn three ways a high-fidelity simulation lab adds value to your teaching hospital or medical school in Chicago, IL.
SEE ALSO: What Components Do You Need for a High Fidelity Medical Simulation?
Soft Skills Training
Healthcare simulation education is frequently associated with learning, demonstrating, and improving upon technical skills. During a simulation exercise, medical students are tested on their abilities to execute specific procedures, insert catheters and IV lines, administer medications, and perform other tasks that require following a process precisely and accurately.
But improving technical accuracy is only one goal of simulation education, just as it is only one aspect of being a good doctor (albeit a rather significant aspect). Simulation-based education is also a powerful tool for teaching soft skills like communication, teamwork, problem-solving, decision-making, leadership, and empathy, among others.
Soft skills have growing relevance in all career fields because they're a primary indicator of success. During a simulation-based education program, educators can include soft skill evaluation as part of their assessment to determine if students are a good fit for a medical career.
Patient Safety Outcomes
Simulation labs offer medical educators the opportunity to recreate common medical challenges, procedures and events in a safe environment. Students are afforded the chance to practice, improve, and sharpen their cognitive and procedural skills in hands-on, interactive scenarios without risking the lives of actual patients. The result is medical students who possess a high level of competency upon graduation.
Every professional knows that making mistakes is a vital and necessary part of the learning process — but medical errors involving actual patients have life-or-death consequences.In contrast, mistakes involving manikins offer valuable learning and critical reflection opportunities.
A Competitive Edge
A healthcare simulation lab provides medical students a hands-on, interactive learning experience that no other education program can deliver. Set your teaching hospital or medical school apart by allowing incoming students the opportunity to gain real-life experience in a safe and controlled environment.
Level 3 Audiovisual brings to the table a unique blend of AV technology expertise combined with extensive industry knowledge of healthcare simulation lab design, installation, and operation. Unlike other companies that design or build simulation centers, Level 3 Audiovisual provides a complete, custom solution from start to finish for teaching hospitals, nursing programs, ORs, and ERs across the country. To learn more, reach out to us here or click the chatbox below to instantly connect.