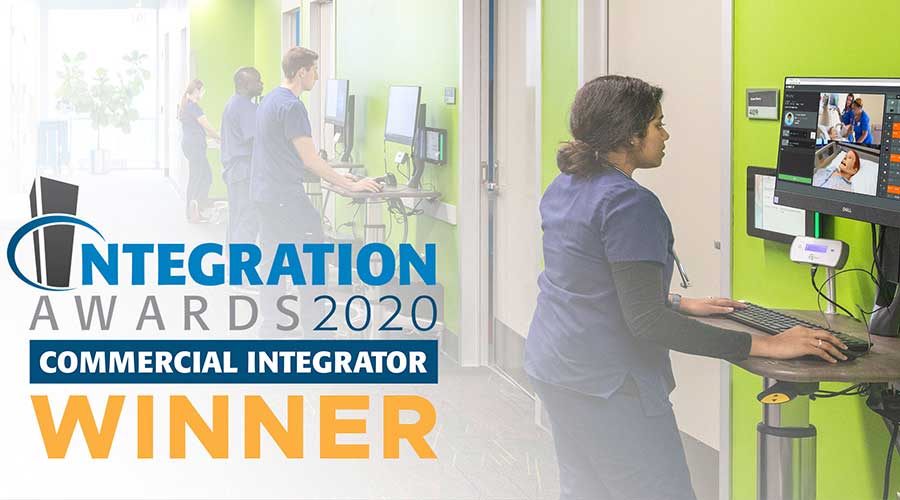 Level 3 Audiovisual Wins Prestigious Commercial Integrator Award for a State-of-the-Art Medical Simulation Project
OVERCOMING TECHNICAL CHALLENGES TO BUILD THE LARGEST SIMULATION CENTER IN THE UT HEALTH ORGANIZATION
Healthcare simulation recording and debriefing systems are critical components of education in nursing, medical, and vocational schools. Simulation lets healthcare students learn how to experience real-world conditions, learn procedures, react to unexpected consequences, and much more. One of the most important aspects of simulation is effectively capturing performance, behavior and communication using high-quality audio and video.  It should also provide the ability to debrief students by honing in quickly on things that went well and areas that need improvement. As a leading commercial audiovisual integrator with extensive experience in healthcare simulation, Level 3 Audiovisual  is the only company in the country capable of providing turn-key integrations to include simulation software, AV/IT integration, service, support and 24/7 real-time system monitoring. Recently, Level 3 Audiovisual  received a Best in Healthcare award from Commercial Integrator, a leading commercial technology magazine in our industry, for the Cizik School of Nursing in Houston. It is the largest simulation center in the University of Texas (UT) Health organization, one of the largest healthcare centers in the country that includes the renowned M.D. Anderson Cancer Center in Houston. If you are looking for a medical simulation solution in the Chicago area, read about the challenges we faced and overcame for this high-profile project in a demanding environment.
SEE ALSO: Explore Our Audiovisual Installation at ASU Beus Center for Law
THE CIZIK SCHOOL OF NURSING PROJECT SCOPE
The Cizik School of Nursing is a highly ranked institution, with its graduate programs consistently ranked in the top tier of U.S. nursing schools. Their simulation center plans were extensive, incorporating 70 cameras, 120 audio devices, 16 simulation training rooms, 14 clinical examination rooms, and 4 dedicated debriefing spaces. Among UT Health's priorities for the project was to reduce the number of technology vendors. They wanted a single, integrated, turnkey solution from a vendor that understood the specific challenges of medical simulation. In most healthcare simulation projects, there tends to be a software provider, an AV integrator, a simulation consultant/expert, and often an IT vendor for the computing and network infrastructure. Fortunately, that was what Level 3 brought to the table – domain expertise in simulation and curriculum, a simulation software solution, and the technical chops to integrate all the technology pieces into a cohesive system.
TECHNICAL CHALLENGES
Large organizations, particularly in the healthcare field, have specific requirements for IT network security. The UT Health team wanted all the computing equipment for the simulation center housed several miles off campus in their data center. In addition, UT Health had requirements centered around its policies and security requirements for HIPPA and FERPA privacy compliance. The hospital's firewall structure also posed technical challenges for implementing an AV based system. Networking also presented a change to our typical installations. We usually stage, configure and test a system at our facilities before installing it at the simulation center. UT Health required we use the managed network switches already installed at their site. Our PULSE-IDM remote monitoring system also did not conform to UT Health security and networking policies,  prompting us to rewrite our monitoring software to work within their approved platform. Finally, our end-user tool for accessing, annotating live video and  accessing simulation data is typically an Android tablet. In general , these are less expensive and easier to work with from a software development perspective. UT Health required the use of iPads, requiring us to rewrite  our software for iPadOS. No other simulation solution offered this level of flexibility to meet the client's needs!
OVERCOMING OBSTACLES
Level 3 Audiovisual accepted these challenges and met them head-on! To satisfy the requirement for remoting the computing equipment to the offsite data center, we designed and commissioned a fiber backbone link to ensure speed and performance met their needs and expectations. As you might imagine, a large organization like UT Health has a sizable IT department. We navigated various teams to get the information and support we needed to make the simulation center a success. We also met the organization's platform requirements by rewriting our software solution for PULSE-IDM monitoring and end-user applications to UT Health's specifications. We could say more, but perhaps it's best to hear how well the solution works from the client. Here is what Eric Christiansen, the Director of the Simulation and Performance Lab, had to say about the new simulation center: "We're better able to meet the needs of our students through the use of technology and through the use of learning modalities that we can incorporate much better than we used to. We can handle more students than we used to be able to. It really did become an easy choice. Level 3 Audiovisual and SIMStation were by far the easiest to work with and the easiest system to use. It was very important to me to have an AV installer that understood what the needs of a simulation lab were."   Level 3 Audiovisual brings together a unique blend of technical expertise, clinical certification, and simulation and curriculum knowledge to provide a truly comprehensive, holistic and supportive solution.  We offer a rare combination of skills that is hard to find – a company with deep experience in audiovisual technology and extensive industry background in medical simulation.
To learn more, reach out to us here or click the chatbox below to instantly connect. We look forward to working with you!