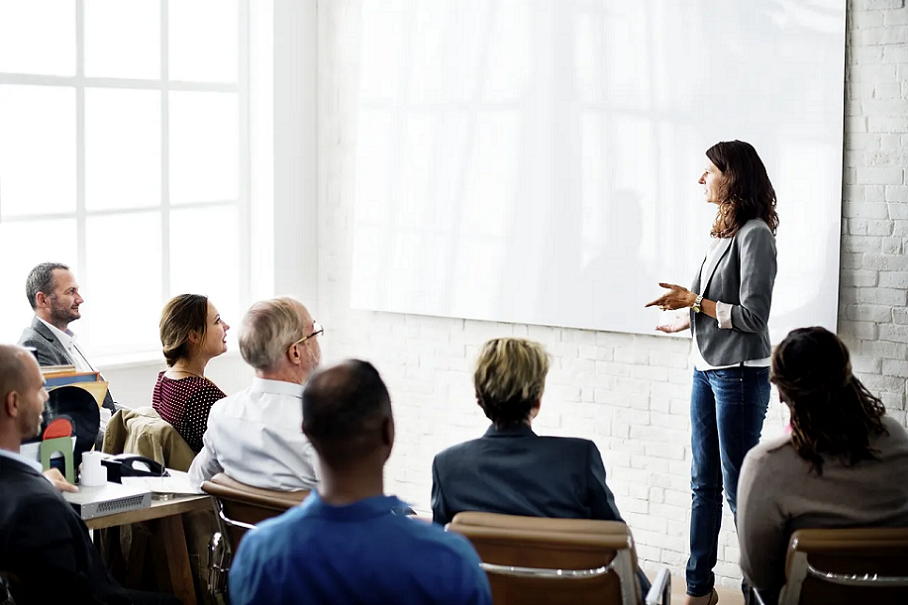 3 Game-Changing New Features for Zoom Rooms
Hybrid Meetings Are Becoming More Intelligent Than Ever
Since their inception, hybrid meetings have been a head-scratcher for many businesses. How can a room full of people adequately speak to and see remote participants without leaving them out of the conversation?
The transition to hybrid meetings has been challenging, but solutions like Zoom Rooms simplify the experience for participants on both ends. Zoom Rooms systems work by integrating video conferencing hardware like cameras, displays, and controllers into the same Zoom platform.
And now, Zoom has unveiled three new features that will further improve the hybrid meeting experience. Here's how Zoom Rooms are changing the way we collaborate and communicate, even across different languages.
SEE ALSO: Two Easy Ways to Turn Any Meeting Space Into a Zoom Room
Zoom Room's Intelligent Director
Early on, Zoom realized that using a single camera in a conference room was not enough to foster great communication. After all, a wide shot of the conference table will only capture people's profiles, and those sitting far away from the camera will be hard to see.
This introduced Zoom's Smart Gallery, which captures multiple video feeds simultaneously in the conference room. And now, its new Intelligent Director technology uses AI to intelligently track and frame people in the room.
Intelligent Director's software and cameras are smart enough to recognize individual people, like an AI-driven camera crew. It knows that if Joe is being filmed in two cameras, it will mute the duplicate video feed and only display his face-first video.
Those participating remotely will also enjoy Intelligent Director's ability to emphasize the video of whoever's speaking, so they can still see everyone while focusing on the speaker. As someone else starts talking, the focus will switch to them as their video square expands.
Live-Translation Captions
This is truly a game-changer for businesses around the world. Any enterprises that work internationally can translate their colleague's conversations live through Zoom's new live-translation captions. As people speak, their speech will immediately be translated into subtitles below their video feed.
Zoom meetings can already be translated into 11 languages, including English, Mandarin, Dutch, French, German, Italian, Japanese, Spanish, Russian, Portuguese, Korean, and Ukrainian. In the second quarter of 2023, we can expect 16 additional languages to become available in Zoom Rooms, bridging the language gap for people worldwide.
Zoom Whiteboard
The whiteboard is coming to Zoom Rooms too, with Zoom's online whiteboard accessible on any device at any time. Whether people are using the web browser or a touchscreen display, staff can draw, create flow diagrams, arrange sticky notes, and add comments to the infinite pallet. Zoom's digital whiteboards can be saved and shared with other users and accessed later through the Zoom system. Zoom recommends Zoom Room users install a third or fourth digital display that's used for whiteboard collaboration alongside video calls.
If your business is ready for the incredible innovation of Zoom Rooms, Level 3 Audiovisual is here to help. We design, program, and install complete video conferencing systems for businesses in Scottsdale, AZ, and across the country.
Contact us here to get started with your company's new Zoom Rooms today!