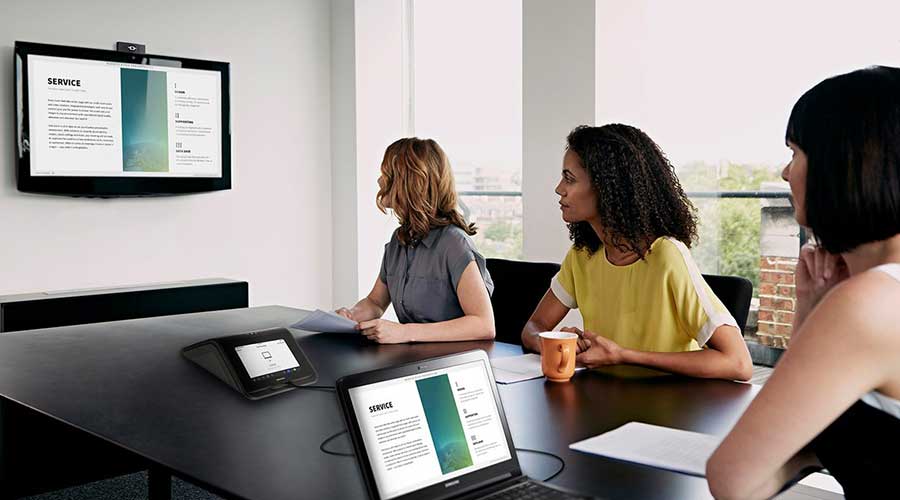 Crestron and Zoom Partner for a New Meeting Room Solution
There are plenty of times when less is more, including when you are making decisions about your conference room technology. The best meeting room technology is a simple, one-stop, unified solution. But many conference rooms today are cluttered with technologies, including conference phones, USB speaker phones, flat panel displays, laptops or desktops running meeting applications, and lots and lots of cables. Some technologies might be compatible while others aren't, and integrating personal devices such as mobile phones is complicated at best and impossible at worst. Meetings can already be a drag—a poorly equipped meeting space only makes it worse. The Crestron Mercury was developed to address those common—and annoying—problems with the typical meeting room user experience. And Crestron's new partnership with online meeting platform Zoom takes meeting efficiency to the next level.
WHAT IS CRESTRON MERCURY?
The Crestron Mercury includes the capabilities of conference phones, cables, and computers—in one tabletop box. The touch screen console includes a main conference phone and Bluetooth compatibility to support mobile phones, built-in wireless presentation capabilities, and a unique petal-shaped speaker array and integrated microphone for optimal audio quality. The Mercury is also compatible with any web-based collaboration application, so committing to the Mercury doesn't also lock you in to a proprietary collaboration solution that might not meet your needs.
WHAT IS ZOOM?
Zoom is a cloud-based video and web conferencing service that is compatible with multiple unified communications systems and audiovisual hardware applications. It works in any environment any time. This means you don't need to undertake a costly hardware upgrade to improve the quality and flexibility of your meetings. Unlike other video conferencing solutions that only operate with specific hardware configurations, Zoom will work with various audiovisual hardware components including desktops, laptops, projectors, microphones and digital screens. That means you can use Zoom in a large conference room with multiple participants and not sacrifice audio coverage or video quality. And the same is true for remote participants. Integrated cloud provisioning means remote employees can join meetings from wherever they are using a laptop, tablet, or mobile phone and the Zoom app or website, promising audio and video quality to be the same as if they were in the room. All of this translates into money saved on employee travel and technology upgrades, as well as time saved trying to get meetings started and/or frustrated employees dealing with poor and sometimes complicated meeting room solutions.
A MATCH MADE IN COLLABORATION HEAVEN
Each of these technologies are useful on their own, but when it comes to meeting room technology, two isn't better than one. This is why Crestron and Zoom have partnered to simplify the collaboration and meeting room experience for the user. They have integrated Zoom capabilities into the Mercury solution and called it Zoom Room. Instead of connecting a separate laptop or desktop to run the Zoom meeting app, users can run it natively through the Mercury console. And when running Zoom meetings through the Mercury console, you benefit from its superior audio capabilities, as well as wireless AV presentation, room scheduling and meeting control. Other key benefits of the integration include:
Single-touch meeting control
Content-sharing—including HD video and audio—on any device
Improved audio, mic mixing and noise reduction with built-in microphones and speaker
Meeting recording capabilities
SETTING UP YOUR ZOOM ROOM
An improved user experience and cost savings sound great but what about installation? If a system is expensive or cumbersome to install, the benefits can be quickly cancelled out. In the case of Zoom Room, Crestron and Zoom have done most of the heavy lifting for you by putting everything you need together in one simple-to-install kit. The Zoom Rooms Crestron Kit includes:
Crestron Mercury with the latest firmware update
Zoom Rooms license
Computer with Zoom Rooms for Mac or Zoom Rooms for Windows installed
Mac Mini or a Mini PC
Conference room camera
All you need is a flat-panel display, an internet connection, and you're ready to go. And if you need a little more help getting your new system up and running, feel free to reach out to us or chat with us below!