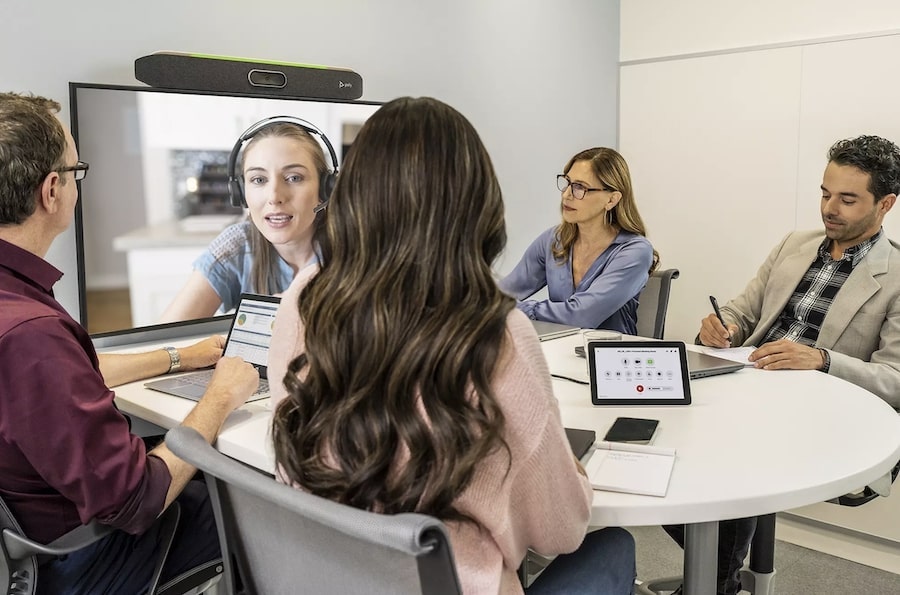 Managing Meeting Room Solutions Just Got Easier
Discover the Poly Lens, the All-In-One Management System
The hybrid work model raised many questions for businesses—and Poly has been ahead of the curve in addressing these issues. Poly's hardware and software solutions streamline the video conferencing experience and simplify device management for IT teams.
As a full-service AV integration firm, we're big advocates of Poly's meeting room solutions. One of Poly's major advantages? Businesses that use more than one video conferencing system don't have to choose between Zoom or Teams. With Poly, you can use your existing equipment to join different meetings.
But Poly knows that large businesses need a way to manage and monitor conferencing hardware and understand how the technology is actually being used. Enter Poly Lens, the management software that unifies all video conferencing endpoints. In this blog article, we'll dive into how Poly Lens works and why it's invaluable to modern businesses.
SEE ALSO: Your Collaboration Spaces Aren't Working. What Can We Do?
What Is Poly?
First things first, let us introduce you to Poly. Poly is an audio-video software and hardware manufacturer that is newly part of HP. Poly specializes in meeting room solutions so people can join video conferences from anywhere with high-quality audio and video. Poly systems are platform-agnostic, meaning you can use Microsoft Teams, Zoom, and RingCentral with them.
What Is Poly Lens?
Poly Lens is a cloud-based software application that provides all the tools you need to manage your company's devices, no matter how many there are. On the Poly Lens interface, you'll tailor technologies to your business's preferences, onboard thousands of devices, locate and filter items, and check connection statuses and performance health.
Poly Lens is a simple yet game-changing app that your team can use on both desktop and mobile devices to view all video conferencing endpoints. Plus, Poly Lens users have access to Poly+, a 24/7 customer service including live video chat, so you can trust devices to work when you need them.
Why Is Unified Management Important?
A lot has changed in only a few short years. Now businesses need the right tools to accommodate this change. If your company uses video conferencing solutions, you need a seamless, intuitive system to set up and manage thousands of endpoint devices.
Poly Lens provides company-wide device insight from a single app, so you're instantly aware if something isn't working. Time is everything in business, and if you can quickly correct or update devices before time is lost in a meeting, that's an invaluable asset to have.
And when it comes to deployments, you can onboard tens, hundreds, or thousands of meeting room devices together. Poly Lens will free your IT team from one-by-one software updates and setting configurations—instead, it's all deployed through the Poly Lens system. And data collection allows your organization to make informed decisions for smarter business practices and investments.
Ready for Poly?
If your business could benefit from new meeting room solutions and a unified management system, Level 3 Audiovisual is a certified Poly partner that designs and installs commercial AV systems.
Contact us here to learn more about our technology integration services and how we can help your business in Scottsdale, AZ, or anywhere else in North America. We look forward to working with you!