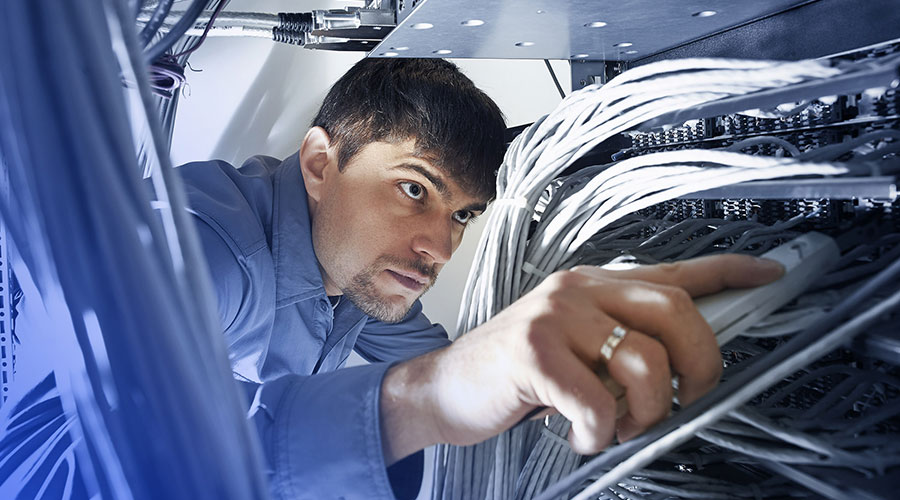 Managed Support Services vs. Preventive Maintenance – Can You Get Good Service These Days?
A Look at AV Support for Today's Environment
Back in the good old days – let's call them the 1980s and 1990s – service for AV technology was still delivered by people. In that era, companies usually bought a preventive maintenance package to go along with their AV equipment. Of course, the solutions from that time included a lot of analog technology, which tended to require more maintenance. With preventive maintenance, a real technician (gasp) came out and ran through a myriad of physical tests on AV setups. They would test microphones, speakers, VHS decks, DVD players, projectors, and more. They'd clean projector lenses, clean tape heads, and do other things that might seem quaint in today's digital world. They would even spend time with users to ensure they understood how to operate the equipment and get the most out of their capabilities.
What happened to the good old days? Perhaps they weren't any better than today's times; they just look better through foggy memories. But AV equipment did change, commoditizing into fewer components that relied on digital technology and formats and requiring less physical servicing. The preventive maintenance plan mostly languished, just like the doctor who makes house calls. What's taking its place? Read on to learn more about managed support services and how you can design the right AV support plan for your Tempe, AZ, organization.
SEE ALSO: Managed Support Services: What Are They and How Do They Work?
Run It Till It's Dead
Today's commoditized and integrated AV equipment tends to be treated like a throw-away item. You use it until it breaks, and replace it when it's broken. This is the truth about many electronics products today, both in the consumer and commercial markets; it's cheaper to replace them rather than fix them. In the "good old days," expensive equipment still justified the expense of a real human coming out to do preventive maintenance or repairs. In today's market, the new replacement model is better, has more power and features, and is likely cheaper than the old one. The connected nature of today's AV technology also lends itself to remote monitoring and support that wasn't possible in the good old days.
Managed Support Services
Today's managed support services rely less on truck rolls and more on remote monitoring solutions. While we may lament the less personalized nature of the service, it's like having the Maytag repairman monitoring your equipment 24/7, waiting for something to happen. Unlike the Maytag repairman of yore, the managed support service provider can fix an issue with remote access to the device before you notice that the camera in your conference room has a problem. That tech that oversees the monitoring can be spread over many systems, lowering support costs.
If you do have a problem that requires a call for service, that technician is armed with everything they need to help you. That includes equipment manuals, schematics of your conference room setup, and even pictures of the physical room. So if the problem is the lowly HDMI cable whose connector was jammed carelessly one too many times, the tech can guide your office manager in correcting the problem. If a real human doesn't have to visit your site, you gain with reduced maintenance costs.
Support, Your Way
Don't lament that the AV doctor no longer makes house calls. Managed support services can be custom designed to suit your needs across a spectrum. For example, you might want the preventive maintenance house call on high-value meeting spaces like corporate training rooms and executive boardrooms. It may cost more, but it's well worth the expense. But for many standard huddle rooms, conference rooms and other AV needs, remote monitoring, updates, and maintenance may fit the bill with only the occasional truck roll for when an AV technician is really needed onsite.
In today's supply chain-constrained environment, having the flexibility of support options can help. In a managed services model, you can substitute solutions outside of your equipment standards for certain meeting spaces. The right managed services support plan can keep all of your equipment and solutions operational while providing a similar user experience to ensure fluid collaboration.
Level 3 Audiovisual is a Tempe, Arizona-based national managed services provider helping organizations of all sizes across the U.S. design, deploy, and manage AV systems and infrastructure. Learn more by reaching out to Level 3 Audiovisual or clicking the chat box below to connect instantly. We look forward to working with you.