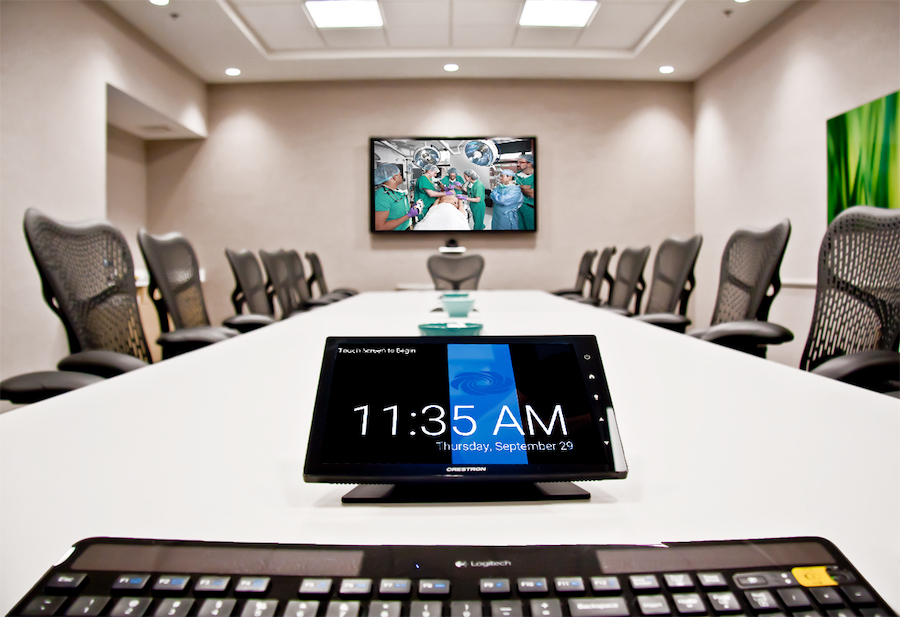 How Managed Services Can Assist in a Supply-Chain Challenged World
Using Commodity Hardware and Software Solutions to Provide Specialized Solutions
Once a term previously only used in business and production discussions, it seems that everyone is now acutely aware of the global supply chain. The pandemic shutdowns caused production and logistical disruptions usually only seen in wartime situations. While everyone has heard of automobile production slowdowns due to a critical shortage of specialty semiconductor chips, those in the AV and IT spaces also know it's affected AV systems that don't get as much attention as automobiles.
What does this mean? Just like Ford cars sitting in vast lots waiting for chips that enable them to work, specialty AV solutions have also experienced production and availability delays. Whether it's room control systems or integrated AV soundbar solutions for meeting rooms, the deployment of video conferencing and collaboration solutions is challenged in many organizations.
As workforces return to offices, this presents more of a challenge. With hybrid work environments, the need to reimagine communication and collaboration between in-office and remote workers is even more important, yet the latest technology that facilitates it is not readily available.
Fortunately, there are alternatives. While there's no substitute for the specialized chipsets that provide critical functionality that make cars run, there are solutions to integrate software with commodity hardware to provide the missing pieces in the deployment of communication and collaboration solutions. Let's explore how a managed services model can help your Scottsdale, AZ organization meet its hybrid workforce technology challenges.
SEE ALSO: Three Ways Your Organization Can Benefit from Managed Services for AV Technology
Going Back to the 90s
We may exaggerate a bit here, but the 1990s was the decade of the PC. While the PC is still a critical tool, many solutions have gone to specialized boxes running custom software. In the AV world, we have been replacing dedicated meeting room PCs for years with these specialized solutions, be they integrated room control and videoconferencing consoles to all-in-on video and audio systems for one-touch meeting operation. The reasons are simple; these systems were more user-friendly to operate and easier to maintain and support. But with shortages and delays for these solutions, organizations may have to make tough choices – wait on critical technology deployment or find alternative solutions.
The PC still provides a standard, commodity hardware solution with tremendous inherent flexibility. And the top collaboration solutions like Microsoft Teams and Zoom offer PC-based solutions that can also be used in the conference room system. This represents an alternative for deployments that can't wait for equipment shortages to ease. Similar solutions exist for room control solutions from top vendors. While they're much easier to implement and manage with the specialized hardware, the opportunity to spin up a server or PC with the software functionality is there.
The Integration Challenge
Anytime you are dealing with servers and PCs, you have a number of challenges that the black box solutions don't have. What OS level do you run? What browser? How do you lock it down to keep the machine focused on running the conference room? How do you plug the potential security holes presented by a machine with many ports, drivers, and applications? How do you manage it on the corporate network?
These are the reasons many companies went away from dedicated room PCs, however flexible they might be. And if you are replacing the easy all-in-one solution, you must add cameras, microphones, peripherals, and the attendant software to make it all work the same way. It's much more of an integration challenge than specifying the same Poly system for every meeting room of a given size.
Using Managed Services
One solution to the problem is to pay the right people to solve it. A managed services AV company can be contracted to provide an outcome-based solution. If your organization needs 150 conference rooms equipped with Microsoft Teams capability that looks and acts the same no matter what building it is in, that company will provide the solution. If that solution consists of a combination of PC and server software-based systems and all the specialized systems that can be acquired in today's environment, the managed services company puts it together into a coherent solution that serves the need. What happens when supply chain issues fade? Your managed services company continues to update and upgrade systems to keep your solutions current and fulfilling your business needs.

Level 3 Audiovisual is an Arizona-based national managed services provider helping organizations of all sizes in Scottsdale and across the U.S. design, deploy, and manage AV systems and infrastructure. Get started by reaching out to Level 3 Audiovisual here or click the chat box below to connect instantly. We look forward to working with you