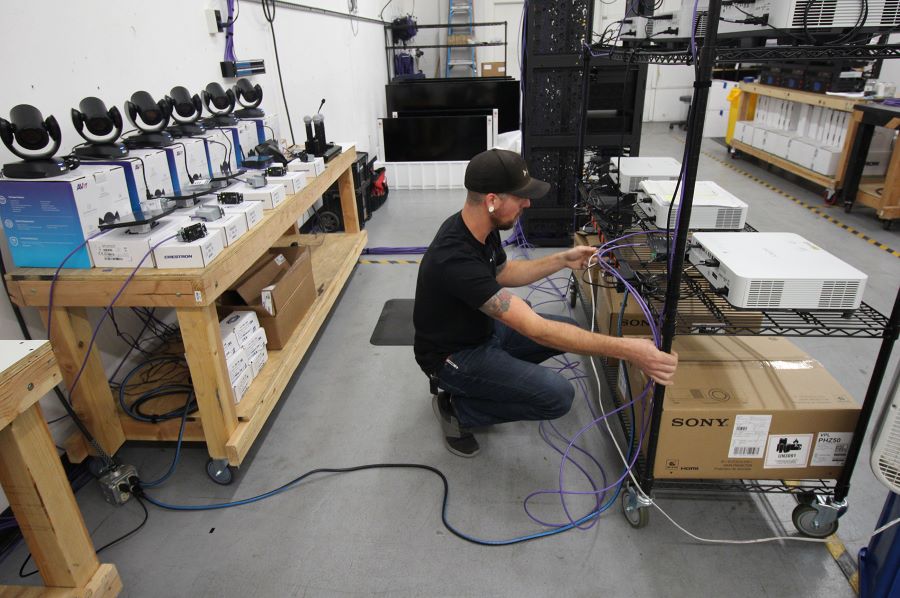 Five Critical Aspects to Manage in AV Systems Integration Projects
As AV Infrastructure Becomes Mission-Critical, It Should Be Implemented Accordingly
Some years ago, AV systems tended to be separate projects and departments within organizations. While important, they were not tied to the computing and communication systems organizations used to run their business. The convergence of all information on digital technology has changed that. Today, collaboration platforms like Zoom and Microsoft Teams integrate communication, collaboration, and productivity to serve workers in offices and remote locations. This level of integration is forcing organizations to rethink AV infrastructure as an integral part of their technology strategy.
With AV technology deeply embedded and such a key part of today's workforce, it needs to follow similar systems integration strategies applied to computing systems and mission-critical business applications. Keep reading below to explore five important aspects of integration projects needed for successful AV implementations spanning from Phoenix, AZ, to your worldwide locations.
SEE ALSO: 3 Critical Ways Managed Services Improve Your Company's AV Infrastructure
Strategy
AV infrastructure should be thought of strategically. In the same way your organization might evaluate and choose between Microsoft Teams, Slack, and Zoom for collaboration, your organization needs to consider standardizing on AV technology and systems. What cameras will you choose for your huddle room or larger conference rooms? What control systems will you have for automation in meeting spaces? What is the user interface and overall experience you want in meeting spaces so that anyone can feel comfortable using a room in your Phoenix facility versus one in New York? What is the plan for managing and supporting different facilities? All of these questions and more must be considered to develop a strategic and not ad-hoc plan for AV infrastructure.
A Diverse Design Team
Designing meeting and collaboration spaces requires cross-functional collaboration. Architects, AV experts, lighting designers, security architects, networking specialists, electrical contractors, and more will be involved in the design and installation of AV infrastructure. Moreover, you don't want to reinvent the design wheel in different locations except to the extent you need to comply with local customs, practices, and regulations. Your AV infrastructure integration should be designed to be replicable and scalable across geographies if the company has distributed locations.
System Documentation
To achieve a replicable and scalable AV infrastructure, documentation of all parts of the process is essential. Detailed specifications, system drawings, construction plans, contracts, and quality control processes must be well-documented to avoid costly errors or deviations which cause system incompatibilities or support headaches.
Project Lifecycle
Like other technology investments, AV infrastructure should have a project lifecycle. When does software need to be updated to a new version? What are the compatibility issues between various software integrations? When does hardware need to be replaced? How does the lifecycle match up to the organization's strategic objectives in terms of the technology necessary to support the business? A complete system integration plan will address the lifespan of the system from a support and replacement perspective.
User Expectations and Desires
Too many technology integration projects fail to address the end user adequately. Often, with the complexities of AV projects being subcontracted by general contractors, the design team may be divorced from the end-users of the system. Understanding the usage scenarios for meeting spaces and the technology is critical to designing systems that are easy to use and support and not cause frustration. If the user experience is subpar, systems will be underutilized, and the project will not see an appropriate return on investment. The integration plan should have a keen understanding of user needs, how they will interface with room systems, and how the AV infrastructure will integrate with the organization's business productivity and collaboration platforms.
Looking for an AV systems integrator that understands the role AV plays in your business goals? Reach out to us here or click the chatbox below to connect instantly. We look forward to working with you.