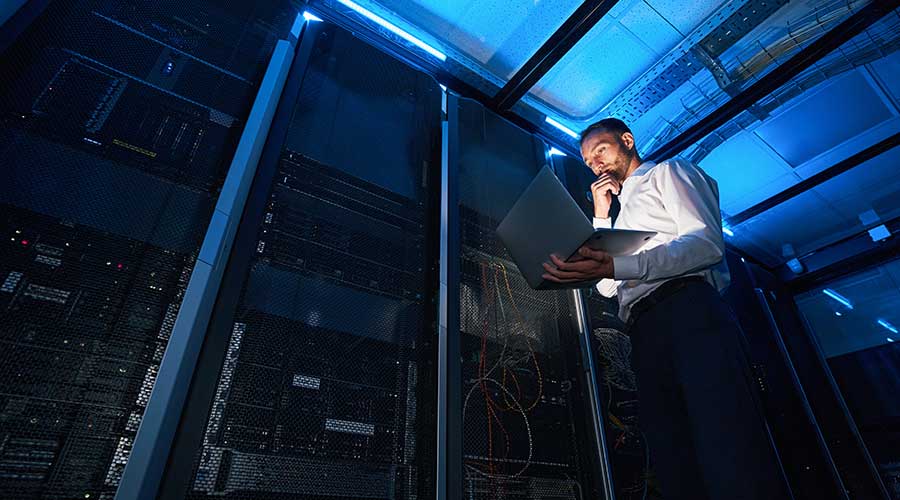 6 Critical Benefits of Managed IT Solutions
Your IT Department May Not Be Able to Do it All
As everyone is painfully aware, the past two years have brought about big changes in how and where people work. The pandemic moved millions of workers out of offices and into homes, and collaboration moved from meeting in physical offices and conference rooms to online platforms with cloud-based applications.
While platforms like Zoom, Microsoft Teams, Cisco WebEx and many others existed previously, the new work models presented new challenges for IT and AV departments. They needed to support remote workers, maintain security with an army of people connected through home internet services, onboard and train new workers that never set foot in the office, and figure out how to adapt existing IT and AV infrastructure to the new remote and hybrid work models.
If that sounds like a lot, it is – IT and AV departments have had their hands full with all this disruption. The accelerated pace of change also brings the need for flexibility and adaptation. Hybrid work models are not set in stone, as companies are grappling with getting workers back in offices and if it needs to happen. Many companies are looking at managed IT solutions to augment beleaguered IT and AV organizations already strapped with issues from supply chain shortages and the ability to hire the right skill sets.
Managed IT/AV solutions may not be the solution for everything, but it is a viable option for filling in the gaps in your IT and AV technology needs. Let's examine six reasons why it's a smart move for your Arizona organization.
SEE ALSO: How Managed Services Help IT Departments Modernize Workplaces
Scalability
The need to adapt demands the ability to scale quickly and smoothly. Scaling networks and cloud applications take time, specific skills, and equipment. There's also a ramp-up time to train staff in new applications. A managed service model takes that concern out of your IT or AV group's hands and puts it on the service provider.
Predictable Costs
The managed solutions model takes new infrastructure from CAPEX to OPEX models. For a set monthly fee, your applications and services are completely managed, freeing your teams from maintaining applications in the cloud, user licensing issues, support, and other cost areas that you would have to budget.
Defined Service Levels
Managed IT services are contractually bound to specific service level uptime requirements. The onus for maintaining hardware and software to 99% and above availability falls on the service provider, not your teams.
Built-in Expertise
Part of what you pay for in managed services is the broad range of expertise that the service provider offers. From network configuration and security to cloud management, they are investing in the training for various services without you having to hire and train your own teams.
Regulatory Compliance
If your business has tight regulations for data confidentiality and compliance, you can build these requirements into your managed services agreement. This puts the burden on your managed technology provider to ensure the technology solutions are in compliance with all the regulations that touch the applications.
Support
Building support services for IT solutions can be costly in terms of headcount and training. Managed IT solutions providers invest not only in the personnel and training but also in the sophisticated remote monitoring solutions that can detect issues and take corrective action. The managed services provider gets to do something your team can't – leverage these assets across several clients, allowing them to offer you a high level of support and uptime at a fair price that's included in your monthly cost.
Want to focus your IT organization on the things that build competitive advantage and offload the rest to qualified service providers? Get started by reaching out to Level 3 Audiovisual here or click the chat box below to connect instantly.