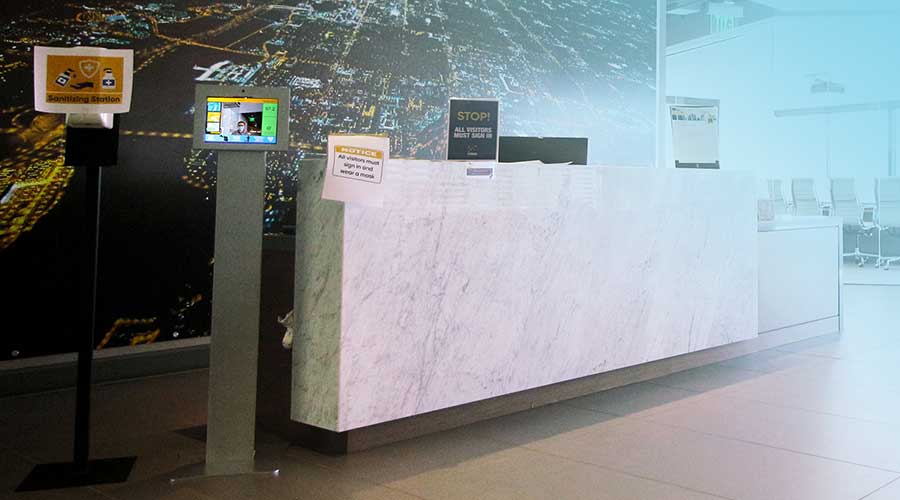 Looking for a Low-Friction Fever Screening Solution?
THERMAL SENSOR TECHNOLOGY HELPS YOU IMPLEMENT SOLUTIONS TO KEEP STAFF AND VISITORS SAFE
In the battle against the ongoing COVID-19 pandemic, everyone is looking for ways to maintain operations safely. Part of the challenge is to develop practices that can be implemented at scale. Anyone who has visited a doctor's office in the past few months has likely been subjected to a temperature test. Screening for fever is one way to keep people who are possibly infected and sick away from healthy people. Typically, these tests have been done orally or via standard touchless forehead temperature scanners. This screening is a significant deviation from a normal check-in routine and may take additional staff and reorganization of regular workflows. Fortunately, advanced thermal sensor technology and sophisticated, artificial intelligence-based software can offer solutions to do temperature screening with minimal personnel and less disruption to normal operations. Keep reading to see how smart thermal sensor solutions can help you implement low-friction fever screening into your workflow in Scottsdale, Arizona.
SEE ALSO: Why Modern Buildings Need Interconnected AV and How to Get It
THERMAL SENSING
The solution for accurate and automated temperature detection depends on a combination of innovative but proven technologies. Integrated sensors can detect a person's distance and determine if they are in the right position to be measured. Camera technology with thermal imaging – the same technology used for night vision – can detect temperature differences. Machine learning artificial intelligence software can hone in on the correct part of a human face to accurately measure body temperature for screening.
AUTOMATED SOLUTION
The solution is easy to install at entrances or lobbies where staff and visitors might enter a location. The system can be staffed or unstaffed, presenting a live view of people coming in or a "thermal" view with a visual of temperature detection. An operator or an automated voice can instruct a person to stand within the 4-foot recommended distance for the most precise temperature detection. With both audio and video capability built into a tablet-based system, it's straightforward to instruct people visually and through voice control.
CUSTOMIZABLE WORKFLOWS
Every organization has different needs. This screening solution can implement a variety of flows based on screening results. If an elevated temperature is detected, the person can be sent to another location for further screening or instructed to wait. A voice or video call can be initiated right at the tablet to speak to a person as an additional step. If a person is cleared, an automated door can unlock, a pass can be printed, or an access barcode can be sent to a mobile phone. With facial recognition technology, the solution can go further. If mask-wearing is mandatory, and the camera sees no mask, the person can be instructed to don a mask to gain entry. For even more advanced solutions, facial recognition can be linked with an organization's access control system to manage entry and occupancy limits if necessary. In this manner, fever screening can be integrated directly into an organization's access control and security workflows. These solutions are scalable to monitor public spaces with more than one person at a time. Using advanced software algorithms, they can alert your staff of excess density in an area (to assist with social distancing) as well as elevated temperatures detected from individuals who may need further screening or action. Centralized management of the screening stations is critical for large deployments. Integrated digital signage also offers further customization for the communication and messaging needs of the organization.   Level 3 Audiovisual brings together a unique blend of technical expertise in audio, video, software, and healthcare technology to bring innovative technology solutions to organizations in Scottsdale and throughout the U.S.
To learn more, reach out to us here or click the chatbox below to instantly connect. We look forward to working with you!