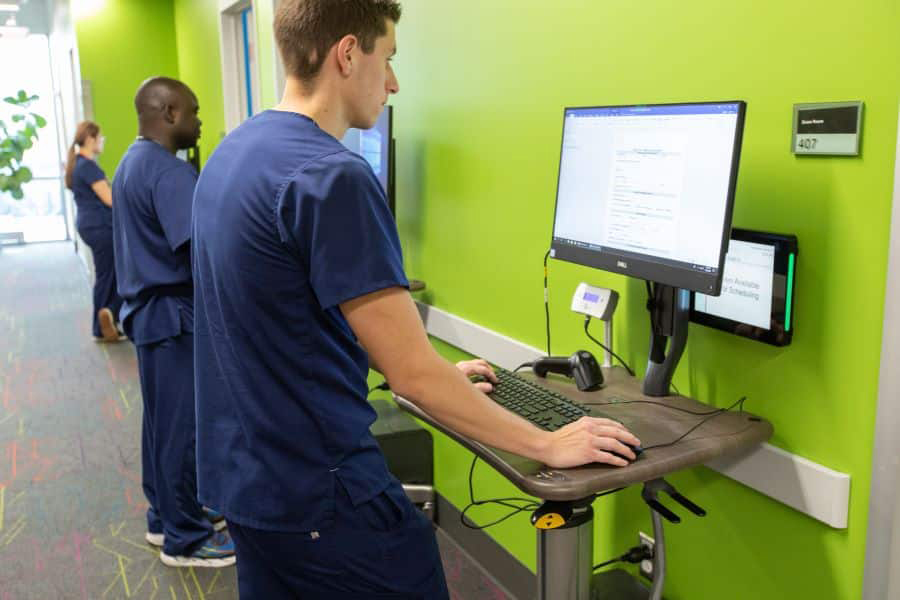 Advance Your Sim Tech Career With In-Depth Simulation Training
LEVEL 3 AUDIOVISUAL HOSTS SEVERAL TRAININGS, SIMULATION CONFERENCES AND WEBINARS FOR SIMULATION PROFESSIONALS WORLDWIDE
If you're a new or current simulation technician, ongoing education is crucial to advance your career and operate a fully functioning healthcare simulation lab.
Level 3 Audiovisual is here to help. As a worldwide leader in simulation lab design, installation, integration and operation, we provide several educational opportunities to further your success. Our team helps sim techs in Washington, D.C. and across the globe gain the technical and educational skills they need in a competitive industry.
What can you expect to get from our simulation conferences, webinars or training sessions? Keep reading to find out.
SEE ALSO: 3 Areas Worth the Investment in Your Healthcare Simulation
Certifications Overview
Becoming a Certified Technology Specialist™ (CTS®) is one of the most valuable steps you can take to advance your career as a simulation technician. With CTS certification, you'll be able to operate all AV equipment in your simulation lab and service day-to-day issues when they arise. Level 3 Audiovisual can help you prepare to take the CTS certification. We can also help you chart an education program to ensure you have all the necessary skills and training to succeed as a sim tech.
To begin, we encourage you to watch our webinar, created by Level 3 Audiovisual's Director of Healthcare, Scott Atkinson: Creating an Education Matrix Pathway for the Simulation Specialist or Technician.
Moulage Training
Ah, the fun part of creating simulation scenarios! Moulage is applying special effects makeup to create a realistic simulation scenario for medical students. Effective moulage is important because it better prepares students to face real blood, injuries and trauma wounds when the time comes. The healthcare team at Level 3 Audiovisual provides expert training on creating realistic moulage while balancing time, cost, and budget restraints. We guarantee you'll never look at gelatin the same way again!
Operating a Simulation Lab
The team at Level 3 Audiovisual includes a unique blend of AV technology experts and healthcare simulation experts. Together, we have expertise in every aspect of building, operating, maintaining, and servicing a high-fidelity simulation lab.
We host several simulation conferences, training camps and webinars that cover all the necessary hard and soft skills sim techs need to have, including (but not limited to):
Lab design & engineering
AV system installation & operation
Network infrastructure
System troubleshooting & maintenance
Medical knowledge & terminology
Simulation equipment & inventory
Communication & scheduling
Simulation Equipment Training
Manikins are a vital piece of simulation equipment that offer medical students hands-on skills training for surgical procedures and clinic processes. As a sim tech, you'll need to know how to program manikin movements and troubleshoot malfunctions. Manikin operation is another area of training we cover in our conferences and boot camps.
Level 3 Audiovisual brings to the table a combination of AV technology expertise and IT experience combined with extensive industry knowledge of medical simulation. Unlike other companies that design and build simulation centers, Level 3 Audiovisual provides a complete, custom solution from start to finish.
To learn more about our education and training opportunities, reach out to us here or click the chatbox below to instantly connect.