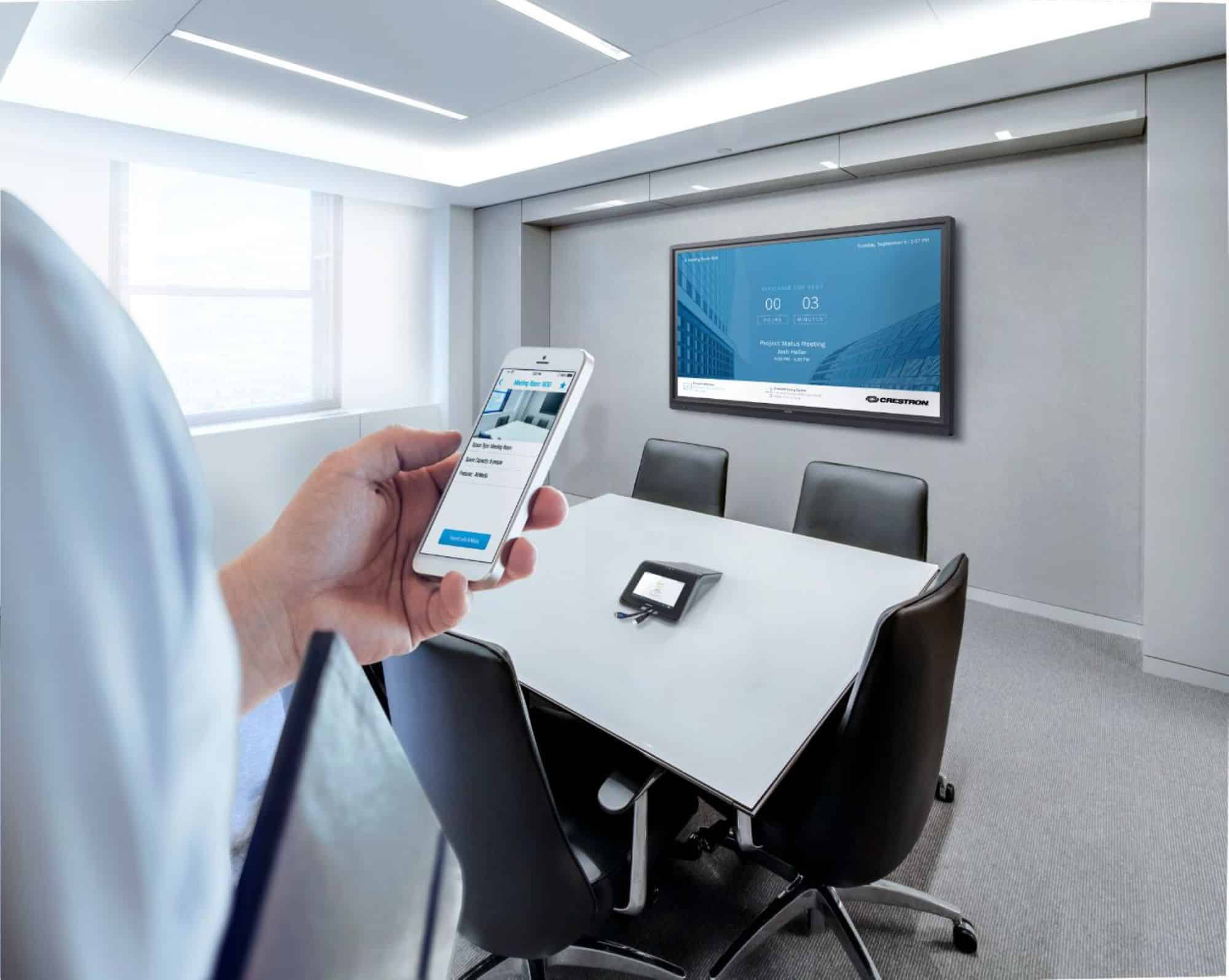 A Hands-Off Approach: Tools for Creating Touchless Meeting Spaces
BUSINESSES ARE GETTING CREATIVE WITH TOUCHLESS AV SOLUTIONS THAT FOSTER SAFER IN-PERSON MEETINGS
Bring your own beer to the party? How about bring your own device (BYOD) to the office meeting? As employees start returning to the office, employers are seeking innovative touchless AV solutions to host meetings and collaborate safely. Luckily, all-in-one communication and collaboration solutions like Zoom Rooms and Crestron conference rooms offer plenty of tools, features and integrations that promote low-touch or no-touch meetings while also prioritizing video conferencing to bring in remote team members.
Keep reading to learn how your business can take a hands-off approach while keeping everyone connected.
SEE ALSO: When Is It Time for Your Organization to Upgrade Audiovisual Equipment in Meeting Spaces?
Zoom Rooms
OK, so a Zoom Room isn't completely touch-free. But it does allow you to hold in-person meetings with fewer people (making social distancing easier) and invite the rest of your team to join remotely via video conferencing. Keep as few hands on the equipment as possible by assigning a single meeting leader to start and stop meetings with one-touch on a screen or even voice control. Zoom offers the option to enable voice commands to start/stop scheduled meetings. Additionally, you can integrate Alexa for Business into your Zoom Room system, and issue voice commands through an Echo device.
And Zoom Rooms offer plenty of tools to ensure that remote team members aren't missing out on anything. Wireless screen sharing allows meeting participants to share the screen of their personal laptop, tablet or mobile phone with everyone in the meeting. No cables or dongles are required. Remote workers can see shared screens from in-person participants and share their own screen as well. Other tools like in-meeting chat and interactive whiteboard features help in-person and remote colleagues make a mental connection — but not a physical one.
Crestron Personal Device Control
Does your business have a Crestron conference room? This September, Crestron launched a new feature to help organizations hold low-touch meetings: Crestron personal device control from an iOS smartphone. This feature allows users to control a Crestron-integrated meeting room using their smartphone over a Bluetooth connection. Any meeting participant physically present and in Bluetooth range only needs to download the app to their phone and connect to the Crestron AV system via Bluetooth. The room controller can start/stop meetings, invite video conferencing participants, give multimedia presentations and more — all from their mobile device.
Crestron conference room systems have native integration with Zoom and Microsoft Teams, facilitating one-touch start, stop and join for meetings that include a combination of in-person and remote workers. Like Zoom Rooms, you can integrate Alexa for Business into your Crestron system and issue contactless voice commands to kick off a meeting. A Crestron conferencing solution also offers wireless screen sharing with the AirMedia integration. Team members can give presentations while remaining socially distanced in their seats and only touching their own devices.
Level 3 Audiovisual is a professional AV integrator for commercial spaces of all sizes in Tempe, AZ, and across the globe. We can help you design, install, integrate and customize the touchless technology and video conferencing solutions your business needs to meet the demands of the modern workplace. Contact us today to schedule a consultation.