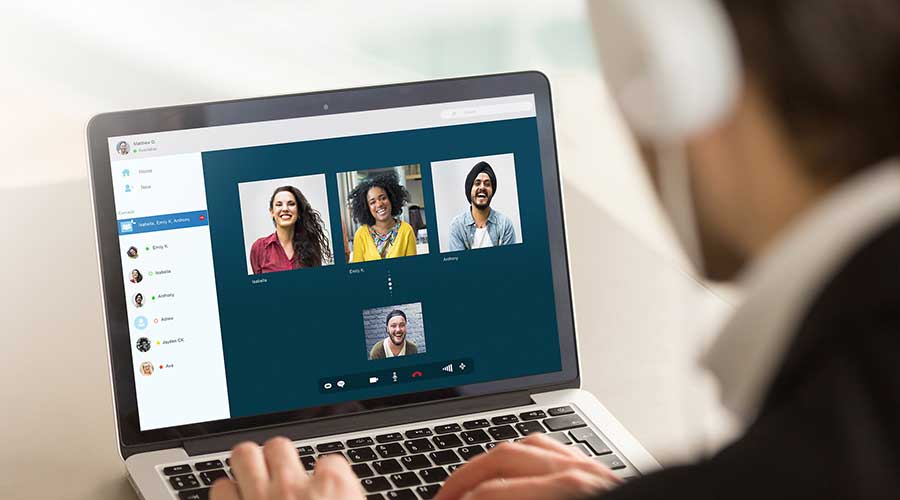 Video Conferencing Can Fill the Gaps in Your Workflows
Today's companies are all about the flow of information from colleague to colleague and team to team. So when work at your organization gets stuck, lost, or forgotten, where does it usually come to a grinding halt? In email? On team collaboration boards? During meetings? If you find that work often stops until the next meeting or until a key team member gets back into town, there are faster, more efficient ways to keep work moving. One of those ways is to get on a video conference call right now.
VIDEO COLLABORATION IMPROVES THE FLOW OF WORK
Video collaboration tools are better quality and more reliable than in the past. Solutions designed for meeting spaces do more than just video. They make real-time information and content sharing easier than ever. Solutions intended specifically for small meeting rooms may include cameras and microphones designed to pick up much more than a laptop, as some employees will try to use—unsuccessfully. Also look for features like annotation, touch screens, video capture, wireless sharing, scheduling capabilities, video recording, and easy integration with your existing systems and workflows. Companies invest in workflow technologies but overlook the collaboration aspect. Video conferencing helps fill in the gaps. The latest video solutions improve workflows and processes by:
Facilitating faster decision making
Increasing productivity
Connecting employees of all kinds, including remote, mobile, and in office
Merging content tools with collaboration, allowing work to be completed during meetings
Cutting costs through preventing project delays
In high-growth companies, 73 percent of executives say that video conferencing improves communication, when compared with audio conferencing. That also means work outcomes are better because there is less miscommunication and mistakes.
IMPROVE WORK EFFICIENCY WITH VIDEO CONFERENCING
Video collaboration solutions improve workflows and coordination of efforts across teams. It gives you a path to bypass all the potholes, roadblocks, and dead ends in your work because it adds a faster, more accurate means of communication. And with the rise in ad hoc meeting spaces, like huddle rooms, it's another tool to get work done in the present, without having to organize a formal meeting. Organizations should make video collaboration available not just in these ad hoc meeting spaces though. Video conferencing capabilities should be in huddle rooms, conference rooms, and virtually any other work or gathering space. It's not just workspaces that are changing. The way employees work is changing to be more mobile and more flexible. Employees need the tools to accommodate that kind of agility.
CREATE SPACES THAT MAKE VIDEO COLLABORATION EASY
The video collaboration technologies that support your workflows should:
Work from anywhere using any device
Integrate with other technologies in the room
Be intuitive for all users
Consumer video conferencing applications, like Skype, Google Hangouts, and FaceTime, are easy to use outside of work and have become part of routine life for many users. In fact, Apple has announced that's it's releasing the ability for up to 32 people to participate in a FaceTime video call. That's a sign that video conferencing and consumer-style tools are overlapping more than ever. However, a FaceTime video call won't be practical for many professional use cases. An experienced audiovisual integrator can help organizations decide which tools make the most sense for their needs and goals.
Next Steps
The key to improving work is making video collaboration a part of your everyday workflows. As work becomes more collaborative and more of it is conducted in small group meeting spaces, it becomes increasingly important to ensure that those spaces are equipped with video collaboration tools. Consider those designed for these modern spaces, like the Crestron Mercury or the Polycom Trio. Want to learn more about equipping huddle and small meeting spaces for video collaboration? Reach out to us here or click the chatbox below to connect instantly. We look forward to working with you!