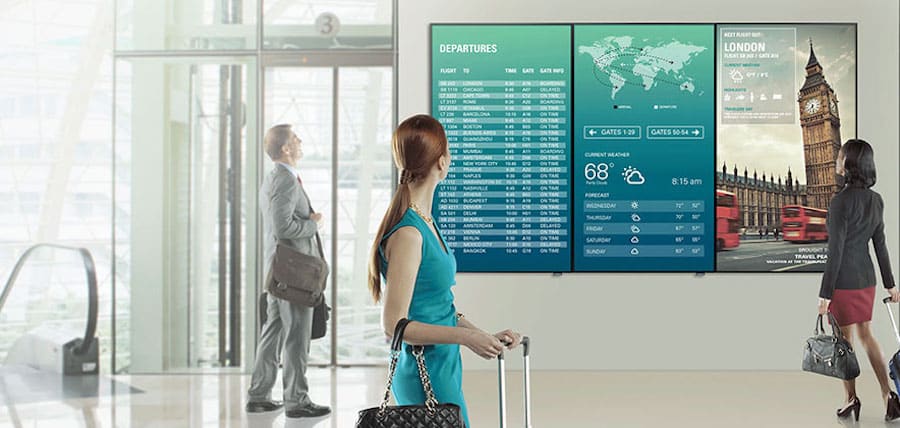 Optimize Commercial Content Display With a High-End LED Video Wall
FOR ENGAGING AND EYE-CATCHING DISPLAYS, LED VIDEO WALLS ARE THE MOST SCALABLE AND FLEXIBLE SOLUTION ON THE MARKET
The LED video wall market size is expected to be approximately $36 billion by 2026, up from $15.9 billion in 2018. Why such rapid growth? Because in a digital-first world, digital displays are more eye-catching, more engaging, more collaborative and interactive, and promote more awareness of and interaction with brands.
If your Scottsdale, AZ, business has been hearing more about LED video wall technology, you may be wondering what all the hype is about. At Level 3 Audiovisual, we're here to break down how a video wall works and why you should be using one to display content for your business. Keep reading to learn more.
SEE ALSO: 4 Things to Know Before You Buy a Video Wall
First, the Basics: What Is a Video Wall?
A video wall is a high-end digital display that uses multiple monitors, panels or projector screens tiled together to create one large display screen. To operate a video wall, you need three primary components:
Display screen. As stated above, a display screen can be monitors, panels or projector screens. Two of the most popular display technologies for video walls are LCD panels and LED panels.
A processor. The processor is your middleman. It stores, processes and sends content to your display screen. A good processor will manage content from multiple sources — video cameras, computers and the internet.
The software is what administrators control on the backend. It provides a real-time view of the display screen, available content sources, and tools to adjust the content's layout and appearance.
Once setup is complete, your video wall can do amazing things. Video wall displays are used for advertising, wayfinding, education, emergency alerts, customer service, broadcast TV, interactive collaboration, brand awareness and more.
Why Choose an LED Display?
An LED video wall delivers fantastic picture quality in terms of brightness, color and contrast. Today, panel technology supports 4K UHD resolution technology to display detailed, eye-catching signs, videos and other forms of content. And because LED panels can reach ultra-high levels of brightness, they're amazing for use as outdoor signage and displays as well.
Scalable Video Distribution
LED video walls are scalable to any size display you need for your space and there is no other display solution that has the video distribution capabilities that video walls do. LED panels can function as a full-screen display to showcase a video or important alert, or the panels can be broken up into multiple display screens to distribute independent imagery, live stream feeds, announcements and more. For multi-screen solutions, you can arrange LED panels into any orientation, shape and size you need.
LED video walls can be installed in non-traditional spaces as well. Flex wall solutions can be custom-made for convex or concave wall applications. Outside, video walls can be used like traditional billboards and signage or scale the side of a building.
Multiple Control Options
Video wall solutions can be integrated with multiple control options to fit the needs of your business. Administrators can change content displays in real-time using a smartphone or touchscreen device. Interactive video walls can be integrated with touch or multi-touch capabilities, voice control or even gesture control.
Level 3 Audiovisual is a full-service AV integrator who can help you find and install the technology systems your business needs. We design, build, integrate and customize video wall solutions for commercial organizations ranging in size from small businesses to enterprise corporations and government institutions. Contact us today to schedule a consultation.