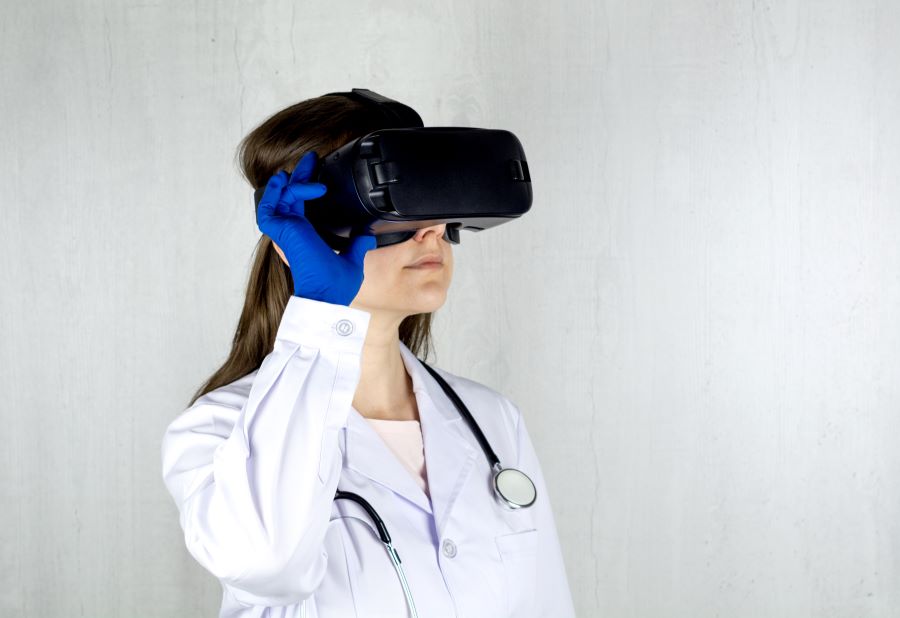 Does Your Healthcare Facility Need VR Medical Simulation Technology?
Let's explore what VR simulation can and can't do in the healthcare training field
Virtual reality (VR) is one of many emerging technologies that's transforming the healthcare education field. VR technology is one method through which medical simulation scenarios can be delivered to physician, nursing, and PA students during their training programs.
During a VR medical simulation scenario, headsets provide a dynamic, 3D view of simulated patients and structures, and students use hand controls to interact with the scenarios. Sophisticated software is used to design the scenarios, and virtual patients respond realistically to students' decisions for care and treatment.
Virtual reality technology is glamorous and enthralling, and many educators are excited by the possibilities VR solutions could bring to medical training programs in Miami, FL and worldwide.
However, before you decide to invest in VR solutions for your facility, take the time to consider: when is virtual reality the right solution? When is it not? Let's explore these questions in further depth.
SEE ALSO: Using Virtual Medical Simulation for Communication Training
The Limitations of VR Medical Simulation
While virtual reality is an exciting technology to use, VR solutions have significant drawbacks to consider.
High costs. One of the biggest limitations of virtual reality simulation is cost. The VR headsets and controls are still expensive, and the costs of going all-in for VR solutions in your healthcare facility (or facilities) are astronomical. Furthermore, advanced features — like VR solutions with tactile touch capabilities — are even more expensive. And finally, if you have geographically dispersed students, the costs of shipping VR equipment to them can add up quickly, especially if international shipping is necessary.
Limited experience. No matter how sophisticated virtual reality is, technology can never replace tactile touch. Hands-on training is an essential component of a medical education program for new doctors, nurses, health aides, and PAs. Students require tactile training with manikins and part-task simulators to hone and refine skills like inserting IVs and intubation, performing surgery, giving CPR, and performing physical examinations.
That's not to say that virtual reality isn't a tool worth considering for your healthcare facility. Used correctly, VR solutions provide students with immersive and engaging training experiences. Read on to learn a few best practices for implementing VR simulation into your program.
How Can VR Simulation Solutions Be Used Effectively?
VR medical simulation has its place in the healthcare training world. Specifically, VR solutions are effective for the following uses:
Supplemental education. Virtual reality solutions shouldn't replace your healthcare simulation center. However, they're an amazing supplementary tool to provide additional training for surgery, interventional procedures, and communication skills.
Remote education. While more students are heading back to in-person classes now that the coronavirus poses a smaller threat due to mass vaccinations, some students may not be returning to the classroom for a while. One benefit of VR simulation is that it facilitates multi-user training scenarios with geographically dispersed students. While supplying all students with VR equipment isn't cost-effective, having a few sets in circulation for remote students could benefit your facility in the years to come.
Diverse education. VR simulation software offers instructors a vast, rich platform for designing, implementing, and repeating custom scenarios covering specialized cases, unusual procedures, and interdisciplinary case management. These scenarios expose students to diverse cases, diagnoses, treatments, and procedures, further expanding their knowledge and skills.
Let us help you find the simulation solutions you need to improve the student experience and educational value in your training programs. Give us a call, reach out online, or start a chat with us on our website to set up a consultation.