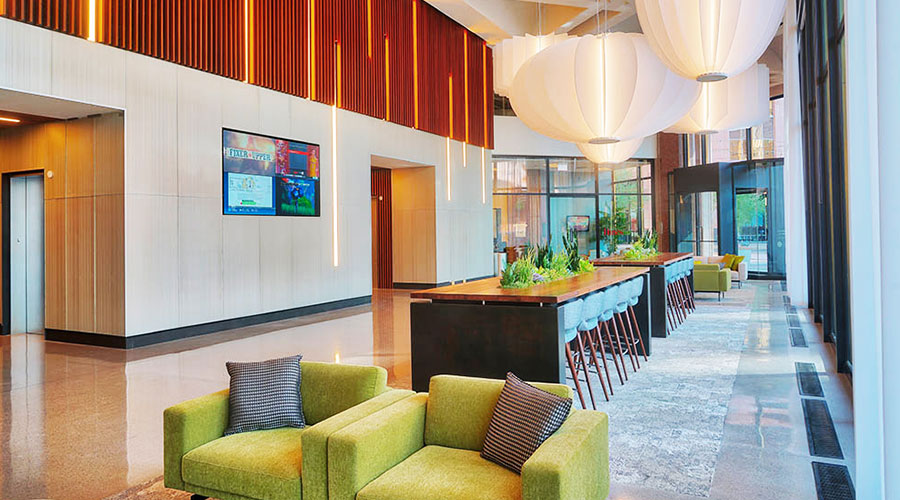 Why Modern Buildings Need Interconnected AV and How to Get It
Cast your mind back to middle school science (if you can!) and you'll probably remember learning about ecosystems—a group of interconnected organisms or elements all cooperating in the same environment, like a rain forest or a coral reef. But ecosystems aren't only found in the natural world. Interacting technologies—such as an integrated AV solution—can also form intricate systems that rely on additional interconnectivity. More broadly speaking, the systems can also connect with AV manufacturers, integrators, and end users, and missing any one of the elements threatens the health of your system. Keep reading for examples of outstanding AV systems integrated by Level 3 Audiovisual.
A WINDOW INTO INTEGRATED AV FOR A NEW HQ
Western Windows Systems had two goals for their new headquarters in Phoenix, Ariz.: Create an open and inspiring space to serve as a defacto showroom for the company's products and install state-of-the-art AV technology that supports the rooms and amenities in their 170,000-square foot space. Working with the project contractor, Level 3 AV provided design, programming, and integration services that delivered on Western Windows Systems' vision for a complete and integrated HQ ecosystem. A multi-zoned paging and background music (BGM) system allows zone-specific paging via workstation IP phones or the wireless mic system. The supporting speaker system extends beyond the main HQ space to the 135,000-square foot manufacturing and warehouse areas as well. Digital signage and displays throughout the building support an integrated environment by presenting coordinated, custom content, including company updates, marketing information, and meeting presentation content. Level 3 AV helped Western Windows Systems' reinforce their goal of offering "A Better Way to Live and Work." They integrated the best in business-oriented AV—such as custom touch panel controls, LED displays, and ceiling-mounted microphones—with entertaining amenities like video games, pool tables, and even a giant corkscrew slide between floors. You can read more about the Western Windows Systems project here.
TRANSFORMING A TIRED LOBBY WITH INTEGRATED AV
Owners of the Renaissance Office Tower—a multi-tenant office tower in downtown Phoenix, Ariz.—wanted to create a unified experience for the whole building by transforming the lobby into a tenant amenity. Level 3 AV deployed video wall technology to create digital canvasses for delivering branded content. In coordination with the project's interior designer, Level 3 AV delivered three monitor configurations for the building's two lobbies. The showstopper is a "digital living wall" where fully functional video wall monitors co-exist with growing plants. An all-in-one, easy-to-use enterprise content delivery system helps unify the building-wide AV system. It can manage custom video wall graphics, HD video clips, and integrated social media and other real-time data. You can read more about the Renaissance Square project here.
Need help integrating your AV system? To get started, reach out to us here or click the chatbox below to connect instantly. We look forward to working with you.