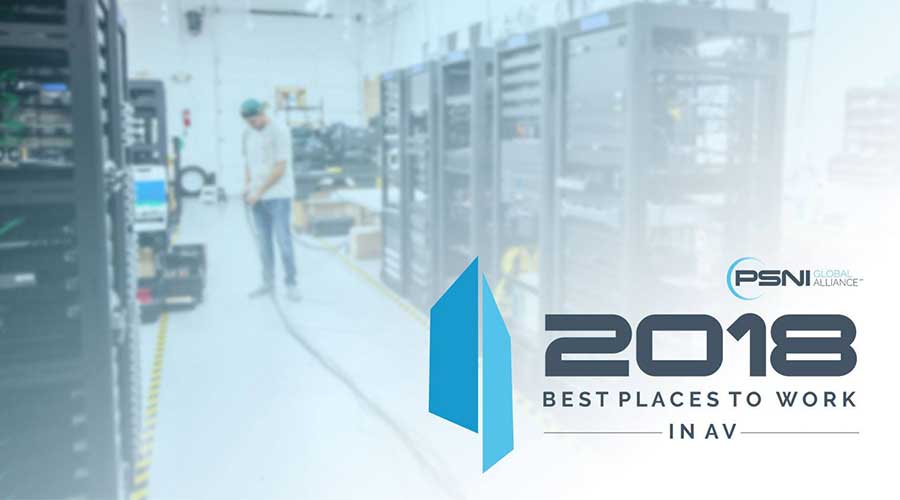 PSNI Global Alliance Awards Viewhaus Sistemas and Level 3 Audiovisual 'Best Places to Work in AV'
PSNI GLOBAL ALLIANCE MEMBERS RECOGNIZED IN 4TH ANNUAL EMPLOYEE ENGAGEMENT SURVEY
PSNI Global Alliance, the largest network of audiovisual integrators and service providers in the world is pleased to award Viewhaus Sistemas, located in Guadalajara, Mexico and Level 3 Audiovisual, headquartered in Mesa, Arizona, the "Best Places to Work in AV" award for 2018. This award recognizes members of PSNI Global Alliance who exceed key employee-performance metrics identified by the PSNI-exclusive Employee Engagement Survey.
Yielding its highest employee response rate in the history of the survey, the following objectives were measured and analyzed:
Overall level of employee engagement within the network and compared to previous surveys
Identify work attributes that are most responsible for driving employee engagement in the member company and the audiovisual industry
An understanding of employee perceptions in areas such as leadership, work relationships (employee to supervisor and employee to co-worker), culture, growth, and opportunity
Based on an analysis completed by an independent research firm, PSNI Global Alliance awarded Level 3 Audiovisual "'The Best Place to Work in AV' with over 50 employees" while Viewhaus Sistemas was the recipient of "'The Best Place to Work in AV' with under 50 employees" award for 2018. "The benefits of improved employee engagement are substantial: recruiting top talent, greater talent retention, increased engagement levels and productivity, and a better customer experience, to name a few," said Chris Miller, Executive Director for PSNI Global Alliance. "Viewhaus and Level 3 have done an exceptional job to ensure employees feel valued by the company, have a high level of trust in senior leadership and report that they would go above and beyond for their company." The survey asks respondents to identify their trust in leadership, organizational culture, ownership of job responsibilities, potential for achievement, effective communication and the hiring of like-minded employees that fit within the organization.
Amongst other information, the survey found that overall, 85% of employees at PSNI Global Alliance-affiliated companies are satisfied with their employment and 94% of employees like the type of work they do for their employer. PSNI Global Alliance is a firm advocate of employee engagement and employee development. The Employee Engagement survey is one of many key performance indicators (KPIs) the network has in place to maintain membership within the alliance. Since 2014, over 9000 PSNI member employee responses have been recorded and today remains the only survey of its kind in for the AV industry. For more information on PSNI if you are interested in becoming a PSNI Global Alliance member, please contact Chris Miller at This email address is being protected from spambots. You need JavaScript enabled to view it..
About PSNI Global Alliance
PSNI Global Alliance is a global network of elite technology integrators, manufacturers, distributors and service providers. At PSNI we not only unite industry leaders – our network supercharges them by extending their reach complementing their strengths and multiplying their resources, all combined with a commitment to the highest industry standards. For organizations seeking AV solutions, PSNI affiliation is the ultimate industry credential. More than that it is a promise that you'll receive the smartest solutions, the smoothest installations and the best training, service and support. To learn more about PSNI Global Alliance visit our website at www.psni.org.
Have questions? Reach out to us here or click the chatbox below to connect instantly. We look forward to talking with you.