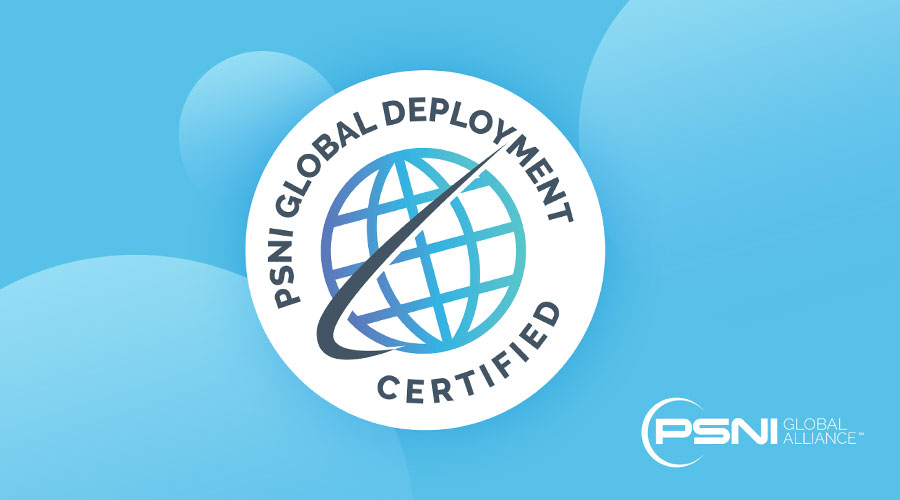 Level 3 Audiovisual Earns PSNI Global Deployment Certification
PSNI-certified companies improve the customer experience by providing consistently excellent integration services, no matter the project or location.
Mesa, Arizona, June 3rd, 2019 — Level 3 Audiovisual is pleased to announce that Brad Peterson, Jeremy Elsesser, Lisa Hale, Leah Merly, Maria Cody, and Trisha Smith have received PSNI Global Deployment certification.
This certification ensures that customers receive a standardized approach to service and integration no matter where in the world their project is located because they are working with a PSNI certified integrator. With integrators on 6 continents and more than 170 offices around the world, PSNI Global Alliance is the fastest-growing private network of premier technology integrators and service providers. "By having this certification process in place, our members customers can be assured they're always going to get the same standardized, superior service from region to region, country to country," said Chris Miller, Executive Director of PSNI Global Alliance. To become certified for Global Deployment, employees of the member company must pass an exam that demonstrates mastery of global audiovisual deployment practices as outlined in the PSNI Global Deployment handbook. Skill areas include contracts, meetings, expectations, design, programming, end user training, project templates, project workflow, and more. To ensure each project strictly adheres to PSNI Global Deployment practices, PSNI integrators provide peer reviews focusing on response time, information accuracy, and whether they met or exceeded expectations. "I'm excited to have our team certified for Global Deployment with PSNI on behalf of Level 3 Audiovisual," said Brad Peterson, CEO. "We appreciate the standardized process PSNI has put in place in an effort to make global deployments easier and more efficient." Level 3 Audiovisual joins an elite group of certified PSNI members. The Global Deployment Committee holds an annual peer review of each certified member company. To learn more about Level 3 Audiovisual please visit www.level3av.com. To learn more about the PSNI Global Alliance, membership, or certification, please visit www.psni.org.
ABOUT LEVEL 3 AUDIOVISUAL
Level 3 AV is an Arizona based corporation that specializes in the design, integration, consultation and installation of professional audio visual and video conferencing systems. Level 3 AV was founded in April of 1996 in response to the ever growing demand for presentation technology being introduced into the corporate workplace and on a desire to service and support clients through a process of identifying available technologies and then applying those technologies to their specific needs and applications, saving time and money.
ABOUT PSNI GLOBAL ALLIANCE
PSNI Global Alliance is a global network of elite technology integrators, manufacturers, distributors and service providers. At PSNI we not only unite industry leaders–our network supercharges them by extending their reach complementing their strengths and multiplying their resources, all combined with a commitment to the highest industry standards. For organizations seeking AV solutions, PSNI Global Alliance affiliation is the ultimate industry credential. More than that it is a promise that you'll receive the smartest solutions, the smoothest installations and the best training, service and support. To learn more about PSNI Global Alliance visit our website at www.psni.org or reach out to us here or click the chatbox below to connect instantly. We look forward to working with you.