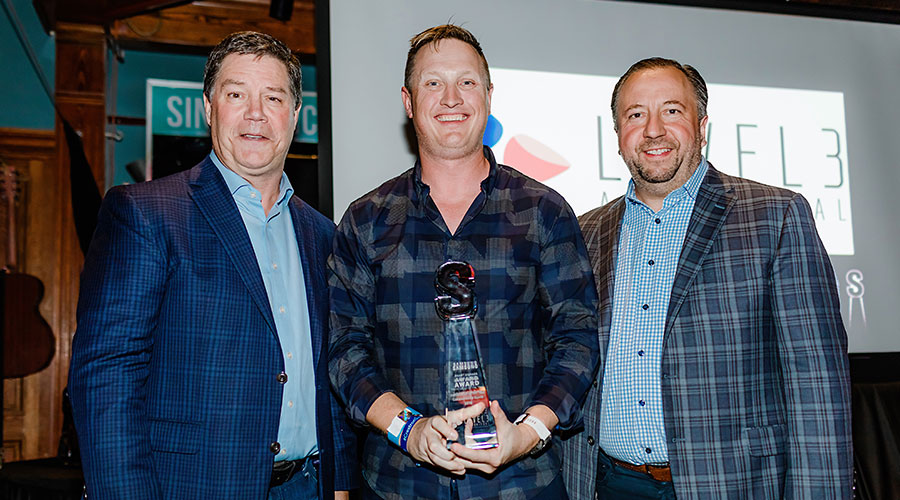 Level 3 Audiovisual Receives Samsung Smart Signage Award for Project Excellence Installation of the Year 2018: Collaborative Space
InfoComm 2019, Orlando, June 13, 2019 – Level 3 Audiovisual has been honored with a Samsung Smart Signage Award for Installation of the Year 2018: Collaborative Space at InfoComm 2019 in Orlando, an annual event for the professional audiovisual and information communication industries.
The Collaborative Space Installation of the Year honors a project that helped solve a business challenge by successfully leveraging innovative digital signage hardware, complex systems and collaboration among partners to bring a powerful, all-encompassing collaborative environment to life. Level 3 Audiovisual of Mesa, Arizona, was cited for the collaborative workplace solution developed and delivered for an enterprise investment bank located in Chicago, Illinois. "The Samsung Smart Signage Awards program celebrates the significant contributions our dealers make to the visual display industry," said Chris Mertens, Vice President of US Sales, B2B Displays at Samsung Electronics America. "Winners were selected by identifying partners that have the highest growth rate, as well as select integrators who have creatively deploying Samsung Smart Signage solutions into several key industries. We're excited to recognize these deserving companies." "This enterprise investment bank has been a committed client to Level 3 Audio Visual due to our efficient quality design and service standards, as well as our highly trained and certified team of in-house design engineers, project managers, and technicians." Samsung offers a diverse range of smart signage solutions, from seamless video walls and fine pixel-pitch LED to outdoor and interactive displays, designed for transportation, retail, hospitality and corporate environments, among others. For more information about Samsung smart signage solutions, please visit www.samsung.com/us/business/products/displays/.
About Samsung Electronics America, Inc.
As a global technology leader, Samsung Displays provides a diverse portfolio of enterprise technologies including digital signage, LED, hospitality TVs, and Desktop displays. Samsung puts the customer at the core of everything we do by delivering comprehensive products, solutions and services across diverse industries including retail, healthcare, hospitality, education and government. Samsung Displays is committed to helping customers realize the promise of a digital business. For more information, please visit samsung.com/business, call 1-866-SAM-4BIZ or follow Samsung Business via Twitter @SamsungBizUSA.
About Level 3 Audiovisual
As a nationally recognized audio visual and technology company, we have a hand picked team specializes in the design, consultation, integration, and installation of professional audio visual and IT systems. Our company was founded in April of 1996 in response to the ever-growing demand for presentation technology introduced into the corporate and healthcare workplace.