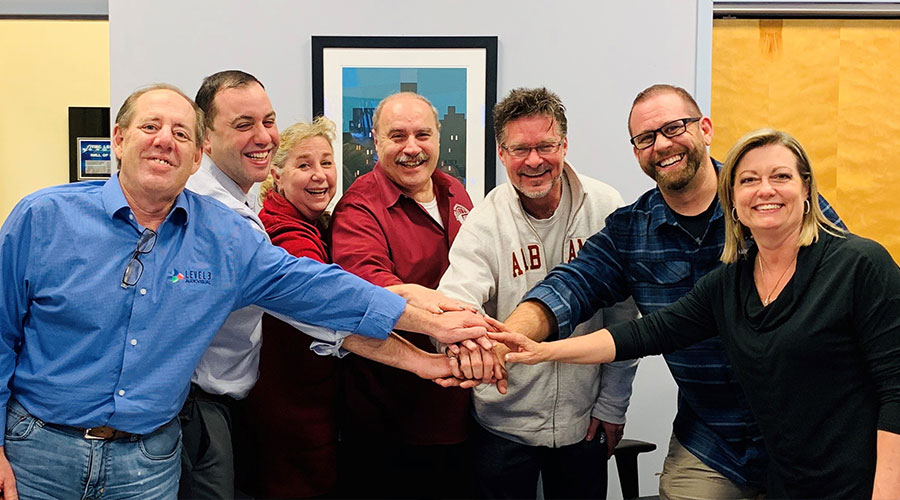 Level 3 Audio Visual acquires New York based Audio Visual Resources (AVR)
March 6, 2019 7:00 AM Mountain Standard Time
Level 3 Audio Visual, LLC, a full-service AV integration and education organization located in Mesa, Arizona announces today the acquisition of Audio Visual Resources, Inc. (AVR) located in Mineola, NY. The acquisition combines one of the nation's top integration firms with the industry leader in system testing and verification, and the only firm ever to have achieved both ISO 9000 and AV-9000 Certifications.
The blending of these two entities completes a story that began more than 6 years ago in December of 2012. It was then that Jeremy Elsesser, President of Level 3 Audio Visual, took the sage advice of Elaine Manfredonia, a highly respected technology leader in the financial industry, and traveled from Phoenix to Long Island for a 3-day immersion into AV-9000, the quality management brainchild of Mario Maltese and a process further developed by his son James Maltese and Lorrie Morrow, partners at AVR. For Jeremy this moment marked the beginning of what would become a new understanding on Enterprise-wide technology delivery, standardization and process. For Mario it sparked the possibility that someone would take his theories, processes and program and flesh them out into a large scale, working model. Over the course of six years Jeremy introduced the AV-9000 Standard to Level 3 Audio Visual and did just that. In 2017 Level 3 Audio Visual became the West coast certification house for AQAV, the non-profit group designated for AV-9000 education and certification. This provided expanded access for other AV Integrators, Designers, and Technology Managers to certify their teams and begin incorporating a quality management system into their technology deployment program.
James Maltese, President of AVR, stated, "It is an honor to be part of the Level 3 Audio Visual family. It's as if our companies were cut from different ends of the same cloth. I've never seen two teams comes together so naturally, with tremendous respect for what each is bringing to the table. Combining Level 3 Audio Visual's client experience and integration prowess with AVR's ability to complete projects with zero defects, we are going to redefine how AV systems are delivered." If you were to ask the teams at both companies, you would be told this is less of a corporate "acquisition" and more of a "passing of the torch". Mario dedicated much of his life to the pursuit of technical knowledge where quality, integrity, honor, process and proof are integrated into the standardization and delivery of AV systems. The fact that Mario is passing this knowledge and commitment onto his son James and his "adopted" son Jeremy marks yet another tremendous success milestone in the life and career of Mario Maltese. Brad Peterson, CEO of Level 3 Audio Visual stated, "I am amazed by the synergy our two companies have created and feel humbled and honored to enter the New York market on such solid ground with such an amazing team".
Level 3 Audio Visual LLC is a private corporation, located in Mesa, AZ. They are a nationally recognized audio visual technology company, specializing in the design, consultation, and integration of professional AV and IT systems. They are committed to delivering quality audio visual installation services and technology interoperability, focusing on av integration for corporations, universities, government facilities, and healthcare organizations. AQAV is non-profit 501(c)(3) corporation, located in Mineola, NY, that is dedicated to improving the operational art of designing and installing audiovisual technology. They are the first and only independent organization providing training and certification for AV Quality Management Systems to all stakeholders in the audiovisual industry to ensure compliance to a system design and installation standard. This standard, AV-9000, provides tools and guidelines about conformance and consistency for AV companies and is reviewed periodically for inclusion of new technologies and communications. AQAV is supported by AV trade organizations, integrators, manufacturers and specifiers, and has been awarded the Seal of Transparency by GuideStar.
Have questions? Reach out to us here or click the chatbox below to connect instantly.
Media Contact: This email address is being protected from spambots. You need JavaScript enabled to view it.