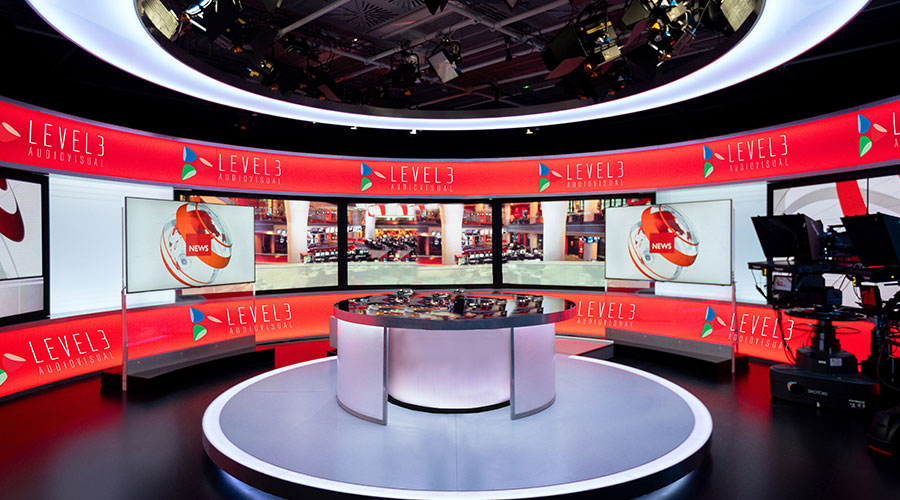 How to Choose the Best Video Wall for Broadcast TV
You've probably had a good chuckle at a broadcast TV blooper reel or on-air faux pas because there's something funny about someone tripping over their tongue on live TV. But having the wrong technology in your broadcast TV studio or multimedia communications center is no laughing matter. To stay competitive in today's television broadcast market, you have to offer more than two anchors sitting behind a desk or a lone reporter broadcasting from the red carpet. Modern video walls that display maps, statistics, photos, and videos can help capture viewers' attention while providing anchors, hosts, and reporters with some variety in the way they present information. But the wrong video wall can distract viewers and cause them to reach for the remote. So how do you choose the right video wall solution for your broadcast and multimedia communications needs? Here are six important considerations to get you started.
BUILDING A VISION FOR YOUR BROADCAST VIDEO WALL
Color accuracy. When you create a large video wall from multiple LED displays, color variances can occur between them. This becomes an even bigger issue for broadcast TV video walls since people are seeing the video wall through their own TV screen, which can exacerbate color inaccuracies and inconsistencies. Proper calibration, advanced factory tuning, and adjustment tools designed specifically for broadcast applications are essential to maintaining color accuracy.
Bezel size. When it comes to the ideal bezel size, thinner is better. For broadcast applications, even the thinnest bezel can break up an image and compromise the viewing experience. For applications where a single piece of content would need to be displayed across multiple screens, consider a seamless video wall.
Location, location, location. Where you want to place your video wall is key to deciding the type of video wall you need. Are you installing a video wall inside your broadcast studio or outside in a public space? Will there be a lot of natural light hitting the video wall or will it be entirely indoors with only artificial light? These factors and more will impact your decision.
Viewing distance. Where viewers will be in relation to your video wall is also a critical piece of information. You'll need to install a video wall solution of the right size and resolution to accommodate their viewing distance.
Size. Sometimes you'll want to base your choice on how big—or small—you want your video wall to be. Will it take up an entire wall in your studio space? Then a large format LED display (which can be designed to a custom shape and size) is probably best. If you are looking for a smaller installation, then a few LCD panels that come in standard aspect ratios, sizes, and shapes will probably fit the bill.
Resolution. Finally consider what resolution your content is—or will be—in so you can choose a video wall that can support it.
GET THE VIDEO WALL DESIGN HELP YOU NEED
Once you've developed a plan for your video wall, with details like placement and capabilities, you can start narrowing down your options to find the right solution. The experts at Level 3 Audiovisual understand how AV fits into the broadcast world, and they can help you choose multimedia solutions that will deliver the results you want.
To get started, reach out to us here or click the chatbox below to connect instantly. We look forward to working with you.