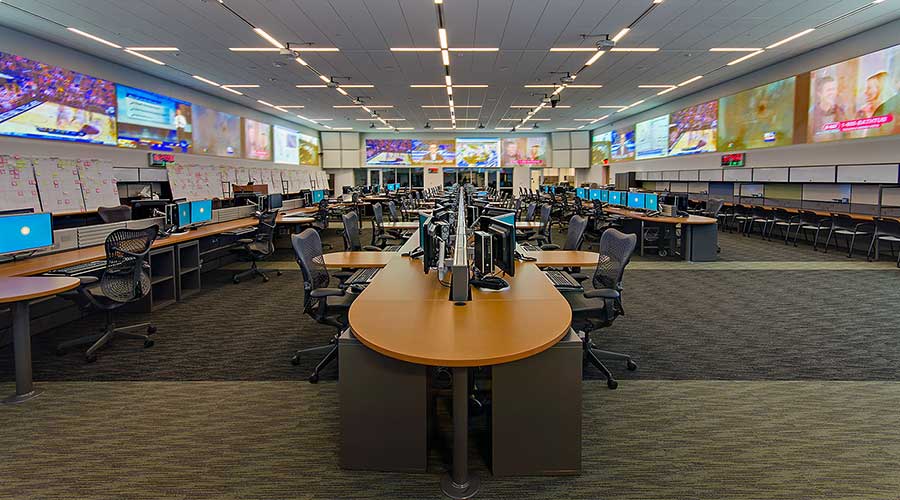 Does Your Command Center AV Respond to Emergencies - or Create Them?
There are some instances—for example when you are choosing formal attire or a piece of decorative furniture—when form trumps function. In the case of audiovisual technology for a command and control center, however, form and function go hand in hand to help operators quickly receive and process information required to monitor and respond to specific incidents quickly and effectively.
AV technology in a command and control center has to securely support communication, coordination, and documentation of vital information. So whether you are monitoring a utility grid, a military operation, or an incident response, the right AV solutions and design are critical to the performance, success, and reliability of your command and control center.
3 THINGS TO KEEP IN MIND
1. Choose Control Center AV That Makes Security and Reliability Top Priority Other AV-equipped spaces like classrooms and conference rooms require secure connections, but command and control centers usually demand the highest levels of security. These spaces are also connected 24/7, meaning there must be safeguards to keep the technology online and working correctly. Real-time information sharing and decision making are at the heart of these spaces, so there's no time wasted on technology issues, so it's essential to have 24/7 technology monitoring and management in place to predict, prevent, and resolve issues.
2. Design Is Critical to Command and Control Center Functionality Choosing the right AV doesn't matter much if your control room isn't designed to support reliable communication and the secure transmission of sensitive and timely information. The most important consideration is how you need information to be displayed and disseminated. Because command and control centers are run by specialists who both monitor data and take action, the design and layout of a command and control center must not only accommodate data collection, but must facilitate distribution of critical instructions, notifications, and alerts as well.Additionally, you can't get the most out of best-in-class solutions if users struggle with comfort, control, and access when using them. Consider how furniture is arranged in relation to technology, whether to customize consoles, and how lighting affects the look and feel of the room. If you begin by clearly defining the goals and use of the space, you'll be able to align design with functionality.
3. Choose a Qualified Partner for AV Installation in Your Command and Control Center The sensitive and mission-critical nature of AV in command and control centers makes efficient and reliable implementation of your AV technology even more important than in other areas of your organization. Level 3 AV uses strict quality control standards that ensure your technology is installed correctly the first time. By following the industry AV9000 standard, we pre-stage every installation at our headquarters so any potential issues or risks will be resolved in advance by our team of in-house engineers, designers, programmers, and project managers. This means a shorter installation time at your location, while also ensuring a reliable AV system that works right the first time. And if an issue should arise, our service and maintenance team will assist with a timely and effective resolution.
NEXT STEPS
In addition to providing world-class installation and maintenance services, Level 3 Audiovisual also partners with top manufacturers including Nanolumens, Unilumens, LG, and Sharp so you get not only the best service available, but the best technology to meet your needs. Ready to talk about your command and control center project? Reach out to us here or click the chatbox below to connect instantly. We look forward to working with you!