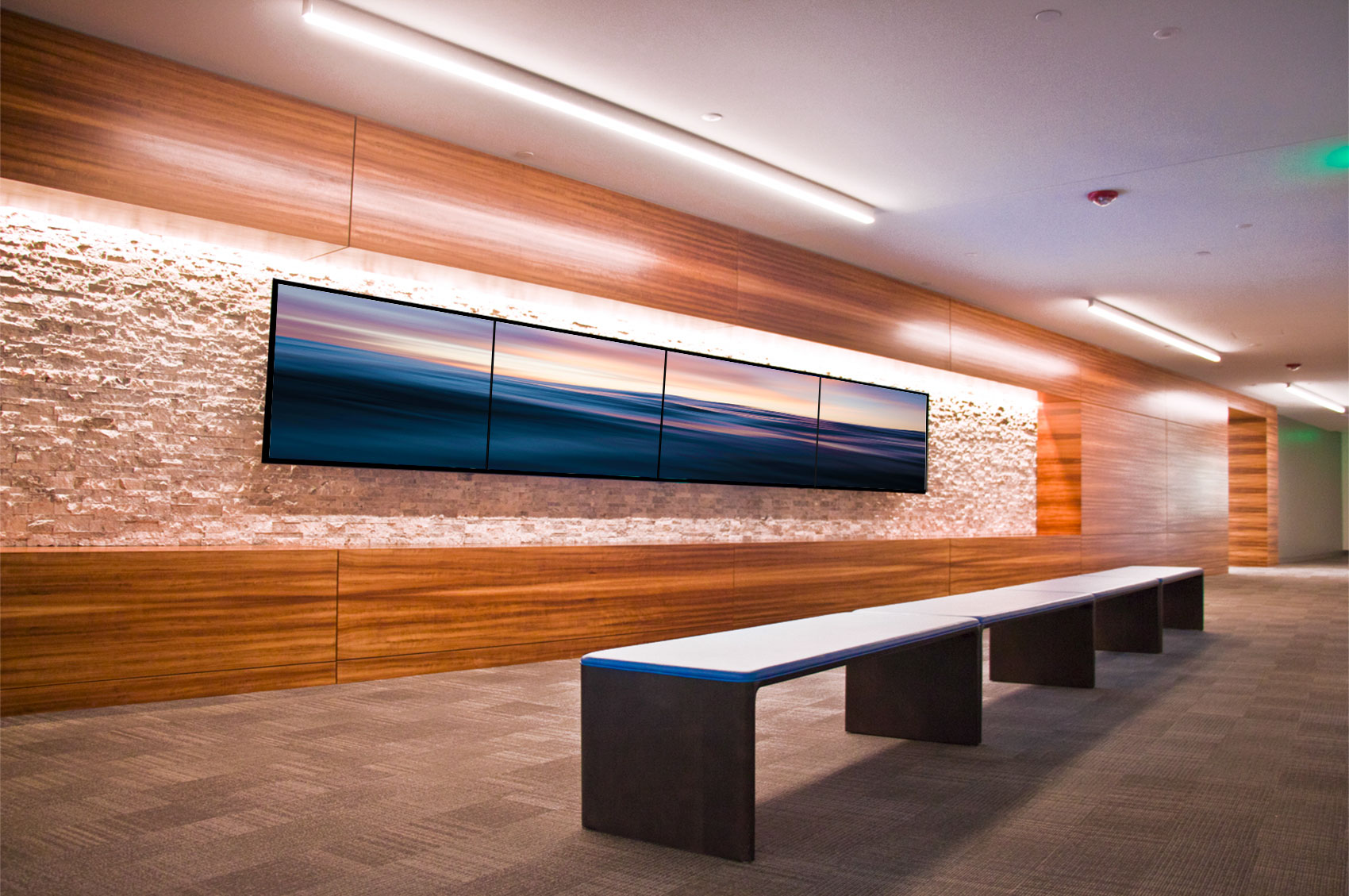 5 Ways Display Video Walls Beat Projectors
If you've ever had to choose a display option for an office, venue or event, you've probably asked yourself this question: Which is better, a flat panel display video wall or a projector video wall? The short answer is, it depends. There are certainly applications where a blended or rear projection video wall might be a better fit. But the longer answer is, while a projector isn't always a wrong choice, a LCD or direct view LED video wall has plenty of advantages worth considering.
Image quality
If you want a large display, for example in a big, open lobby or foyer, a LCD or direct view LED video wall is a better choice than a projector. With a projector, you sacrifice image quality to size. Video walls, however, are built from multiple displays all working together to act as a single display, so image size can be scaled up—or down—without sacrificing image quality. Video walls also provide brighter colors and greater contrast, further improving image quality.
Flexibility
A front projection system requires unimpeded space so nothing—like a low hanging light fixture, for example—obstructs or interferes with the projected image. Rear projection systems require several feet of structural space for installation, so a room would have to be retrofitted with space carved out of the wall to accommodate it, or the unit simply protrudes into the work space. Video walls, however, can be configured in small or oddly shaped spaces, and the overall video wall image can be arranged in a variety of shapes, including a cube or pyramid. In addition, ambient light doesn't impact the quality of a video wall image the way it does a projected image, so video walls can be placed outdoors or in areas with a large amount of natural light and the image will stay crisp and clear.
Installation and Maintenance
Video walls are made of thin, lightweight displays. The video wall displays can be easily moved and reassembled in practically no time at all. Video walls also provide an easier and less disruptive maintenance experience. Because video walls are modular any problem— for instance, a burned-out light or pixel—only affects one tile or screen. The rest of your video wall will operate as normal while you make a repair. When a similar issue comes up with a projector, the whole unit goes down and the repair is often expensive and time-consuming.
Capabilities
Projectors do one thing—project an image. Video walls on the other hand are more than a one trick display. For example, video walls can use touchscreens, wands and electronic pens to create an interactive, personalized experience.
Cost
Cost is one place where projectors might appear to have an advantage, but don't jump to conclusions too quickly. Yes, the initial cost of an LED video wall is 15% to 20% higher than a projector, but those upfront savings are erased by higher maintenance costs within the first five years. LED walls also consume about half the energy a projector does, bringing the break-even point to just two years. At Level 3 Audiovisual we have the expertise and vision to make your video wall dreams a reality. Let us know how we can help with your next project.