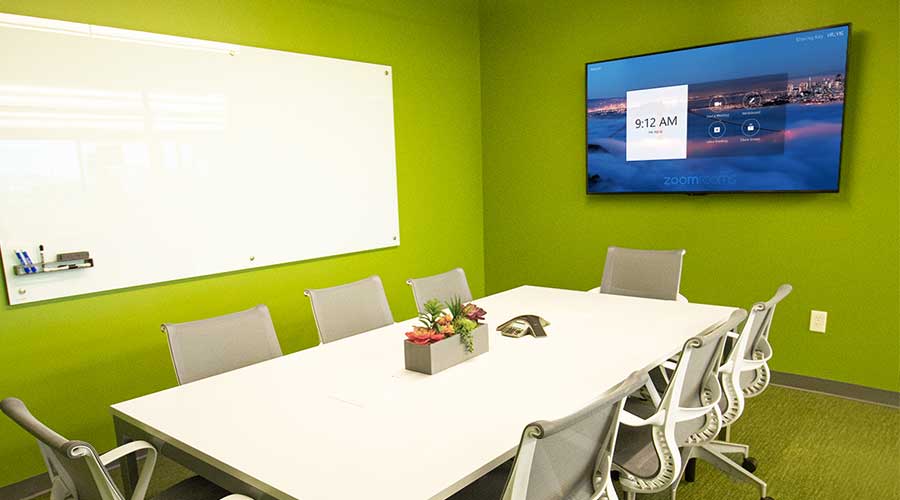 4 Video Collaboration Tools That Can Enhance Any Meeting Space
ARE YOUR VIDEO COLLABORATION ROOMS MISSING THESE MUST-HAVE TECHNOLOGIES?
The video conferencing market is estimated to reach more than $20 billion by 2024. In a marketplace that size, there is no shortage of solutions vying for your attention. Here are four types of video collaboration tools that deserve it. Check our list of what's trending in conferencing and collaboration and why. Then talk to us about your video collaboration needs.
WHAT'S HOT IN VIDEO COLLABORATION
HD Video Cameras. High definition video with rich, sharp detail is no longer reserved for the boardroom. Thanks to affordable HD cameras, companies can add video conferencing to more spaces including huddle rooms. And more video conferencing means more collaboration and more innovation.
See how Carlisle Interconnect Technologies, a manufacturer of aerospace and medical technology products, made modern video collaboration tools a centerpiece of their new corporate headquarters.
Video Streaming Services. Facebook, Instagram and other platforms have made live streaming easy and widely accessible to consumers. Video streaming is now starting to pick up steam in the business world. Twenty percent of organizations currently support streaming video, and another 14 percent plan to support streaming video by the end of 2019. There are a lot of simple, cloud-based solutions that will allow you to stream video quite effectively—and affordably. Also check out solutions that will allow you to record video and serve it up later on demand.
One-Touch Content Sharing Devices. Sharing content in a meeting—whether it's on your phone, tablet, or laptop—needs to be as easy as clicking a button. Think about how easy it is at home to show pictures from your phone on your television. No untangling wires, looking for adapters, or downloading plugins. Simple solutions that are easy to use are a must for better content sharing and collaboration.
Lighting Control. How did lighting control end up on our hot list? Well, in addition to having a direct impact on employee comfort and energy costs, lighting control systems can integrate with the equipment in your video conferencing rooms. Occupancy sensors detect when you walk into the room. They trigger not only the lights to turn on but the AV equipment as well—displays, video conferencing system, content sharing, etc. And when you leave, everything is turned off. How great is that?
KEEP UP WITH COLLABORATION
Video collaboration technology is a fast-moving area. Talk to us about current industry trends and the latest collaboration tools your organization needs to stay relevant. Our team will make sure the solutions you choose can be easily integrated for a unified collaboration experience across every room in every office—and anywhere else your employees like to work. See how we helped Bradley Wealth with their corporate headquarters relocation project, which included a corporate AV and collaboration strategy standardized across meeting spaces ranging from large conference rooms to huddle rooms.
Are you interested in learning more? Don't hesitate to reach out to our AV experts at Level 3 Audiovisual — we're here to answer your question, guide you toward resources, and keep you up-to-date on upcoming technology. Call us, fill out an online form, or start a live chat below to get in touch!