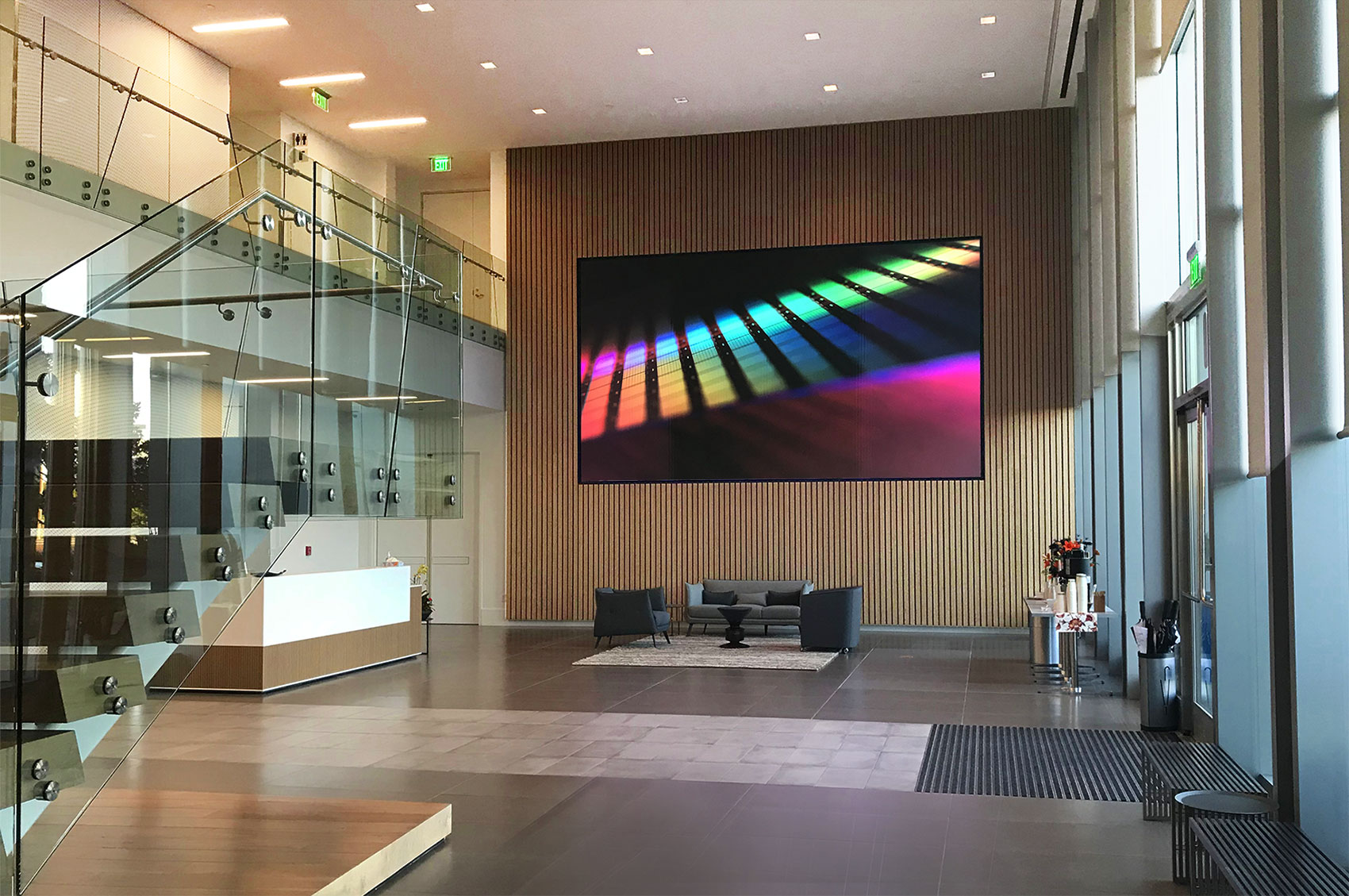 4 Things to Know Before You Buy A Video Wall
Once confined to company lobbies, secretive government command centers and science fiction movies, video walls are becoming increasingly commonplace across multiple industries including retail, higher education and utility and traffic monitoring applications. And that's just the beginning. According to a recent industry forecast, the global LED video wall market is set to grow at a compound annual rate of 35.1 percent, reaching $73.51 billion by 2025. If you're thinking of jumping on the bandwagon, here are some trends to watch—and some important considerations to keep in mind.
4 Top Video Walls Trends
Whatever type—and size—of video wall solution you choose, it's a big investment and you want to make sure it won't be out of date before you've even had a chance to install it. Here are some trends to keep in mind that will help ensure you're getting the latest in video wall technology for the best price.
LED is getting cheaper. LED video walls have several advantages over LCD video displays, including less visible bezels in larger arrays and better visibility in outdoor applications. The downside is, they are consistently more expensive. But, in our observation, the price is starting to come down. Of course, price shouldn't be your only consideration but it does matter. And if an LED display is the better solution for you, cost is becoming less of a barrier.
Pixel pitches are getting tighter. Pixel pitch is the distance between the center of one LED cluster—or pixel—and the center of the next pixel. While in some things bigger is better, when it comes to pixel pitch smaller is better, and pixel pitches are getting smaller all the time. A smaller pixel pitch means improved resolution and viewing distance, but it's also more expensive. If your video wall is somewhere people won't be standing too close to it—say signage in a large airport terminal or a spacious lobby —you can save money with a larger pixel pitch. In a retail environment or when using an interactive display such as wayfinding on a college campus, a lower pixel pitch is worth the investment.
Displays are becoming more interactive. In response to a growing number of applications in the workplace as well as educational settings, video walls are incorporating more and more interactivity. If your video wall will be used mainly for advertising or brand awareness, interactivity might not be an important feature to invest in. But for video walls with collaborative applications, such as in a conference room or classroom, or for displays designed to provide personalized information or tasks, such as a video wall application in a hotel lobby where guests can check in and out or search for information about local tourist attractions, interactivity is key.
Custom mosaic walls are increasingly popular. Mosaic walls feature a collection of display tiles, usually in three different sizes, that can be arranged in whatever configuration you like. The application is ideal for a place such as a modern office building lobby or university student center where the video wall and its content are part of the décor and architecture. Mosaic walls are also a popular option in mission critical applications, such as in traffic or utility monitoring. Each display tile can show an individual image, so multiple data points can be tracked at once. Or, for a large incident or task, the same image can be displayed across the entire array.
4 Things To Consider Before A Video Wall Investment
Having the latest and greatest is fun and exciting, but also pointless if the right backend software and hardware are not in place. They might not be sexy but here are some practical operational considerations to keep in mind.
Your content management system needs Internet access. IT staff are always on the move and your video wall content management system needs to move with them. Especially for video wall applications where content needs to be updated in real-time—a campus alert system, for example—content needs to be accessible anytime from anywhere. Some cloud subscription packages are even starting to include video wall content hosting.
Your wall needs remote monitoring. There aren't many—if any—organizations in a position to hire someone to stare at a video wall and sound the alert at the first sign of a glitch or malfunction. Especially for video walls far away from where your IT staff is—in a local store, for example, or across campus—remote monitoring that can help you identify and resolve issues quickly will help minimize downtime and maximize ROI.
Your content needs to be secure. We've all seen the action movies where a hacker takes control of a command center video wall and fills the screen with ominous threats or pictures of clowns. Might seem a bit far-fetched but the importance of content security isn't. Your content management system needs safeguards in place to make sure bad people can't get in and sensitive information can't get out.
You need the ability to customize. No two video wall applications are the same and that means no two video walls should be either. From size to configuration, pixel pitch to placement, resolution to color saturation and level of interactivity, you need a solution that can be configured to your needs and not the other way around.
Next Steps
The first step in your path to a video wall investment should be to consider your application and what functionality is most important. Will it be indoor or outdoor? Will people be standing close or far away? In what configuration do I need the displays? Once you have the elements key to your success identified, a professional integrator can help you narrow down the available options to the one that's best for you.