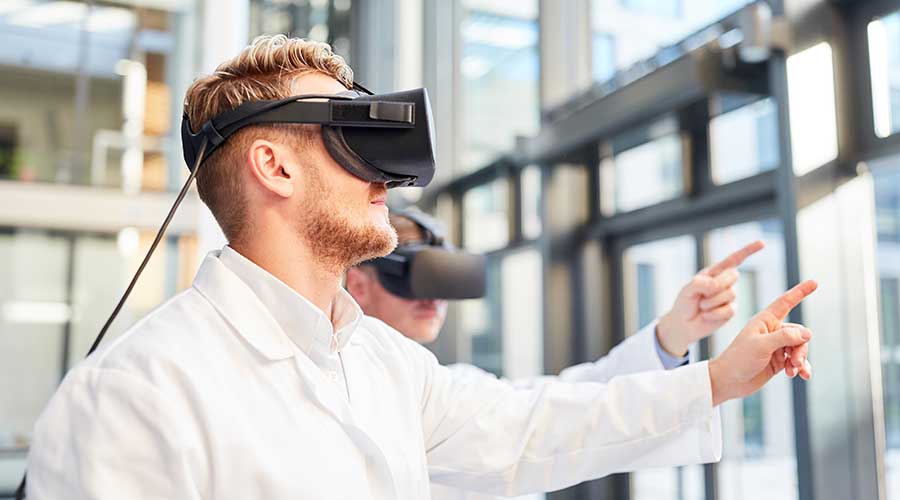 3 Simulation Visualization Needs and the AV Technologies That Meet Them
IMPROVE TRANSPORTATION INFRASTRUCTURE WITH THE RIGHT VISUALIZATION TOOLS
Seeing is believing, the old saying goes. But when it comes to visualizing existing data and simulated scenarios in order to address complicated infrastructure issues—such as transportation, mobility, and traffic—users need to see both real-time and historical data presented in a compelling way. And it needs to be displayed using audiovisual tools that enhance rather than detract from the information, making it easier to understand and act on. Here are three transportation challenges simulation can help address, and three AV tools that can improve the visualization of those simulations and the data they produce.
HOW SIMULATION SUPPORTS TRANSPORTATION SAFETY
Scenario 1: Improve transportation safety. According to the U.S. Department of Transportation's Federal Highway Administration, an average of one-quarter of all traffic fatalities and one-half of all traffic injuries happen at intersections. There are a variety of solutions that can help make intersections safer, including traffic signals, roundabouts, additional signage, and changes in road design. But the right combination of solutions will vary from location to location and testing out the different combinations on the real road with real drivers isn't a very safe or cost-effective option. Using historical data about driving and accident patterns, transportation agencies can create simulated scenarios to help them develop effective solutions for each specific problem.
Scenario 2: Improve transportation efficiency. There are more people on the go than ever before, and all those people have more choices than ever to get where they are going. But that presents unique challenges for transportation agencies and city planners. For example, while 85 percent of cities have incorporated new modes of mobility including bike sharing, electric scooters, and ride hailing companies such as Uber and Lyft, 55 percent of those cities have also experienced challenges in expanding their mobility options. Data visualization of usage, placement, historical, and real-time data can help transportation agencies and policy makers answer questions about where the traffic system is congested, where additional infrastructure might be needed, and where enforcement such as ticketing or parking restrictions should be increased.
Scenario 3: Improve infrastructure investments. Let's say a city is getting a lot of complaints about delays in bus service. A transportation agency might assume there aren't enough buses to cover the route in a timely way and may invest in additional buses and drivers. If the agency could create a simulation of the bus route using available data about congestion and other vehicles traveling along the route—including cars, bicycles and pedestrians—transportation officials could get a more accurate picture of what is happening on the road at any given time and make their investment decisions accordingly. For example, adding a bus lane might solve the problem rather than adding more buses.
THE RIGHT AV TOOLS FOR SIMULATION VISUALIZATION
Effective data visualization requires the right combination of AV solutions to present the information clearly for people both inside and outside the room. Here are three AV solutions that support effective visualization.
Solution 1: High Definition Displays. The best simulated scenario won't mean anything if you can't display it properly. Large format displays or high definition video walls can show all the data you need to see at once—even if you are looking at real-time usage of a city-wide subway system or highway traffic patterns. Interactive displays are an extra bonus because they allow users to move or manipulate the data on the screen. And any display solution you choose should be up to the challenge of the 24/7 operation most traffic control centers require.
Solution 2: Reliable Audio. With cloud capabilities and remote access, team members at disparate locations can all be looking at the same simulation and data at the same time, but they also need to talk to each other about what they are seeing. Audio conferencing solutions including speakers and microphones can help all your employees and partners talk to each other easily and clearly, no matter where they are.
Solution 3: Clear Video Conferencing. For disparate teams to make the right decision together quickly they need to have the same information at the same time and sometimes an audio call isn't a robust enough collaboration solution. With cloud-based video collaboration—including a camera and video conferencing software such as Zoom, WebEx, or Cisco—teams can share screens and other content while also communicating effectively face to face. Integrated, unified communication solutions can further enhance your video collaboration. For example, Crestron Mercury, a touchscreen console with the capabilities of conference phones, cables, and computers, has partnered with Zoom to offer the Zoom Room solution. Instead of connecting a separate computer or laptop, users can run Zoom directly through the Mercury console.
Looking for help understanding and choosing the best AV tools for your data visualization project? Get in touch with a Level 3 AV expert today.